I am still learning, for life never stops educating you, says Kapil Dev
India's first World Cup-winning captain, who turns 60 today, opens up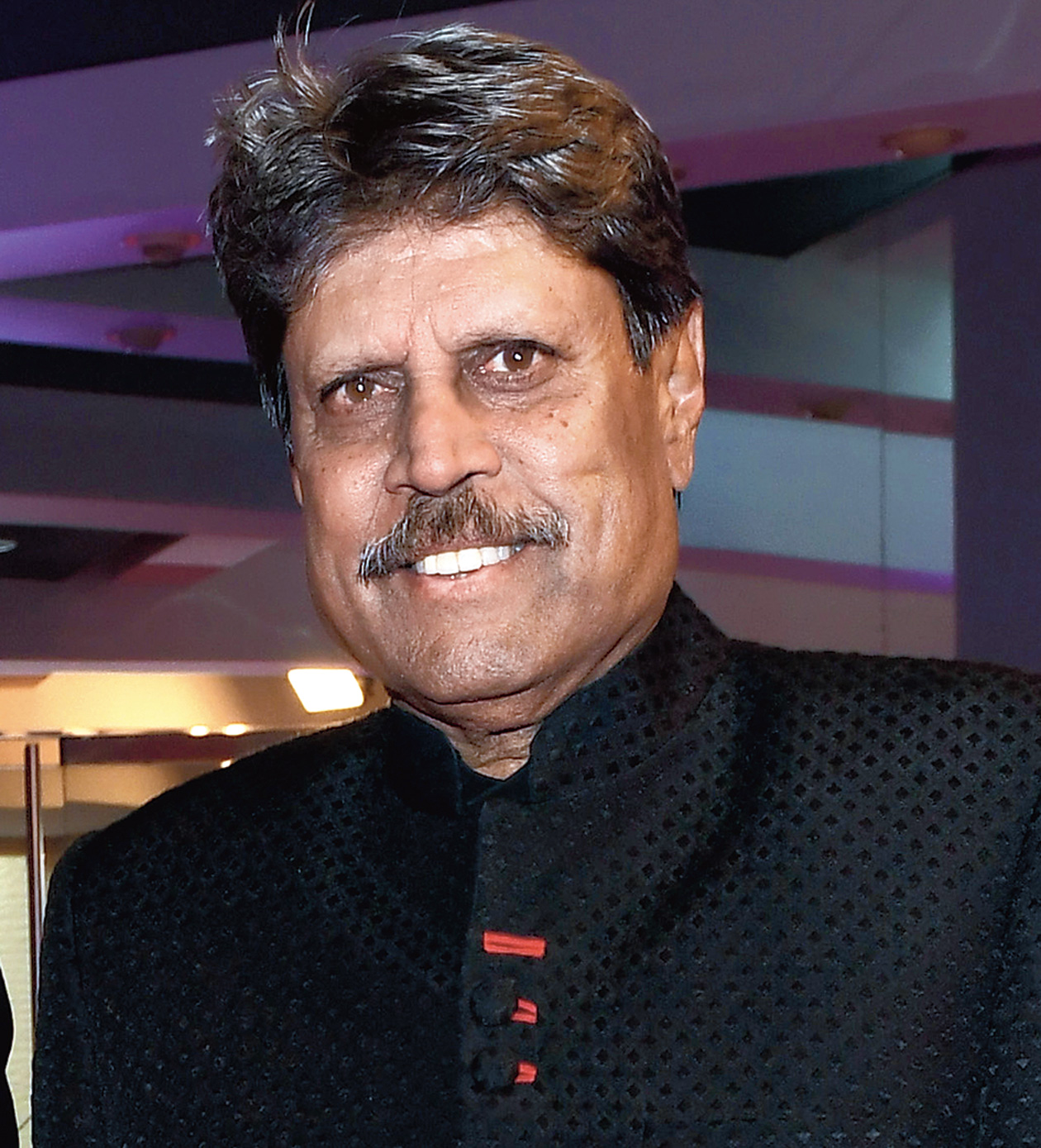 ---
Sydney
|
Published 05.01.19, 09:23 PM
|
---
Come Sunday and Kapil Dev Nikhanj, India's first cricket World Cup-winning captain and a supremely inspirational all-rounder, turns 60.
On Saturday, Kapil spoke to The Telegraph for close to an hour from New Delhi. "Nothing very special is planned... I'll be with my family and some friends. That's it," he said.
Excerpts...
Q It's often said that 'life begins at 40'. What when one turns 60?
A (Laughs) Let me turn 60! However, life cannot change overnight. My view is that whatever your age, you should be happy. One could be 30 and struggling and, as a result, not happy.
Q Has life been kind or there are regrets within?
A I couldn't have asked for more... Played for and captained India, brought home the World Cup. If I say I'm not happy, then it would mean I'm being greedy. Life has given me a thousand times more than expected.
Q What would you pick as the turning point?
A When I began taking cricket seriously... I'd been a naughty boy till the two U-23 national camps, in Bangalore and Bombay (now Mumbai)... It was in those camps that I realised who I was, realised my potential... I am still learning, for life never stops educating you. Those camps were an eye-opener... I realised what it meant to be among the top 25 or so young cricketers of the country. The camps were conducted by Lt Col Hemu Adhikary... He made a big impression on me as did D.P. Azad, back in Chandigarh. Sadly, both are no more.
Q You were interested in soccer as well. What made you focus exclusively on cricket?
A Cricket was more fun. Also, it could be played for six-seven hours, practically the whole day. Not so soccer.
Q When you started off playing for India, in the 1978-1979 season, you were far from fluent in English. Did that make you feel awkward?
A Never. The impression was that only those who know English are intelligent and the rest fools. That hasn't ever been the case... One needs to communicate well... In North India, from where I come, most people are happy conversing in languages other than English... What's disappointing is people having preconceived notions. Reviewing where they stand, on individuals or issues, becomes very difficult for that lot.
Q Yet, eight years ago, you were invited to speak at Oxford...
A I'd 'graduated' in English by then!
Q How would you describe yourself as a person?
A I could be biased in what I say... Any human being loves himself more than anybody else... Whenever I've been impressed by men older to me, I've asked myself how I'd be at their age? I'm the type who doesn't enjoy the company of cribbers. I'm myself a positive person and like those who think that way... (K.L.) Rahul is so talented, but is going through a difficult phase. I'd be happy to sit with those who say 'see how good Rahul is, but he's in the middle of such a lean period'. I wouldn't be comfortable in the midst of those who'd only be running down Rahul... Humility is a quality I admire and I love those who, like me, look to improve. Both as human beings and in their profession.
Q The ones who made a deep impression on you?
A Mother Teresa and Nelson Mandela... Such big-hearted, generous, forgiving... They've been absolute role models.
Q Now, how best would you describe yourself as a cricketer?
A When I look back, I could say this or that could have been done 100 times better... But one makes mistakes and learns from them. Or, should learn. If somebody says he/she hasn't made any mistake then, believe me, that person has done nothing in life. I mean, a cricketer won't get injured sitting on the bench. He'll have to actually be on the field to run the risk of injuries... In the later stages of my career, I'd consistently wished for a body of a 20-year-old and the mind of somebody who is 40. That would have been the perfect ombination.
Q Top three achievements...
A Playing for India is my No.1 achievement... Winning the 1983 World Cup and, then, winning the 1990-1991 Ranji Trophy by defeating mighty Bombay on their home ground... On a strictly personal note, I'd like to add becoming the most successful Test bowler, eclipsing (Sir Richard) Hadlee's 431. As records are meant to be broken, even mine got bettered. I left at 434 wickets, the world record stands at 800... Muttiah Muralidharan has taken it to that astonishing level.
Q But your contribution goes beyond wickets and runs, surely...
A Maybe, I started a trend... Of cricketers emerging from the smaller cities. There was a shift in the mindset that Test cricketers only had to come from the big cities.
Q What made you tick as the India captain?
A Perhaps, the fact that I had no favourites... I didn't have to push anybody from where I'd come (Chandigarh)... All my players, therefore, were close to me. I didn't have to play favourites and it seemed I had the support of the entire country.
Q So much would be talked about and written about the relationship you shared with another icon, Sunil Gavaskar. What do you have to say?
A Sunil was a hero of mine and I'd admire him for the way he faced fast bowlers. He didn't have the benefit of practising against genuine quicks at nets, yet would always be prepared. We've been lucky to have had somebody of Sunil's calibre in our midst... Misunderstandings did, however, occur and it didn't help that the Board kept changing captains.
Q You do accept that the musical chairs over the captaincy, specifically in the 1982-1985 period, affected your relationship with Gavaskar...
A The frequent changes weren't at all ideal... In fact, the Board could have appointed Sunil captain till as long as he played (November 1987)... The Media didn't help either. Having said that, let me reveal that Sunil and Madanlal are the two teammates with whom I interact the most... Sunil and I admired each other as cricketers and respect each other as human beings.
Q Did you ever hold Gavaskar responsible for getting you axed for the Eden Gardens Test after the one at the Kotla, in December 1984?
A No. I only hold myself responsible. I played a bad shot and gave the national selectors the chance to drop me. I hold no grudge against anybody... In any case, one moves on in life.
[At a crucial time in the second innings, Kapil got out for 7, caught Allan Lamb off Pat Pocock. David Gower's England went on to win by 8 wickets.]
Q To move forward, to February 1994... Some felt you should have retired s soon as you went past Sir Richard's world record... Eventually, you did so eight-nine months later, after an injury...
A You never know when exactly is the right time or a good time. Sometimes, one gets carried away... As I've said, I wish I had the body of a 20-year-old and the mind of somebody twice that age.
Q You deserved a 24-carat send-off...
A Well, everybody cannot have a farewell match like Steve Waugh or Sachin Tendulkar or Alastair Cook... That I represented India for 16 years is what I'll always remember and cherish the most.
Q Deciding to retire... Was it a painful call?
A No. The body had started cracking... I'd been injured in Melbourne in 1980-1981 and, then, in 1994-1995... It was a call from God... I spoke to Vishy (Gundappa Viswanath), who was then the chief selector, and to Romi, my wife... I told them I'd decided to leave the game which had been my passion.
Q Your innings as the India coach was shortlived... Did the controversy over match-fixing leave you devastated?
A It was a rough time.
Q Did that phase teach you anything?
A You may have setbacks, but winning the race is what counts... I'll never forget what my elder brother (Ramesh) told the Media — 'If my brother is guilty, hang him. If not, those who have raised a finger at him should be behind bars'... I had my family and friends around me... If I had to fight with God (for the correct picture to be portryed), I would have done so.
Q You retired 25 years ago...
A Twentyfive years?
Q Indeed...
A Don't tell me... I hadn't realised it.
Q Briefly, your take on India's cricket in the last 25 years...
A It has come a long way and the results are there in black and white... When we played, we used to hope for match fees etc. on the lines of what the Australia and England cricketers got. Today, the boot is on the other foot... In terms of the administration of the game, there needs to be transparency and an improvement is certainly needed in the system.
Q The batting of the early 1980s or the late 1990s and early 2000s, you as the all-rounder, the new-ball attack of 2018/2019... Could that be regarded the most potent combination?
A Teams win Test matches when their bowling is on a par with their batting or even better. Have the bowlers to take 20 wickets and you'll win.
Q Why is it that India is still waiting for a full-fledged all-rounder?
A Finding one may become more difficult owing to the amount of cricket played... Irfan Pathan had the potential, Ravichandran Ashwin as well... Hardik Pandya is good, but he got injured so early in his career that he may decide to focus more on one aspect, batting or bowling.
Q Do you expect to see a T10 World Cup 10 years from now?
A I'll watch, even if it's one-ball cricket! The T20 format has critics, but I'll tell them that if millions like it, nobody should run it down.
Q Finally... Given a chance, would you do anything differently?
A (Emotionally) Life has been wonderful... Then, why do anything differently? I'd say it's important to balance need with greed... I wish the younger generation enjoys what it does and doesn't treat either playing or working as pressure. Success comes with enjoyment.