Medal ta aamar family-r jonnyo khub dorkar chhilo (The medal was very much needed for my family)," Swapna Barman reflects aloud as she ambles with t2 along the blue synthetic track lining the athletics field at the Sports Authority of India complex in Salt Lake. Accolades are pouring in for the Jalpaiguri girl ever since she scripted history by snatching the heptathlon gold as the first Indian at the Asian Games. What especially caught the nation's imagination was the way she competed in seven gruelling events over two days, fighting a toothache and with her right jaw taped with a bandage. "No one else could have kept her focus with that much pain," coach and mentor Subhas Sarkar says.
Swapna, 21, logged 6026 points, her career best, winning in high jump and javelin throw and coming second in shot put and long jump. "I was happiest with my javelin performance. The toothache, which started after I reached the Games Village, was the worst before the 100m hurdles." She came fifth in the event.
Going into the final event, the 800m sprint, she was leading the second-placed Chinese competitor Wang Qingling by 64 points and needed to maintain the lead. Though she came fourth, she finished ahead of Wang, which sealed the overall top spot and a place in history for her. "I knew I had done it when I ran past her," she smiles.
Ever since she has returned from Jakarta, Swapna has been to myriad receptions, including one hosted by the Prime Minister. Sports minister Rajyavardhan Rathore has hailed her as the "queen of heptathlon". She has job offers from the state government and the railways. Cash awards have been announced. It is almost as if a golden wand has turned things around overnight. But it was hardly that way all through her career.
Past imperfect
The youngest of two brothers and two sisters, Swapna grew up in a thatched bamboo hut in Patkata Ghoshpara village, about 10 minutes from Jalpaiguri Road station. Her father plied a cycle van and mother worked in a tea plantation. She grew up playing football and kabaddi, till one particular sport caught her fancy. "Chhorda (Asit) used to do high jump. I started emulating his action," she recalls. Seeing her enthusiasm, her father evened out and softened a stretch of land belonging to a neighbour behind their hut with a spade. "The process had to be repeated twice or thrice a week to keep the soil soft for landing. The horizontal bar, which the jump has to clear, was created with jute stick and slices of bamboo pole," recalls Asit, who is two years older than Swapna.
In school, she would compete in high jump and long jump. "My incentive was the prizes. I especially eyed the hot pot they gave to winners," Swapna smiles.
When she was in Class IV, she recorded an astounding 1.34m in high jump in a school state meet, catching the eye of Biswajit Majumdar, games teacher of Kaliaganj Uttameshwar High School who got her to join the school, getting even her tuition fees waived.
A local club, Raikatpara Sports Association, was raising a team for the club district meet and asked Swapna to join. Her training ground became a field eight kilometres away. Either her mother would cycle her or her father would take her in his cycle van for regular practice. It is here that Sarkar, himself a Jalpaiguri boy, would spot her some years later.
The family's fortunes nosedived after Swapna's father Panchanan suffered a cerebral attack in 2010. "When I went to meet him in the hospital he could not recognise me. They were feeding him through a tube," says Swapna, shuddering at the memory.
Her mother, Basana, gave up her job at a tea plantation to tend to her father who would stay paralysed for 11 months. Her younger brother Asit, then in Class XI, dropped out of school to take up masonry.
Breaking ground
In early-2012, Swapna would represent her school in the school national games in Ludhiana, where she would clear the same height as her nearest rival — 1.63m — and still have to settle for silver as she had dislodged the bar on the first attempt in the under-17 high jump.
But that was enough to open the gates of SAI to her. She still remembers the date: May 21, 2012. "It was the first time I would have to stay away from home. Ma came to settle me in." "She wept a lot. I too was sad but did not let her see my tears," her mother recalls.
She quickly improved. Within four months, Swapna would be one of the students Sarkar would select for a sponsorship offer from a hotel management institute. And it is there that t2 first came across the 16-year-old, the shortest of the six junior athletes present at the event.
That day, in 2012, it was apparent that her biggest challenge was carrying on in the face of such formidable personal odds. "I have to continue. I have to turn my father's dream into reality," the gritty girl had told t2, adding that her club had pooled in some money for her father's treatment and bought her spiked jumping shoes worth Rs 1,000. "I hope better shoes will help me," she had said.
Shoes would be a sore point through her life. Swapna has six toes on both feet. "With the toes getting squashed, her feet would pain in normal shoes. But where would we get the money for special footwear?" says mother. "Her foot size is no. 5. But I would buy her no 6. She would complain that they were coming off. So I would stuff paper inside."
In 2013, she appeared for her first major event – the Asian School Championships in Malaysia. "It was my first flight." She came back with a heap of medals — golds in high jump and 4x400m relay, silver in javelin and bronze in hammer throw.
Earlier that year, her coach had figured out that with her power and body structure, Swapna had a better shot at heptathlon than in high jump alone.
She improved by leaps and bounds and soon got a chance to compete in the World School Championships. But since national selections were on, Sarkar did not send her.
The 17-year-old Swapna was sent to the Federation Cup in Patiala. "The state had sent her name. Though she was too young, I took her along to gain experience," says Sarkar.
But Swapna surprised him by scoring 5400, beating seniors and coming within breathing distance of Sushmita Singha Roy, who won the event with 5402 points. In those days, 5400 would fetch a bronze in Asiad. I realised I had a medallist in hand once I honed her technique," Sarkar says.
It was also a breakthrough performance as she qualified for her first Asian Games (in Incheon, South Korea, where she would come a creditable fifth) and GoSports Foundation offered to sponsor her first branded shoes. Till, then, she was playing in running shoes bought from the Maidan market.
The next two years were dark phases in Swapna's career. She was hit by a back injury, and barring the SAF Games in 2015 (in which she got a silver in high jump) she had to stay away from the field. "I spent the year watching others practise and wondering when I would get well. There was no question of going home as there were no doctors there," Swapna recalls.
But she had started doing her bit for the family. One of the rooms in their tin hut got brick walls, with Swapna contributing a part of the amount. A Kali idol behind the hut was housed in a bamboo structure with a polythene sheet for a roof. "Swapna sent money to make that a permanent structure," Basana recalls. It is here that she prayed for her daughter all these years and it is here that she wept copiously in joy on watching her unfurl the tricolour at the Jakarta stadium on TV on August 29.
Swapna has not been home since her return. "The last time I was home was for the Pujas," she reflects.
Weighty matters need to be resolved before she can decide if she can return to Ghoshpara for this year's festivities. There is the toothache — the result of her fondness for sweets. "My coach gives me chocolate bars for energy. But it is KitKat that I love. When I was a child, father had to bring me a rosogolla every day." But Sarkar dismisses the toothache and her recurrent stomach ache as lesser problems. "She has to take medical advice for her back — whether she needs an operation," he points out.
She is understandably tense, with her mood swings palpable. A third-year student of Charuchandra College, she is upset that she could not clear her BA exams. "How could they not pass me in political science? To think I studied so hard and took permission from the federation to come back for a day from the camp and take the exam! Can't they (the university) show this much consideration?"
"She needs to be a graduate to get a decent rank in a government job," Sarkar reflects.
Focus on real, not reel, life
Srijit Mukherji has offered to make a biopic on her. "Bhebe dekhini (I haven't thought about it). May be my coach will decide," she says. Her taste in films is retro — Uttam-Suchitra in Bengali and Jeetendra-Jaya Prada in Hindi. No surprises as she watches all her films on TV. "I have gone to a movie hall just once in my life, to watch Don 2 in Guwahati," she says, dismissively.
But a mention of her live performance at a recent reception lights up her face even in gathering dusk. "I am just a bathroom singer. But I love listening to music on my phone — bhaoaiya, bhatiyali, Lalan Fakir... My father used to play the flute — when he was fit," she looks away.
She may be the toast of the country's athletic fraternity today but even miles away from home, Swapna remains a daughter first.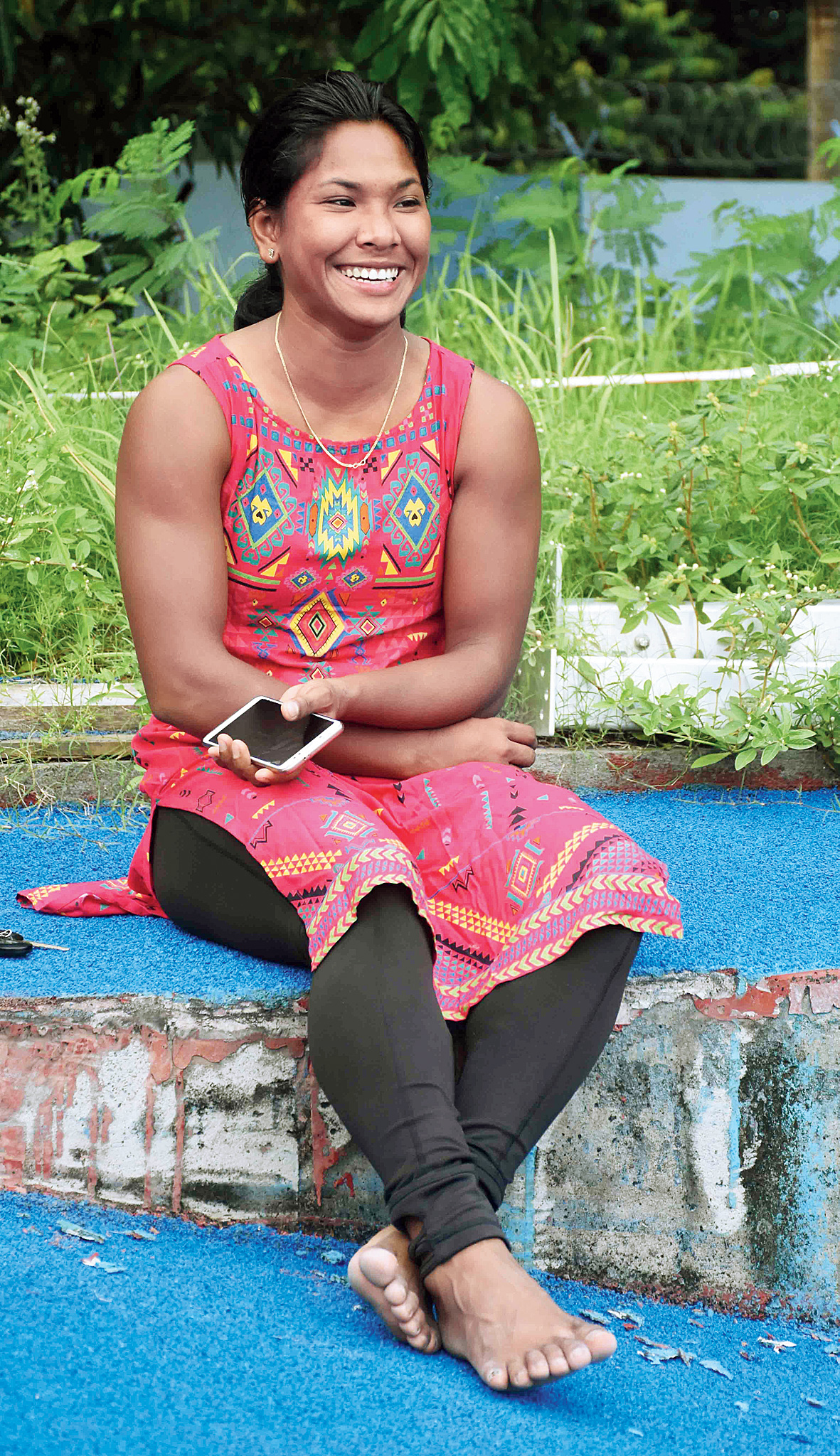 Swapna at the SAI complex in Salt Lake. Shuvo Roychaudhury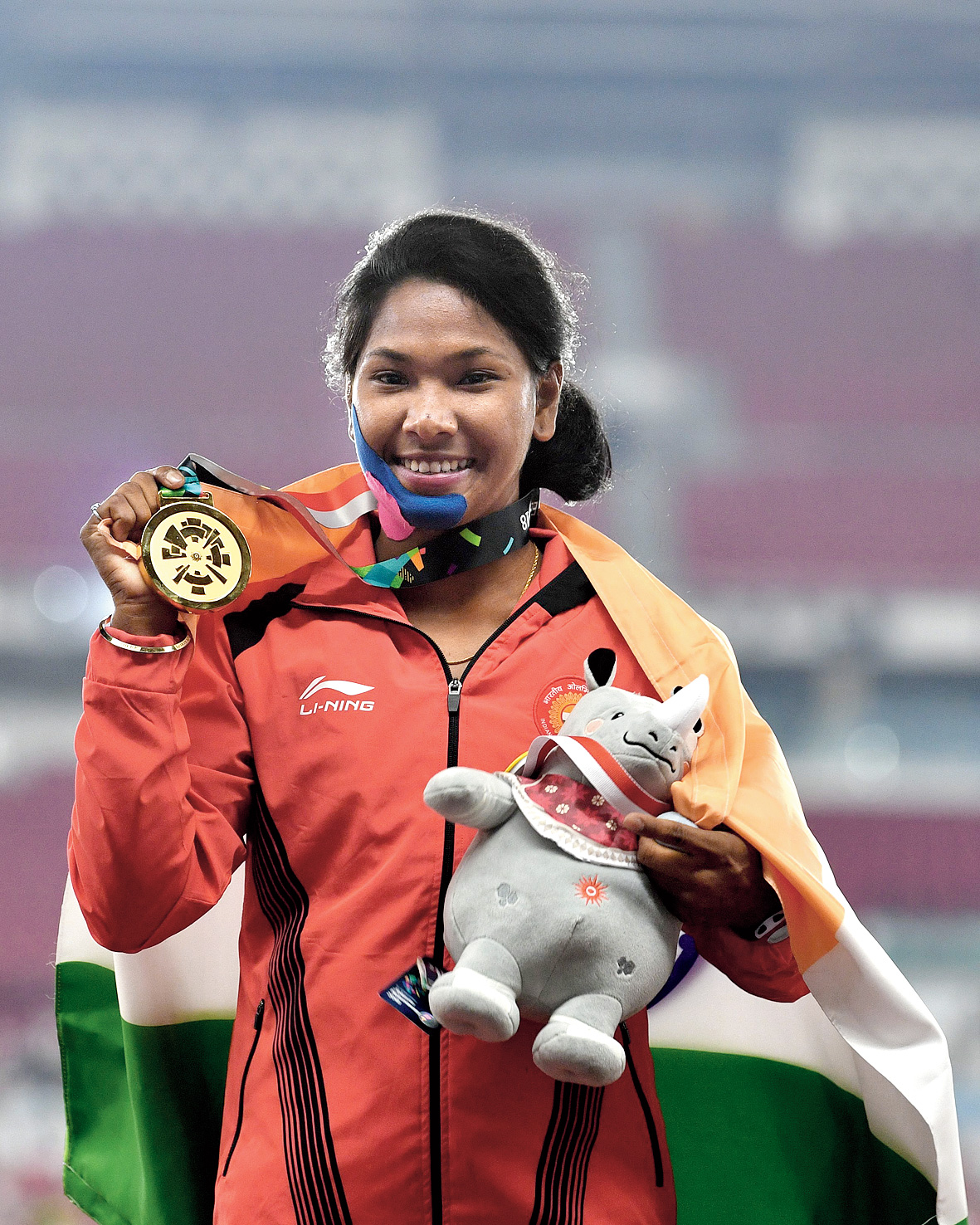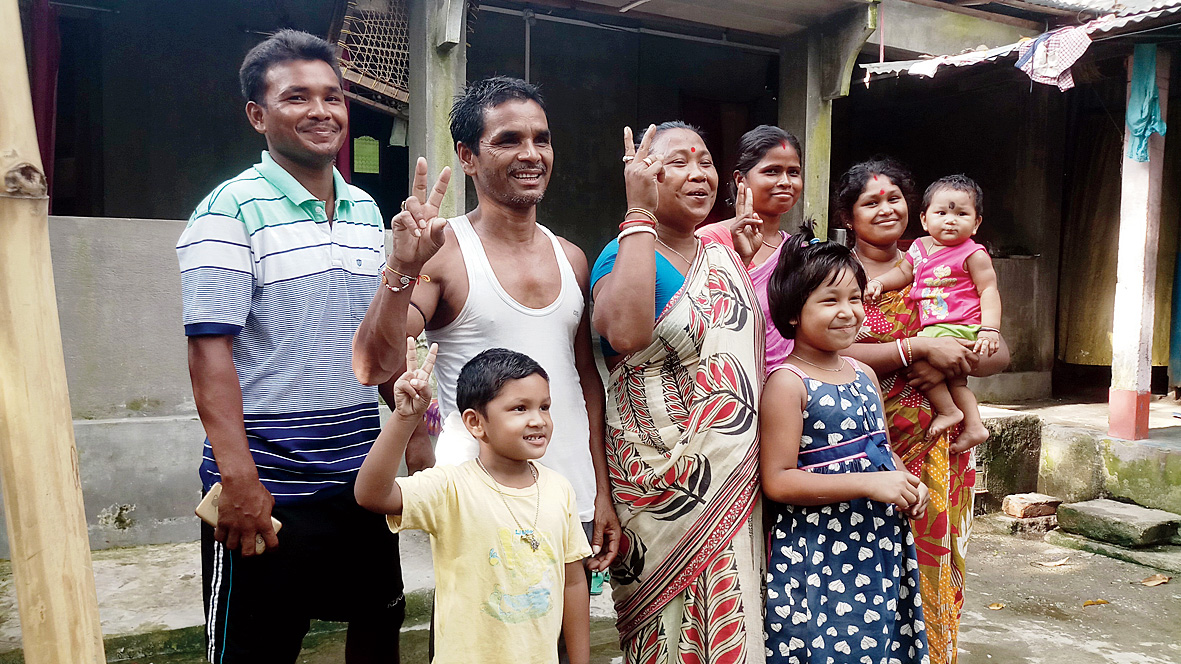 Swapna's family members after her win. (File picture)
Seven steps to Asiad glory
Shot put (707 points, rank 2)

Long jump (865 points, rank 2)

100m (981 points, rank 5)

200m (790 points, rank 7)

800m (808 points, rank 4)

Total Score: 6026 (gold medal)