Hardik's finishing act proof of his potential
Pandya has surprised many to finish as India's top run-getter in the ODI series against Australia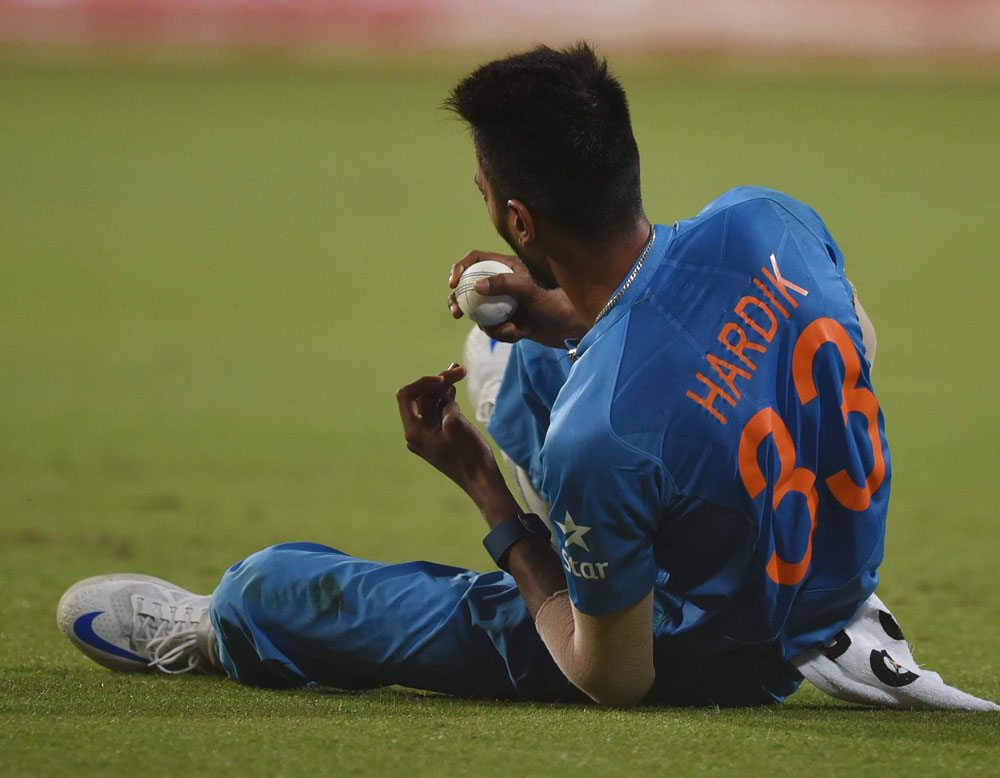 ---
|
Calcutta
|
Published 08.12.20, 03:31 AM
---
From the UAE to Australia, Hardik Pandya ensured his bat did the talking and that too with a fair amount of consistency, proving he could be good enough to play as a specialist batsman as well.
Out of competitive cricket for close to a year owing to his lower back injury and the lockdown, doubts did persist over how Hardik would fare. He didn't bowl even once in this year's IPL, which marked his return, while so far in the Australia tour, he has sent down just four overs.
But what appears to be the standout feature is how he has batted since his comeback in the IPL, underlining a kind of revival in his fortunes.
Hardik has surprised many to finish as India's top run-getter — 210 runs at an average of 105 and strike rate of 114.75 — in the ODI series against Australia.
For sure, it's been some kind of a redemption for Hardik, especially if one looks back at India's last tour of Australia in 2018-19, when he wasn't picked for any of the Tests despite being in the squad. He (along with KL Rahul) was subsequently withdrawn from the ODI series for controversial remarks during a chat show.
Former chief selector MSK Prasad, who has followed Hardik's career since the time he earned an India berth — back in 2016 for the limited-overs tour of Australia — cited maturity, calmness and better preparation as the mantra behind the 27-year-old's recent success. "Hardik certainly looked more mature and calm.
"He looked better prepared, and thus, his confidence level shot up that helped him in terms of executing his potential consistently," he the former chief selector told The Telegraph on Monday.
"Before the IPL, we weren't too sure if he would be so consistent. But now irrespective of the situation, you can rely on him. Besides, we also saw him with a bit of the leadership role in the IPL, giving advice to Rohit (Sharma) on certain occasions. He's supremely confident now."
According to Devang Gandhi, also a former national selector, Hardik finishing off games augurs well for Team India. "The way he has batted so far and taken the mantle of finishing off games, and that too in Australian conditions, speaks volumes of his abilities," Devang said.
However, former India wicketkeeper Kiran More, who knows Hardik since his childhood, doesn't see much of a change in his approach or game plan. "Hardik is my academy boy. I have been watching him since he was five years of age.
"I don't know why people are now getting so overwhelmed, because Hardik has delivered in the past too. His Test century (versus Sri Lanka in Pallekele in 2017) and the five-wicket haul (against England in Nottingham in 2018) are a proof of that.
"People are talking about it now, but for me, he has always been a top player in any format," More, also a former chief selector, said.
Having batted with a lot of authority so far in Australia, Hardik himself stated he "wouldn't mind" staying back for the Tests and playing just as a batsman. For More and Devang, considering Hardik for Tests just as a batsman wouldn't be a bad idea, especially with uncertainty persisting over Rohit's availability for the third and final Tests as well.
"Even Ravi Shastri started as a spinner all-rounder, but later went on to open in Tests... I would want both Rohit and Hardik because without (Virat) Kohli, it won't be easy," More said.
"He's a good player of short-pitched bowling, so keeping him back could be one of the options," said Devang.
Now, talking about his bowling, could the back injury make Hardik a bit jittery if he has to bowl longer spells? "It could be, because it takes time to recover from back injuries and Hardik remodelled his bowling action so that the injury doesn't recur.
"To bowl longer spells, you need more confidence. So maybe he needs a little more time," Devang pointed out.
"In Tests particularly, you have to play a supporting role at least for the quicks even if you are not picking up wickets. So that's one aspect he has to look into," added Prasad.
In the present circumstances, though, it's Hardik the batsman that matters more.