From zero, Devendra Jhajharia throws it furthest
The javelin star aims to add a third gold to his Paralympics medal tally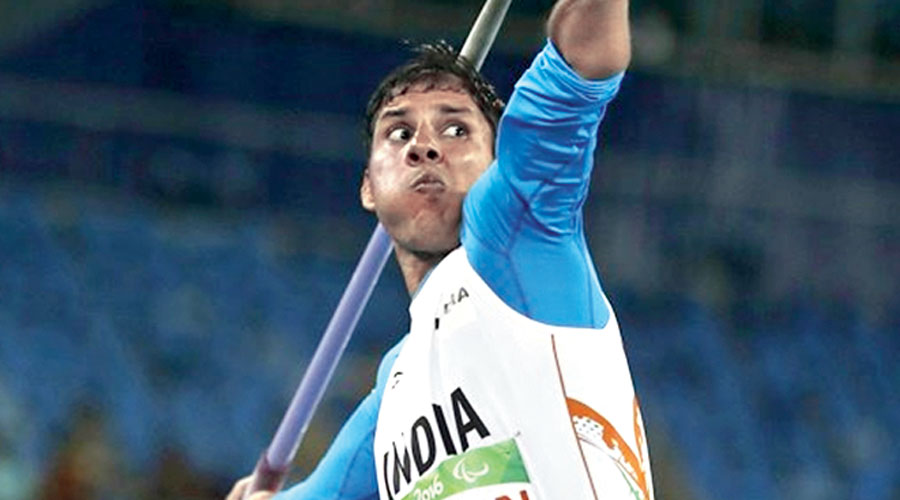 Devendra Jhajharia.
Twitter
---
Calcutta
|
Published 24.08.21, 01:36 AM
|
---
Neeraj Chopra needs no introduction after what he achieved at the Tokyo Olympics. But there's another Indian javelin thrower who hasn't probably bathed in as much limelight as is being showered on Neeraj but whose achievements are second to none.
Meet Paralympian Devendra Jhajharia, whose middle name may well be 'confidence'. He has not one, but two javelin gold medals at the highest stage.
At the Athens Paralympic Games in 2004, Jhajharia had pocketed the gold with a world record throw of 62.15m, eclipsing the old one of 59.77. He went on to pick up a second in Rio 2016. Unfortunately for him, his event was not included in the Beijing (2008) and London (2012) Games, which prevented him from making a 'hat-trick' but Jhajharia hopes to put that record straight and clinch his third at the Tokyo Paralympic Games which begin on Tuesday.
"I consider myself blessed that I am participating in my third Games," Jhajharia, who leaves for Tokyo on Tuesday, told The Telegraph while waiting to catch a flight at the Ahmedabad airport. "I intend to gift my country a third gold and once again etch a world record."
It's been a long and difficult journey for the 40-year-old Khel Ratna awardee.
"At nine years of age, my left arm had to be amputated. I had to restart my life from zero. After the amputation, life became a challenge. Stepping out of the house became a challenge. No one was willing to play with a one-handed boy," he said.
Jhajharia, who hails from Churu district in Rajasthan, used to study in a government school.
"Everyday I would walk 5km to the school and come back walking. So, though my village had no facilities for sports, I would have 10km of physical activity daily.
"Then I started playing a bit in school. However, I faced a lot of harassment, a lot of unsavoury comments like 'you are differently abled, why are you wasting time attempting to play? You should focus on getting a job' and so forth.
"But I grit my teeth and carried on. When you begin at zero, there is nothing more to lose but everything to gain."
In 1997, he was spotted by Dronacharya awardee coach R.D. Singh during a school sports day. Singh took him under his wings and changed his life.
"I was a man on a mission. A mission to prove my worth. And I have succeeded. I have changed people's perspective towards para-sports. And that I think is my greatest achievement," said the javelin-thrower, who trains at SAI Gandhinagar.
Like Neeraj, Jhajharia was all of 23 when he had first got taste of the yellow metal.
"A coincidence," laughed Jhajharia. "I am so happy for Neeraj."
It's been 17 years from Athens. What changes does he see in para-sports?
"There have been changes galore," said Jhajharia, who works for the Rajasthan forest service. "Seventeen years ago in India, para-sports had zero facilities. Most people weren't even aware of what para-sports was all about. All that has changed.
"A lot many changes have come over me too. I am 40 now and have to work harder on my fitness. In the lead-up to the Games, I have shed 7kg of weight."
"After going through what life has served me, I never bow to any mental pressure. I am going with a very positive mindset. Not only for myself, but for our entire contingent.
"We hope to return with 15-17 medals," he said.