Sunil Chhetri bets on crowd at Salt Lake
India football captain talks about friendship with Virat Kohli, secret to his longevity and developments in the AIFF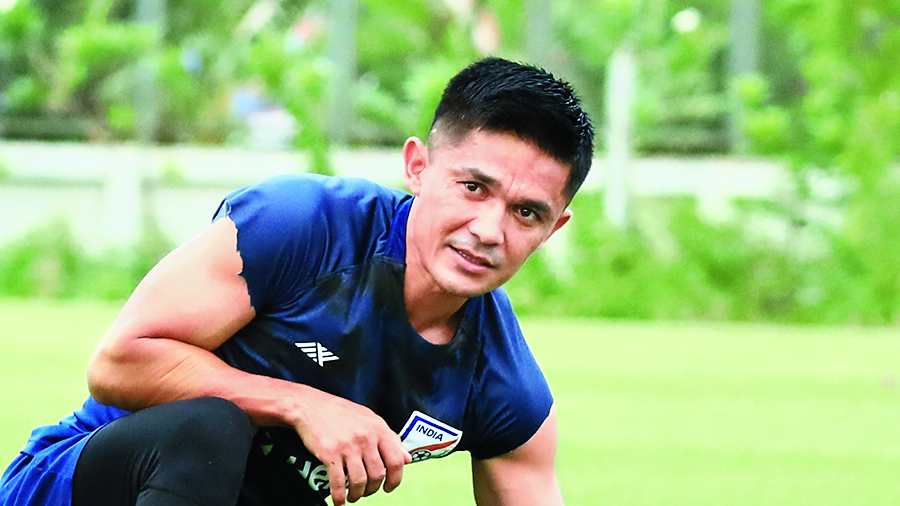 ---
Calcutta
|
Published 04.06.22, 01:46 AM
|
---
"A lot of known faces… meeting after a long time. " Those were India football captain Sunil Chhetri's first words as he welcomed mediapersons for a free-wheeling interaction at the national team base in Rajarhat on Friday.
For the next 63 minutes, Chhetri, 37, spoke on everything. The Indian national team, preparation for the forthcoming AFC Asian Cup, lukewarm crowd response, friendship with Virat Kohli, secret to his longevity, plans to write an autobiography, developments in the All India Football Federation and doing the management course…
Asian Cup Qualifers
I want to qualify for the Asian Cup. The match against Cambodia (June 8) will be tough since that's our first. If we don't do well against Cambodia, we have lost half ourbattle. As of now, we are just thinking about Cambodia. Once we are done with them, we will think about Afghanistan.
Lack of interest
If in a stadium which can accommodate 70,000, there are only 10-15,000 people, what's the point of having a home advantage? I hope the state government allows in more people, or fans will barge in. (Citing lack of interest amongst fans, a mere 12000 complimentary tickets will be distributed on matchdays). How can there be no interest? Even at the practice sessions, some 100-odd people are turning up. The national team is playing in the city, after all.  (Four years back, Chhetri had to appeal to fans in Mumbai to fill the stands for the Intercontinental Cup. Needless to say fans responded and a capacity crowd witnessed India's triumph)
Crazy graph
The sad part is that in the last four years our team has had a crazy graph. We had a couple of great performances. Then we had setbacks against Bangladesh and Afghanistan, the two first games in SAFF. That's what bothers me.
Longevity
Right now, I'm enjoying my football. I enjoy sprinting with Udanta (Singh), enjoy headers with (Sandesh) Jhingan and scoring against Gurpreet. The day I don't (enjoy), I'll be done. It's not easy to get up at 6am everyday or do a 30-minute yoga session before everyone wakes up. It's a very, very strict life that I live. It's not easy to do it for 21 years.
CoA, AIFF
I was scared when the headlines came (that the Supreme Court has appointed a Committee of Administrators to run the AIFF). It affects you. But with my limited knowledge what I understand is that over time matters will subside. I hope the country does not get a ban. A ban will be catastrophic… Not just for the whole country but also for me. I'm 37 and playing my last games.
Autobiography
Yes that's very much in my plan. I'm collecting small anecdotes, I'm jotting down  small things. And once I'm done and I've time, I'll write it.
Management course
Yes that's a new experience and I am thoroughly enjoying it. (The Telegraph had reported on May 4 that Chhetri has enrolled himself in the prestigious ISDE Law Business School, Barcelona, to study global masters in sports management and legal skills).
Virat and friendship
He is cool, funny guy. We discuss a lot about food. We have a lot of things in common. That's why probably we bond so well.