Ukraine crisis: Chelsea hit hard in strike on Roman Abramovich
The oligarch, known to be close to Russian President Vladimir Putin, will be formally barred from travelling to the UK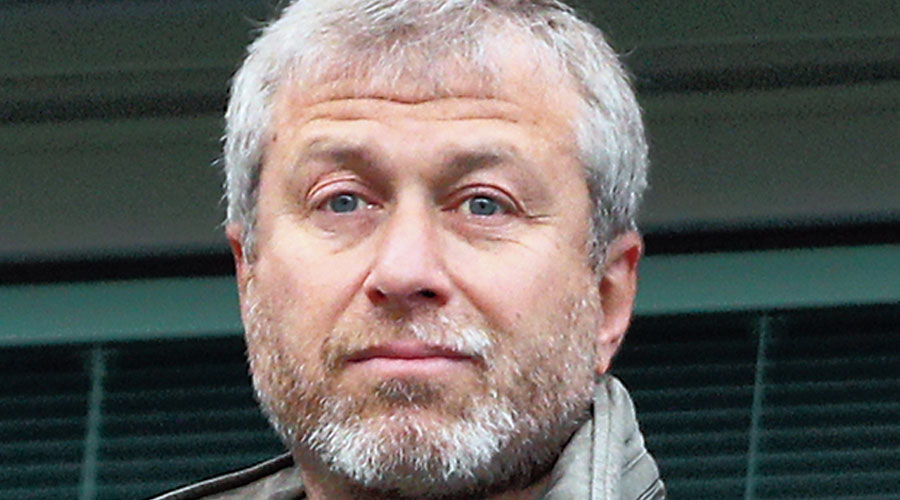 Roman Abramovich
File Photo
---
Published 11.03.22, 02:08 AM
|
---
Britain has sanctioned Russian oligarch Roman Abramovich with his assets in the UK frozen, among them his multimillion-pound property portfolio and Chelsea Football Club, which he has put up for sale.
The oligarch, known to be close to Russian President Vladimir Putin, will be formally barred from travelling to the UK and conducting financial transactions with any individuals or businesses in the country.
Chelsea will be given a licence to allow it to continue with "football-related activities" so games can go ahead. However, Abramovich will be unable to sell the club. The announcement in effect leaves the club, which last year won the Champions League, in limbo.
The club could still be sold if Abramovich handed over the process to the UK government — in doing so, BBC added, he would receive no proceeds from any sale.
"He will not get a penny from the sale of the club," a government source said. Chelsea said they will also be seeking guidance from the UK government on the impact of these measures on the Chelsea Foundation.
Abramovich, who has owned Chelsea since 2003, had announced plans to pass its stewardship to a charitable foundation. However, these plans stalled and were being looked into by the Charity Commission.
Abramovich has a 15-bedroom mansion on the exclusive street of Kensington Palace Gardens, which is valued at more than £150 million, and a three-storey penthouse at Chelsea Waterfront acquired in 2018 for a reported £22 million. He was preparing a fire sale, according to reports.
While the government has granted Chelsea a licence that will enable it to continue playing, the club's commercial activities will be restricted. While catering will be allowed at matches, no further tickets for away fans will be sold and no merchandising will be available.
Only season ticket holders and those who have already purchased their tickets will be allowed to attend matches, with Thomas Tuchel, the manager, unable to plan any business in the transfer market this summer. It will be impossible to renegotiate contracts with existing players. Broadcasters will be permitted to show Chelsea matches on television.
Senior figures at the club are expected to hold an emergency meeting to discuss a plan of action.
A number of billionaires in America and Europe have expressed an interest in buying the club, including the British property tycoon Nick Candy, with the Raine Group having invited potential buyers
to table their first bids by next Tuesday. Last week prominent Pakistani businessman Javed Afridi, who owns Pakistan Super League franchise Peshawar Zalmi, had said he was interested in buying Chelsea.
That process, however, has been halted by the government's intervention. Late on Thursday, Swiss business tycoon Hansjoerg Wyss said he "remained interested in spite of the new circumstances".
Mobile network Three has asked Chelsea to suspend its shirt sponsorship of the team. The three-year deal, which was announced in January 2020, is believed to be worth about £40 million a year.
Besides Abramovich, the sanctions list includes the aluminium magnate Oleg Deripaska, Igor Sechin, the chairman of the Russian state oil company Rosneft, Andrey Korstin, the chairman of VTB bank, Alexei Miller, the chief executive of the state-owned energy company Gazprom, Nikolai Tokarev, the president of the Russian state-owned pipeline company Transneft, and Dmitri Lebedev, the chairman of the board of directors at Bank Rossiya. The oligarchs have a collective net worth of £15 billion.
(Written with inputs from agencies)