World Cup: Spectre of 2002 haunts Lionel Messi fans
Saudi Arabia stun Argentina with a 2-1 win after Messi's penalty goal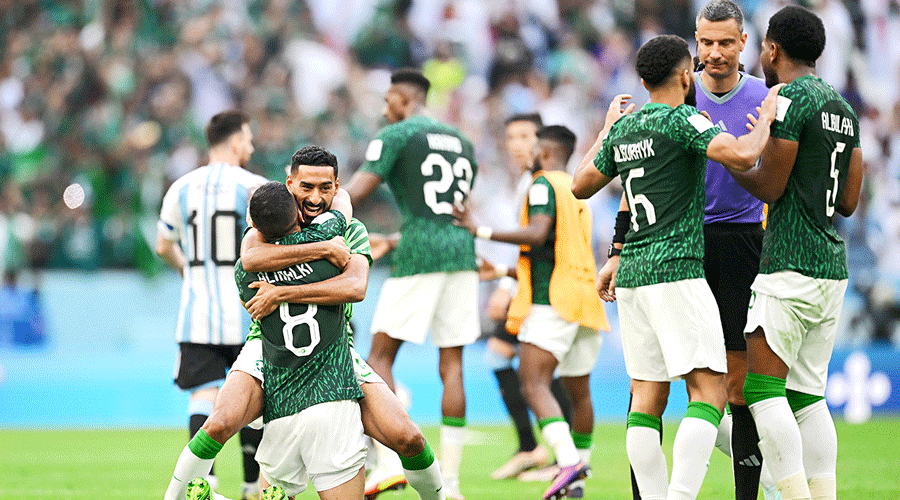 Saudi Arabia players celebrate after their 2-1 upset over Argentina in their World Cup Group C at Lusail Stadium on Tuesday.
Getty Images
---
Doha
|
Published 23.11.22, 03:25 AM
|
---
Remember how Argentina imploded in 2002? The South Americans had come to the first Asian World Cup, held in Japan and South Korea, with an unbeaten record and were expected to win. Instead, they were eliminated in the group stage itself.
The ghosts of 2002 seem to have returned to haunt them in Qatar, with a dogged Saudi Arabia stunning them 2-1 in their opening group match. And suddenly, all the talk of Argentina being so good and solid has begun to sound hollow.
If Qatar winning the right to host the tournament has unified the Gulf, Saudi Arabia's showing in Lusail has given the region a memorable day.
For the millions of Lionel Messi fans, the spectre looms of their hero having to catch an early flight home. As the match progressed, he struggled — probably the damaged ankle was taking its toll. When the final whistle was blown, he looked angry. Angry with himself, upset at how things had panned out.
At 35, this is his last chance to win the trophy he most badly wants. Yes, he was on target, courtesy of the penalty, but when the chips were down Messi just could not lift his team. A couple of passes in the second half were a little too heavy; a free-kick from a position from where he used to score every weekend went abegging.
And, of course, there was that out-of-this-world tackle from Hassan Altambakti inside the box when Messi had the ball on his favourite left foot. All this with the scoreline reading 2-1. Agreed, Argentina cannot expect him to bail them out every match, but those snide remarks about Messi failing to turn up when needed in the Argentine shirt will once again surface.
A few years ago, fellow Argentine icon Diego Maradona was filmed telling Brazilian great Pele that Messi was a good person but lacked the personality of a leader. Many others in Argentina agree.
The result leaves Argentina with little elbow room in their next two matches. Mexico and Poland must be smacking their lips: If Saudi Arabia can, why can't they? Argentina, despite being unbeaten for 36 matches coming into this World Cup, hadn't really been tested barring a few tough games like the Copa America ties against Colombia and Brazil last year and the Conmebol-Uefa Cup of Champions final versus Italy last June.
On Tuesday, after those two quick and brilliant second-half goals from Saud Alshehri (48th) and Salem Aldawsari (53rd), Argentina did not have a Plan B. Maybe they never thought they would need a Plan B against Saudi Arabia.
In the first half, Argentina had been all over their rivals, running them ragged. Messi, Angel as Di Maria and Lautaro Martinez were combining well. Three times — Messi once and Martinez twice — they put the ball in the net, setting the stands alight, but VAR ruled each of the efforts offside. 
Lionel Scaloni, the Argentina coach, may have a few questions to answer after this defeat. He insisted on Cristian Romero partnering Nicolas Otamendi at the back, and the Tottenham defender erred big time during both goals. Romero was hopelessly out of position, although one cannot take anything away from Alshehri or Aldawsari.
Immediately after the second goal, Scaloni replaced Romero with Lisandro Martinez, a man who has played regularly for his club Manchester United in contrast to Romero, who was returning from injury.
Still, Argentina could have salvaged a point. Julian Alvarez's header seemed about to enter the net only to see Abdulelah Alamri at the right place to effect a goalline save.
Argentina will now hope for favourable results in the other matches in their group. And if they go through as second-best, France may await them in the round-of-16 clash, as they had last World Cup. 
But before that lie the Mexican and Polish challenges. If the results from now on do not go in Argentina's favour, Messi's World Cup dream could be over even before December begins.