Promise of better I-League telecast
InStat's lack of telecast experience is also a factor behind this dismal show, says Ranjit Bajaj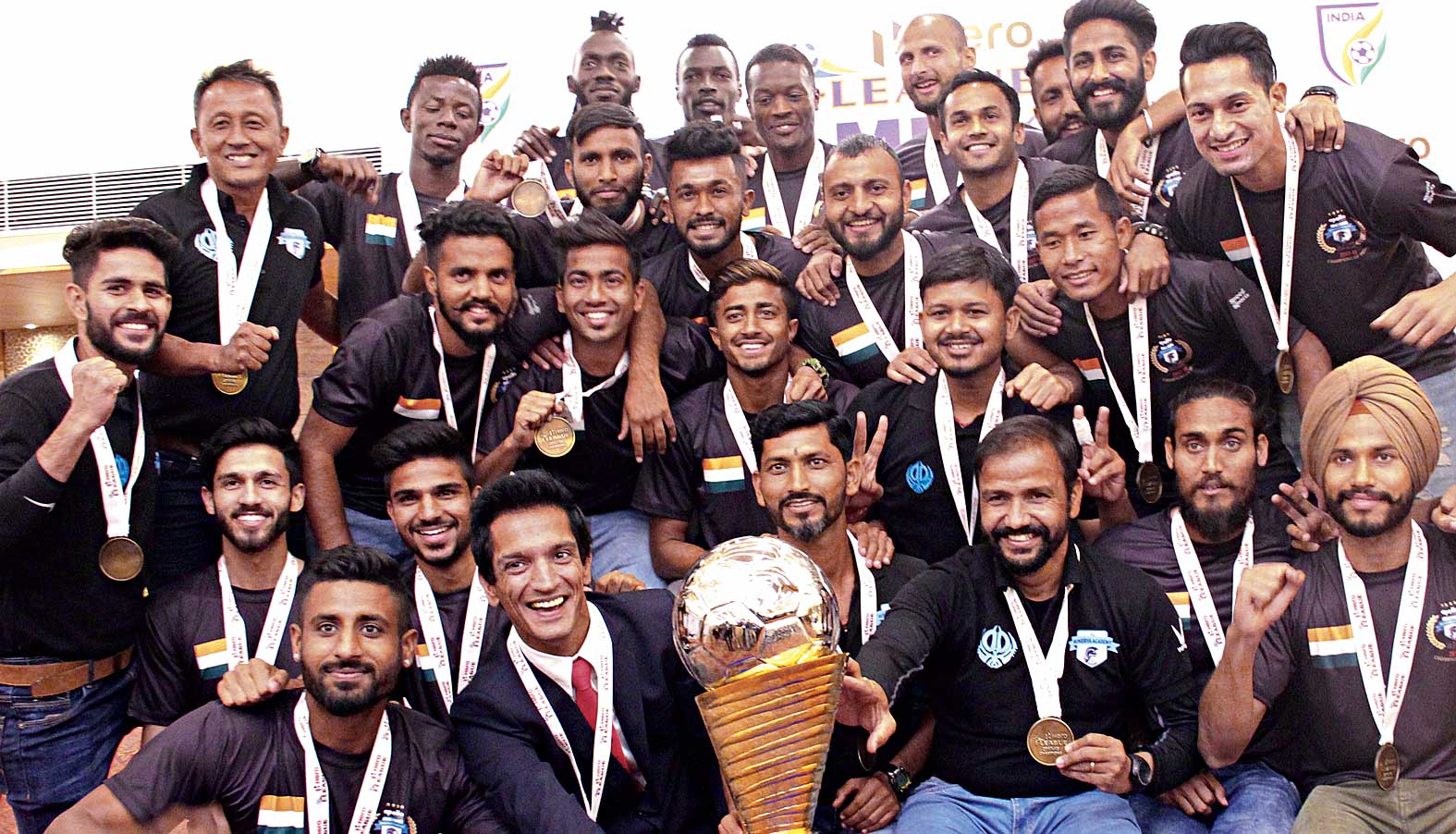 Minerva Punjab team and owner Ranjit Bajaj with the I-league trophy
Telegraph picture
---
Calcutta
|
Published 09.12.19, 09:58 PM
|
---
The poor quality of telecast of I-League matches so far has raised quite a few eyebrows.
While one match — Gokulam Kerala FC versus Neroca FC on November 30 — was not shown "due to technical reasons", the standard of telecast has been atrocious so far.
Take for example, the match between Punjab FC and East Bengal. At times it seemed that InStat Limited, an Ireland-based company commissioned by the All India Football Federation (AIFF) to produce feed of the live audio-visual coverage for the broadcast on DSport, were using mobile cameras!
According to a source, who is privy to what happened in Ludhiana, the telecast equipment did not arrive in time. "It was a last-minute arrangement with both the crew and equipment. That's why coverage was poor. The production house has great plans for the venue and some of them will be in place for the match against Chennai City on Tuesday."
Even in Kalyani during East Bengal's home match against Real Kashmir FC last week, Gnohere Krizo's goal could not be shown on real time as live feed went blank.
"It's atrocious coverage till now. However, it's no point to indulge in blame game and all the stakeholders (AIFF, I-League clubs, the broadcaster and the production house) have to work in unison to make sure the standard of coverage improves as early as possible," Punjab FC top official Ranjit Bajaj told The Telegraph on Monday.
Bajaj said InStat's lack of telecast experience is also a factor, although InStat covers leagues in Mexico and Russia to name a few.
To be fair to the international production house, the coverage was marginally better during Sunday's match between Mohun Bagan and Churchill Brothers.
"The crew covering the games are getting used to the new Vmix technology, online statistics and graphics technology. It takes time. Also the technical issue with stream is because InStat is not using satellite but online stream to transfer the audio and video. This can be problematic in the beginning till some new things are in place which the production house is installing. Sunday's match in Kalyani went perfectly thanks to this change," a source in the production house said.
Dsport's brand name, meanwhile, has taken a beating since most of the fans are peeved with the television channel.
"They are getting a bad name for no fault of theirs," Bajaj said.
The Punjab FC official, incidentally, played a big role in bringing DSport on board and was lauded for his efforts by the AIFF officials during an I-League committee meeting last month.
A top DSport official, who did not want to be named, told this newspaper that hopefully things would improve soon.
And what's the AIFF doing? According to secretary Kushal Das, it's just a teething problem. "We are continuously working with the production house. It's just a teething problem, and it will be sorted soon," he said.
Till then, "happy viewing".