Player power: SC East Bengal told to pay up
AIFF's players' status committee asks the team management to shell out around Rs 1.42 crore to seven footballers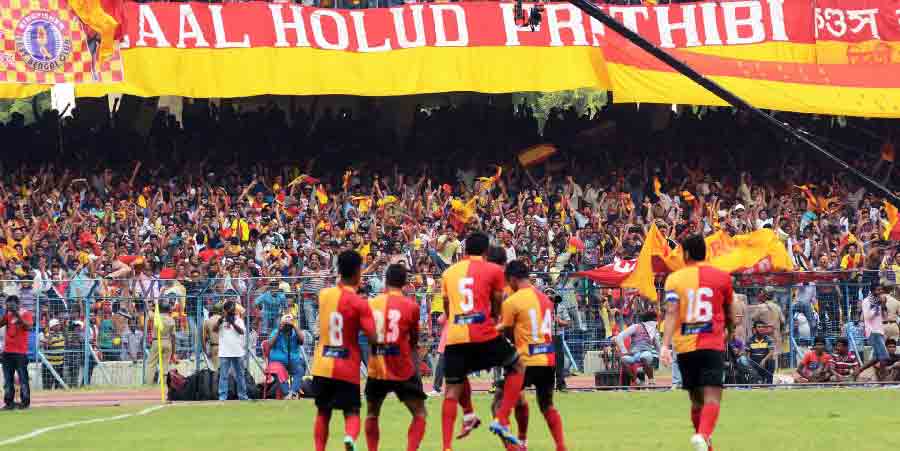 Football Players Association of India represented the aggrieved players.
File Photo
---
Calcutta
|
Published 10.02.22, 12:48 AM
|
---
SC East Bengal's on-field worries are bad enough. Off the field too, their woes are compounding every day.
On Wednesday, the players' status committee (PSC) of the All India Football Federation (AIFF) came down heavily on SC East Bengal, asking the team management to shell out around Rs 1.42 crore to seven footballers.
Cavin Lobo, Keegan Perreira, Rino Anto, CK Vineeth, Girik Khosla, Eugeneson Lyngdoh and Anil Chavan had moved the PSC after contract disputes arose between the SC East Bengal management and the players.
Football Players Association of India represented the aggrieved players. These footballers were signed by East Bengal in the summer of 2020 and investor Shree Cement inherited them after coming on board in September that year.
If the management clears the dues in accordance with the PSC verdict, then Lobo should get Rs 41 lakh, Anto Rs 26 lakh, Vineeth and Lyngdoh Rs 21 lakh each, Pereira Rs 16.80 lakh, Chavan Rs 10.28 lakh and Khosla Rs 6.30 lakh.
SC East Bengal would have to clear the dues within 45 days of receiving the copies of the decision. If they fail to comply, a transfer ban will be imposed on them. The Telegraph has access to the copy of the PSC decision.
The PSC said: "Pursuant to Article 31 of the AIFF Regulations on the Status and Transfer of Players 2021 if full payment (including all applicable interest) is not paid within 45 (forty-five) days of notification of this decision, the following consequence shall apply:
• The Respondent shall be banned from registering any new players, either nationally or internationally, up until the due amount is paid for a maximum duration of three entire and consecutive registration periods."
SC East Bengal have the option of moving the AIFF appeals committee but a source said that would not be of much help. "It's loaded heavily against SC East Bengal. I do not think they would appeal," he said.
In a meeting held on November 18, SC East Bengal CEO Shivaji Sammadar had promised to settle the matter amicably and asked for a month's time. "While the players waited there was no move from the team management," someone in the know of things said.
In the January 27 meeting when the committee wanted to know if there was any headway, the team management claimed that the players refused to take what was offered. "The money offered was laughable. How can the players accept such ridiculous offers?" a source asked.