Pele gets first stadium
15,000-seater Estadio Nacional de Cabo Verde, located just outside the capital Praia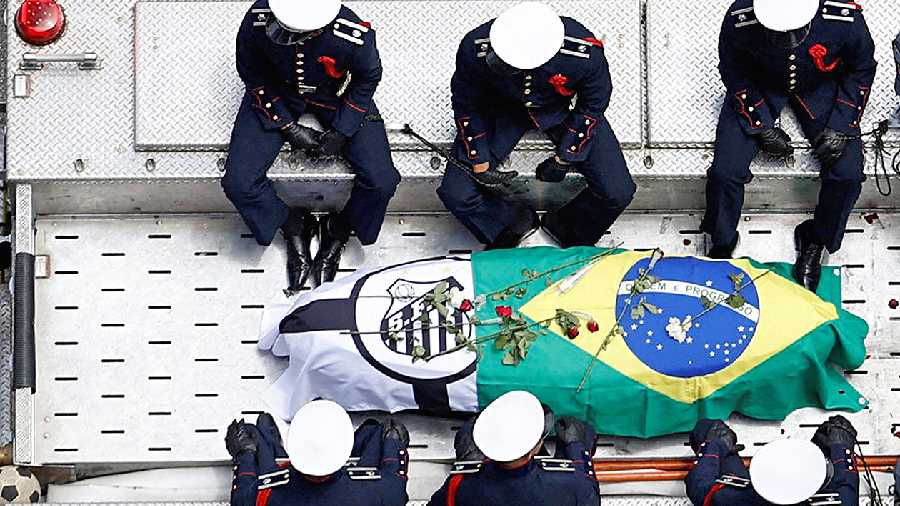 Members of the National Guard kee vigil as the casket of Pele is transported by the fire department from his former club Santos' Vila Belmiro stadium on Tuesday
Reuters
---
Calcutta
|
Published 05.01.23, 05:51 AM
|
---
Cape Verde's national stadium is to be renamed after Pele, the country's prime minister has said.
The 15,000-seater Estadio Nacional de Cabo Verde, located just outside the capital Praia, will become the Pele Stadium. The news comes after Fifa's president Gianna Infantino proposed — while speaking at Pele's memorial service in Brazil — that every country should name a stadium after the footballing legend who died on December 29, aged 82.
"As a tribute and recognition to this figure that makes us all great, I manifest the intention of naming our national stadium as "Pele Stadium", in an initiative that, I believe, will be followed by several countries around the world," Ulisses Correira e Silva wrote on Facebook.
"With the physical disappearance of Edson Arantes de Nascimento, King Pele, who soon became a planetary figure, an icon of the masses showing that sport has the power to unite the world, it is now our wish to pay tribute to him," added Silva in a statement that stressed the importance of Pele to Portuguese-speaking countries like Cape Verde. "Cape Verde and Brazil have a history and culture that go hand in hand, considering they are two sister countries, linked by language and very similar identities.
"Pele was and always will be a reference in Brazil, in our Portuguese-speaking countries and in the rest of the world, being an idol that links several generations."
Brazil said a final farewell to Pele on Tuesday, burying the legend who unified the bitterly divided country.
President Luiz Inacio Lula da Silva paid his respects at Vila Belmiro, Santos's home stadium where Pele played for most of his career.