Mood of '83 in Lionesses' Sourav-like celebrations
'This image of a woman shirtless in a sports bra — hugely significant'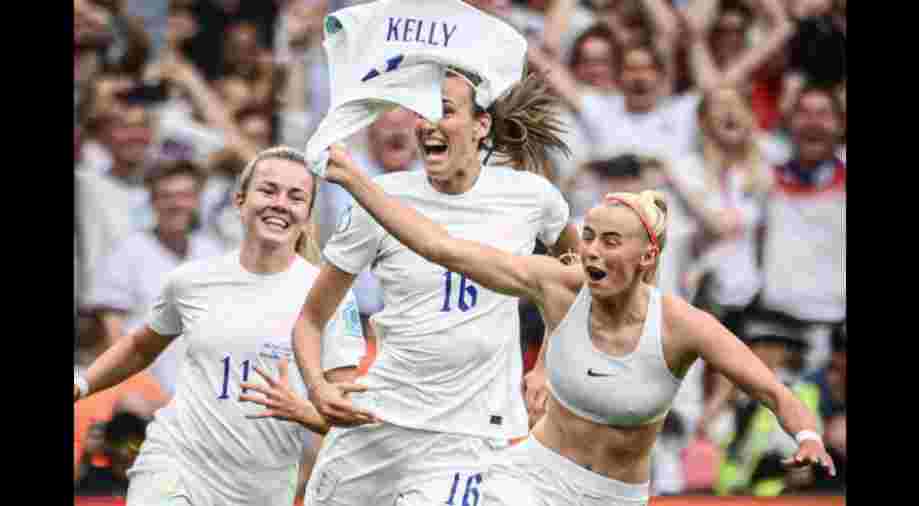 One report said, "Chloe Kelly stripped off her shirt and wheeled it above her head, sprinting away in front of 87,192 adoring fans."
Twitter
---
London
|
Published 02.08.22, 03:41 AM
|
---
Chloe Kelly did a Sourav Ganguly and stripped off her shirt after scoring the winning goal in England's 2-1 defeat of Germany in the European Championship at Wembley on Sunday night. Well, not exactly. Chloe, now her country's heroine number one, kept on her sports bra. The moment was captured in the Daily Mail's front page on Monday: "It wasn't a dream …we did beat Germany in a final!"
One report said: "Chloe Kelly stripped off her shirt and wheeled it above her head, sprinting away in front of 87,192 adoring fans. White sports bra on show, she celebrated England's winning goal at the European Championship in iconic style and so she should. That gesture will become famous for years."
An England fan, Lucy Miranda, spoke for many women when she tweeted: "This image of a woman shirtless in a sports bra — hugely significant. This is a woman's body — not for sex or show — just for the sheer joy of what she can do and the power and skill she has. Wonderful."
Sourav's gesture back on July 13, 2002, is understandable even if it was somewhat unorthodox behaviour for India's captain who pulled off and waved his shirt on the Lord's balcony. Most spectators that day had assumed that India were heading for certain defeat in the Natwest Final after England put up a formidable 325/5, with Marcus Trescothick hitting 109 and skipper Nasser Hussain 115.
Although no one hit a century on the Indian side, India triumphed and broke English hearts by getting to 326/8, with invaluable contributions from Virender Sehwag (45), Sourav himself with 60, Yuvraj Singh (69) and Mohammad Kaif (87 not out). Maybe there is something to learn from the way women sports is reported in England. For example, women are not dismissed condescendingly as "Eves".
In the case of the England women footballers, they are applauded as "Lionesses". England men last beat Germany in a football final at Wembley in 1966. Journalists have been searching for suitable words to describe the euphoria that has gripped England. The story has taken over Monday's front pages. The headlines read: "History makers: Glory for amazing lionesses" (Mirror); "Stuff of dreams" (Financial Times); "It's home! Can you believe it? Cheered on by 87,192 fans at Wembley and millions at home, England finally ends 56 years of hurt over old rivals Germany" (Daily Express); "Lionesses bring it home" (The Times); and so on.
Perhaps it is simplest to say the country has gone quite crazy with joy. What was moving was seeing the emotional reaction of Gurinder Chadha, an Indian woman cheering for England. She is also the director who made Bend It Like Beckham in 2002, a film about a young Punjabi girl who would much rather play football than learn to cook aloo gobi from her mum or stay out of the sun because a dark tan would allegedly do nothing for her marriage prospects.
On Sunday night, Gurinder was weeping tears of joy and seeing England's victory as a vindication for the battle she had to fight 20 years ago: "Historic moment for England, for women's football. I cannot believe I'm seeing this — it's amazing…. all those years ago I struggled with so many people who kept rejecting Bend It Like Beckham, saying 'no one wants to watch a film about women and football, this is never going to work, it's not commercial'. And now look…."
Even the 96-year-old Queen got caught up in the excitement and sent a long message to the victorious women from Windsor Castle: "My warmest congratulations, and those of my family, go to you all on winning the European Women's Championships. "It is a significant achievement for the entire team, including your support staff. "The Championships and your performance in them have rightly won praise. However, your success goes far beyond the trophy you have so deservedly earned.
"You have all set an example that will be an inspiration for girls and women today, and for future generations. "It is my hope that you will be as proud of the impact you have had on your sport as you are of the result today." Her grandson, Prince William, the president of the Football Association — he was at Wembley and joyfully hugged some of the players during the awards ceremony — said on his Twitter account: "Sensational. An incredible win.
The whole nation couldn't be prouder of you all. Wonderful to see history in the making tonight at Wembley, congratulations!" Boris Johnson, who is Prime Minister only until September 5, got in the act: "Football has come home! A stunning victory by the Lionesses. Huge congratulations to Sarina (Wiegman, manager), Leah (Williamson, captain) and the whole team. Football pitches across the country will be filled as never before by girls and women inspired by your triumph."
Maybe the real comparison is with 1983 when India lifted the cricket World Cup at Lord's by beating the mighty West Indies, thereby changing the sport in India forever. There will be a victory celebration in front of fans at Trafalgar Square in London on Monday.
In England's case, the country takes extra pleasure in beating Germany, not so much because of the history of two world wars, but because their opponents are so dominant and clinical and generally almost impossible to beat. Football Association chief executive Mark Bullingham said: "Not only have they captured the hearts of the nation, but they have also broken down boundaries. They have left a lasting legacy that will positively impact women' and girls' football in this country for generations to come."