London rivals chase elusive silverware and FA Cup glory
Last chance for the Gunners to secure European qualification next season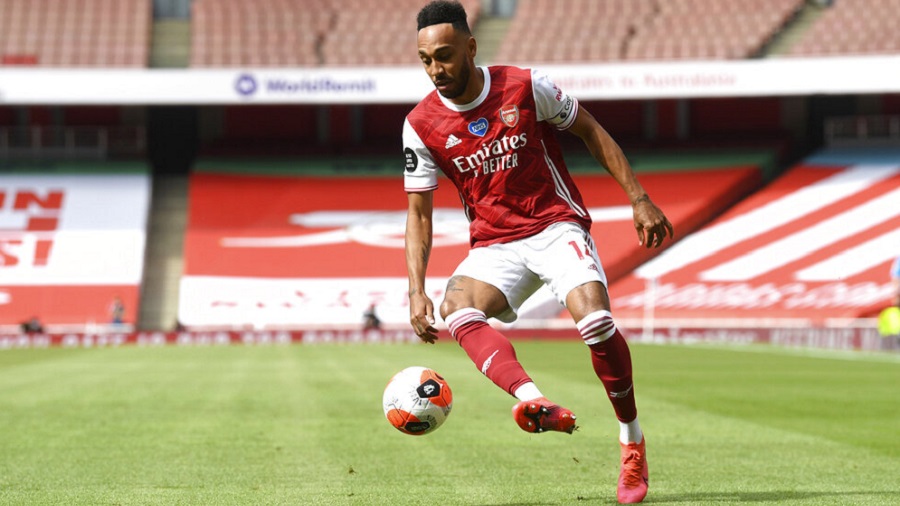 Arsenal would be banking on the brilliance of Aubameyang to lift the cup, failing which can result in the Gabonian striker leaving the club.
AP
---
Published 01.08.20, 12:56 AM
|
---
There will be no walk up to the royal box. No Prince William to hand over the trophy. Either Arsenal captain Pierre-Emerick Aubameyang or Chelsea counterpart César Azpilicueta will have to pick it up themselves on the pitch. Even the traditional pre-match Abide With Me hymn will be a prerecorded version by Emeli Sandé at Wembley Stadium. Played without any crowd due to pandemic restrictions, the 139th FA Cup final on Saturday will be the most unusual in the history of the world's oldest football competition. 
The stakes though are high as this is by far both clubs' best chance at silverware in their new managers' first season in charge.
Chelsea boss Frank Lampard wants his players to bring home the trophy ahead of the new season, having clinched a place in the 2020-21 Champions League. The Blues are still technically alive in Europe, down 3-0 to Bayern Munich but they play the German champions away for the second leg of the Champions League Round of 16 tie on August 8.
Arsenal manager Mikel Arteta needs that silverware to ensure the club doesn't miss out on an European competition having finished 10th in the Premier League. A win will clinch Arsenal a berth in next season's Europa League.
Arsenal were outclassed 4-1 by Chelsea in the Europa League final in Baku last year when the two sides were managed by Unai Emery and Maurizio Sarri respectively.
However, Arteta, who took over in December, was confident Saturday's clash will have a different outcome.
"A year in football is a different life," Arteta said in a virtual news conference on Friday. "Even two weeks or three days later you can see a team performing one way then they can be a different team."
Arsenal star Aubameyang continues to be linked with a move away from the Emirates but Arteta believes lifting the Cup could convince the Gabon striker to stay back. 
"I don't have that fear," Arteta said when asked if Saturday's game could be Aubameyang's last in an Arsenal shirt.
Winning the trophy helps to believe. If you wear the armband and lift that cup, that will help."
Lampard said Chelsea would not take their foot off the gas. "If you get to a final you want to win it. It will be difficult, many a great manager haven't won things but now we are here, I want to win it," said Lampard, who won the FA Cup four times as a player.
Chelsea's influential duo N'Golo Kante and Willian have recovered from injuries and are back in contention. 
History favours Arsenal who have won the FA Cup a record 13 times, one more than Manchester United and five more times than its Saturday opponents. Chelsea last won in 2018 while Arsenal won the previous season.
Before kickoff — like every English game in the last six weeks — players will take a knee to show solidarity with campaigns against racial injustice. It's why this is being called the Heads Up FA Cup final — with Emirates airline handing over the title sponsorship to the mental well-being campaign spearheaded by Prince William. 
"I believe more than ever that football can be the catalyst that drives this change and brings us closer together," said the second-in-line to the British throne. And in a rare moment of footballing candour this week, the Aston Villa-supporting Duke of Cambridge said he would previously have been a "bit concerned" about his son, Prince George, supporting Chelsea. "But now," he said, "Frank's come in I feel the culture's a bit different at Chelsea and I'd be OK with it."
All about Saturday's clash
This year's FA Cup final, like the later stages of the Premier League season, will be played behind closed doors as Arsenal and Chelsea look to end the domestic campaign with a piece of silverware.
Both Mikel Arteta and Frank Lampard have lifted the FA Cup when playing for the sides they are in charge of and are seeking their first piece of silverware since stepping into management.
Goals expected
The two London clubs have offered plenty of excitement in recent encounters and there is no reason why Saturday's game at Wembley will be any different. 
Big test for Arteta
A trophy just eight months into his first managerial role will strengthen the impression that Arteta is the right man in charge to right the ship. A win will also earn Arsenal a place in the Europa League next season, redeeming a miserable campaign.
Fragile finances
Failure to qualify for European football at all for the first time since the 1995/96 season would be a further blow to Arsenal's already fragile finances. The Auba Factor
For one of Europe's top strikers, Pierre-Emerick Aubameyang has precious few medals to his name. In what could be his final game for the club, a trophy at Wembley could go a long way to convincing Aubameyang to buy into Arteta's project. 
Out of action
Arsenal defender Shkodran Mustafi will miss the final because of a hamstring injury. Mustafi sustained the injury during the semi-final against Manchester City.
On 'home' turf
Olivier Giroud famously declared that Wembley was his garden after helping Chelsea to win the FA Cup in 2018. The France international, who moved to England with Arsenal in 2012, has picked up seven medals at Wembley — winning the FA Cup four times & the Community Shield on three occasions. Giroud heads into the final in fine form. 
Fitness boost
Christian Pulisic has handed Chelsea a timely fitness boost after declaring himself "100 per cent fit". N'Golo Kante and Willian have recovered from injuries.
Compiled by Angshuman Roy