Focused and composed captain Pritam Kotal came up to take ATK Mohun Bagan's fifth and the decisive penalty at the Salt Lake Stadium on Monday.
Kotal has been the mainstay of this team, playing every match in ISL IX till now and the onus was on him to convert the penalty — teammate Brendan Hamill had just muffed up his chance — and take his team to the final.
Over 50,000 supporters, the players and the support staff waited with bated breath. Kotal looked at Hyderabad FC goalkeeper Gurmeet Singh for once and took a right-footer. Even before it hit the bullseye, Kotal was running towards the stands.
He knew it was a goal and ATK Mohun Bagan will be travelling to Goa for the March 18 final against Bengaluru FC.
In the tie-breaker ATK Mohun Bagan goalkeeper Vishal Kaith had saved Javier Toro's attempt to give the hosts an advantage, while Hyderabad FC striker Bartholomew Ogbeche's shot hit the inside of the post and rolled out.
The scoreboard flashed ATK Mohun Bagan 4 Hyderabad FC 3. It was a party at the stadium.
A jubilant Kaith jumped on his captain, coach Juan Ferrando hugged one of the support staff and euphoric team owner Sanjiv Goenka was on the pitch to join the celebrations. The fans were straining their vocal chords, Salt Lake Stadium was throbbing. ATK Mohun Bagan — after the merger — will be playing the final for the second time.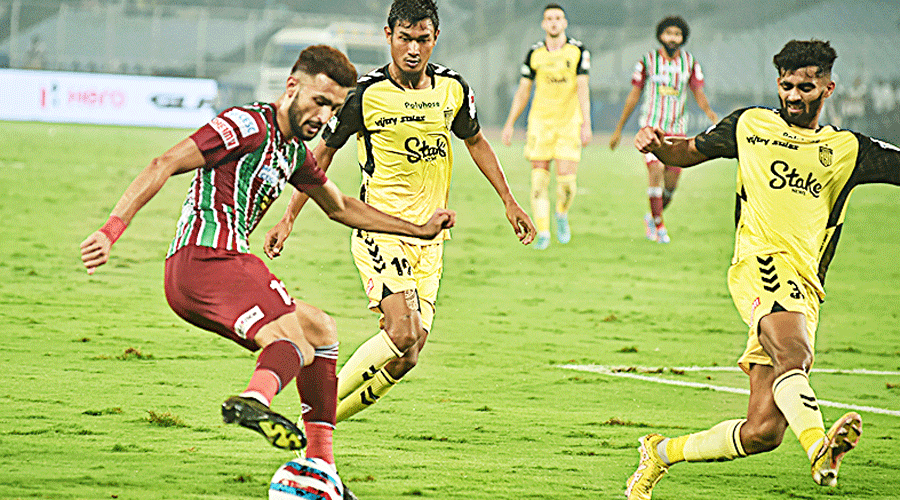 ATK Mohun Bagan's Manvir Singh (left) tries to beat Holicharan Narzary (centre) and Akash Mishra of Hyderabad FC on Monday. Santosh Ghosh
"Frankly, I don't like penalties to decide a season but that is football," a relieved Ferrando said at the post-match news conference.
Yet his team could have sealed the deal in 90 minutes in the second leg of second semi-final. They were clearly the better side of the evening but just did not know how to convert the chances that came their way.
Manvir Singh's booming left-footer hit the far post, Slavko Damjanovic and Kotal could not get a touch on a Dimitri Petratos free-kick.
There were many more. Kiyan Nassiri was impressive but coach Ferrando replaced him with Liston Colaco in the 46th minute.
Colaco, not in good form, was a failure again. "Kiyan just recovered from fever and was feeling tired," Ferrando informed. In the end though, Kaith and Kotal ensured ATK Mohun Bagan fans returned home cheering.