World Cup: Hugo Lloris, man to beat on Sunday
Probably criticism by English media in build-up to quarter-final clash gave France captain the strength to prove a point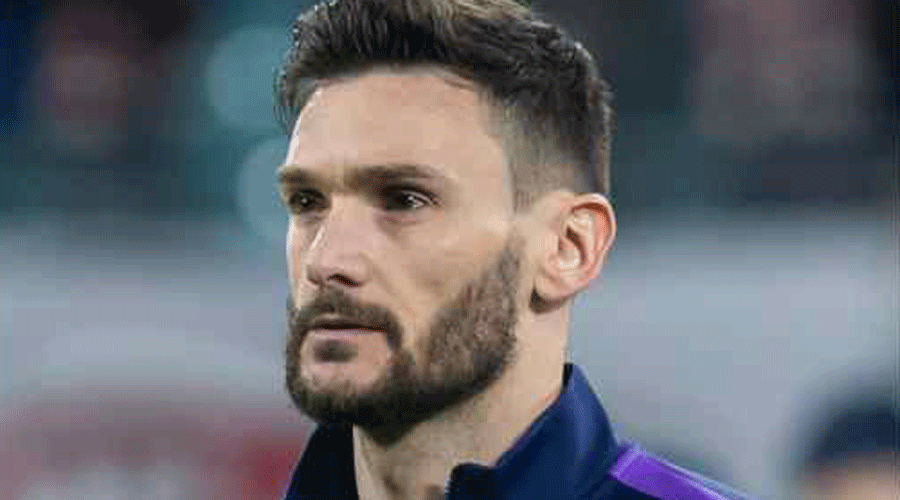 Hugo Lloris.
File picture
---
Doha
|
Published 16.12.22, 05:47 AM
|
---
On the eve of France's quarter-final clash with England, captain Hugo Lloris was asked by a British reporter if he was the weakest link in the team. "England will exploit that," the reporter said. Lloris, of Tottenham Hotspur and no stranger to the ways of the English media, smiled and then took a moment's pause. "We will see that on the pitch. I do not think about what the English media says. I think the most important thing remains the pitch."
The "weakest link" is now standing tall while the It's Coming Home chorus has fallen silent with England being packed off.
Lloris was superb against England and on Wednesday in the semi-final, Morocco found the man who turns 36 a week after the World Cup impenetrable. Probably the criticism by the English media in the build-up to the quarter-final clash gave him the strength to prove a point.
Now, France's most capped player — 143 — is on the cusp of making history, leading his country to consecutive World Cup titles. Italy and Brazil had different captains in 1934 and 1938 and in 1958 and 1962.
On Sunday against Argentina, he is set to become the only goalkeeper in the Cup's history to have played 20 matches. He equalled Manuel Neuer's record in the last-four clash. "We have given ourselves a golden opportunity to make history for France," Lloris said after the match.  
Ten minutes into the match, with France leading 1-0 thanks to Theo Hernandez, Morocco's Azzedine Ounahi found space inside the rival half. From the edge of the penalty box, he curled in a shot to the bottom-right corner. Al Bayt Stadium thought it was a goal when Lloris stretched full length to push the ball away. Then Jawad El Yamiq saw his acrobatic back-volley hit the post but not before it touched a lunging Lloris's gloves. What could have been a memorable goal was denied by an excellent save.
France has been besieged with injuries to the likes of Paul Pogba, N'Golo Kante, and Karim Benzema but Lloris isn't one to dwell on that. "A lot of emphasis has been placed on the injured players. But it is forgotten that there are footballers who can take on those responsibilities," he had said before the defending champions' match against Denmark last month.
He has been vindicated as France haven't still now looked like a team missing so many vital players. Even against Morocco, when they were without Adrien Rabiot and Dayot Upamecano, who were down with flu, Youssouf Fofana and Ibrahima Konate with relatively less international exposure, were up to the task. Konate made some impressive blocks inside the penalty box when the likes of Hakim Ziyech were in a position to score, while Fofana linked up very well with Aurelien Tchouameni and Antoine Griezmann in the midfield.
As coach Didier Deschamps put it in the postmatch news conference: "Experience doesn't count for much if you have quality." But when it comes to goalkeeping Lloris is the man Deschamps always relies on. "An exemplary player," the boss reiterates.
He has been under fire over his ability — or the lack of it — to play out from the back. Lloris doesn't excel at it, unlike some of his younger contemporaries, but it goes without saying that he is one of the best shot-stoppers in the business. Against England he made six stops and against Morocco it was his performance that stood out. "Teams are eager to press and close their opponents down. When you get to this stage of the tournament where fine margins decide the outcome everything has to be perfect so that you do not bring trouble for your team," Lloris had said before the England game.
But on Sunday, Lloris will be up against Argentina and Lionel Messi at the Lusail Stadium. France had beaten the 1986 champions 4-3 in a Round-of-16 clash in Russia 2018. Benjamin Pavard's delightful volley, the equaliser when the scoreline was reading 2-1, was voted Fifa's best goal of the tournament. However, it's a different Argentina that France will be facing. Much more competitive and confident and then there is that man called Messi.
Lloris knows it will not be easy. "Argentina are a really great team. And they have this player (Messi)." But he has promised to the fans a second consecutive title. "We will turn things our way," he said.
And for that, another top-notch performance from Lloris will be needed.