French soccer president accused of improper conduct by agent
Noël Le Graët has had a tumultuous week in France after saying he 'couldn't care less' about Zinédine Zidane's future as a coach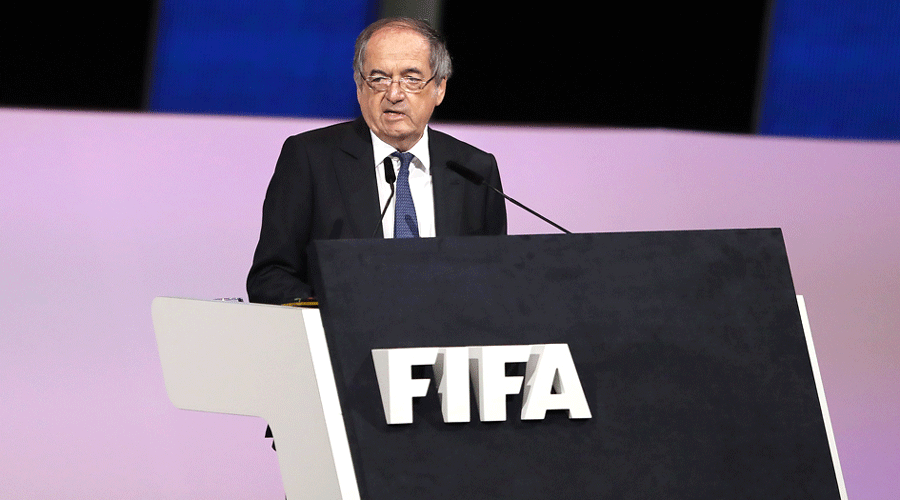 Noël Le Graët.
File picture
---
Paris
|
Published 11.01.23, 05:48 AM
|
---
A sports agent has accused the president of the French football federation of improper conduct over several years, saying he only was interested in her sexually.
Noël Le Graët has had a tumultuous week in France after saying he "couldn't care less" about Zinédine Zidane's future as a coach.
Le Graët was a guest on RMC radio's talk show Sunday and was asked about rumours linking Zidane to Brazil's national team.
Le Graët apologized on Monday after Kylian Mbappé, the French sports minister Amélie Oudéa-Castéra and Real Madrid all took him to task for his comments.
Le Graët said his comments in a radio interview were "clumsy" and "absolutely don't reflect my thinking nor my consideration for the player he was and the coach he has become." Le Graët's apology was widely reported in French media.
The 81-year-old football executive has previously faced claims of sexual harassment and the French federation is the target of an investigation ordered by the sports minister.
The agent, 37-year-old Sonia Souid, said in an interview with L'Equipe sports daily that Le Graët repeatedly tried to approach her from 2013-17.
She said that while she wanted to develop a business relationship with Le Graët to promote women's soccer, he was more interested in leaving messages on her voicemail late in the evening to invite her to drink champagne.
France's sports minister ordered an investigation into the federation in September after the body said it would file a defamation lawsuit against So Foot magazine, which reported that Le Graët allegedly harassed several female employees.
Souid, who said she first met Le Graët in 2013, also told L'Equipe that he texted her to ask her out or tell her he missed her. Souid said he never went too far verbally but made clear she should have sex with him to move her ideas forward.
"He never looked at me like an agent but like a piece of candy," Souid said.
Souid said she was hurt by Le Graët's attitude and that she thought about ending her career as an agent.
In addition to his role at the French football federation, Le Graët also has been a member of the Fifa Council since being appointed by Uefa in May 2019. The position pays $250,000 annually.
Le Graët is currently a candidate for another four-year term on Fifa's ruling committee.
He is being challenged for the seat by Portuguese soccer federation president Fernando Gomes. The election is set for April 5, when Uefa member nations meet in Lisbon.
Le Graët's candidacy must pass a Fifa-run eligibility and integrity check. He can stand for election despite Uefa imposing an age limit of 70 for candidates to its own executive committee.