Gianni Infantino: Fifa boss fights for Qatar on eve of World Cup
World soccer body president bluntly asks Europe to take a look at its own historical misdeeds first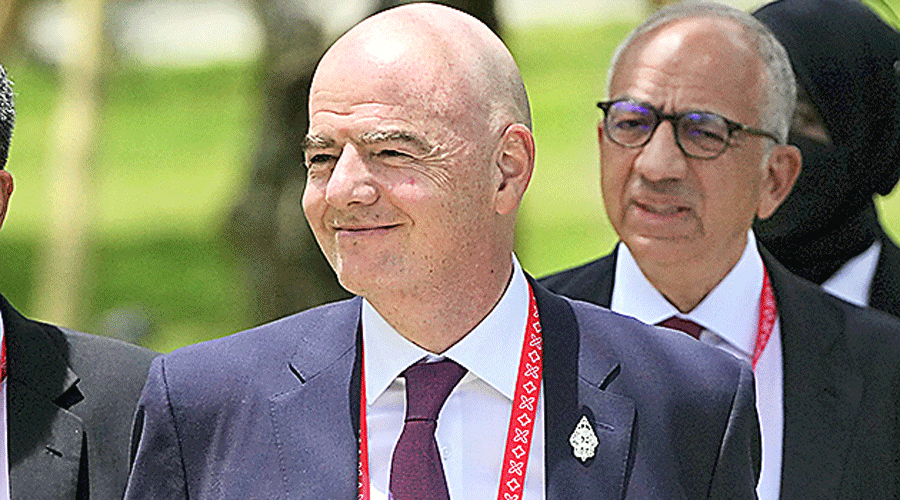 Gianni Infantino
File Photo
---
Doha
|
Published 20.11.22, 03:15 AM
|
---
Fifa president Gianni Infantino on Saturday tore into western detractors of World Cup hosts Qatar, suggesting that part of the criticism was fuelled by racism and bluntly asking Europe to take a look at its own historical misdeeds first.
A news conference scheduled for 45 minutes lasted an hour and 36 minutes as Infantino launched into a tirade, comparing Qatar's treatment of migrant workers favourably with the West's and alleging the beer ban in stadiums was being pilloried principally because Qatar is a Muslim nation.   
"We've been told many lessons, from Europeans, from the western world. I'm European. I think for what we have been doing for 3,000 years, we should apologise for the next 3,000 years for giving moral lessons," the 52-year-old Italian said.
"I met migrant workers (in Qatar). How many of these western business companies, which make billions, how many of those have addressed migrant workers' rights? None of them."
Human rights groups and a section of the western media have accused Qatar of rights violations, discrimination against the LGBTQ community and the ill-treatment of migrant workers while ridiculing the Arab country's Cup management. When the fans began arriving in Doha and many Indian expatriates turned up in Argentina and Brazil shirts to welcome them, some western media outlets claimed these were "paid fans" hired by the host nation.
Infantino alleged the European media had exhibited racist behaviour by mocking Indian fans. Millions of football fans across India are known to passionately support Argentina or Brazil.   
"Can't someone who looks like an Indian cheer for England, Spain or Germany? This is racism, pure racism. I think he can cheer for whoever he wants to. This is what people want. Tolerance starts with ourselves and we shouldn't spread aggression," Infantino said. Infantino cited how he had himself suffered as a child of migrant workers in Switzerland. 
"I'm a son of migrants. My parents were working very hard, in very difficult conditions. Not in Qatar but in Switzerland. I remember very well where the migrant workers were living in Switzerland. And I'm not 150 years old," he said.
"I remember how they were treated when they entered the country to look for work. I remember what happened with their passports, medical checks and accommodation. "So, those who reach Europe or those who want to go to Europe, they have to go through a very difficult journey. Only a few survive. So if you really care about the destiny of these people, Europe could do as Qatar did."
Infantino went on: "Today I feel Qatari. Today I feel Arab. Today I feel African. Today I feel gay. Today I feel a migrant worker. I was bullied in a foreign country, as a child in school, for freckles, because I was Italian (and) I didn't speak good German. You look down, go into your room and cry." He asked the European nations to take a leaf out of Qatar's book and treat the migrants who come to Europe on equal terms.
"I bumped into a study that claims (that) because of the European migration policy, some 25,000 migrants died since 2014. And this year it's 10,000. So if we take two steps back, why no one asked for compensation to be paid for these migrants?" he said.
"Maybe their lives are not the same. Where are we going with our way of life? Where is the world going? So if we look at this refugee situation with hundreds of thousands of men and women who want to work to give future to their families back home, Qatar is offering that opportunity.
"People from developing countries come here and earn 10 times more than back home to help families survive. It's legal. In Europe, we close our borders and don't allow them to work. There are illegal workers in Europe living in conditions not the best."
Fifa and the Qatari organisers on Friday banned the sale of beer inside football stadiums but Infantino underlined that fans could still drink beer and watch matches from the fan zones — areas with large screens where people can watch the matches.   
"There will be fan zones where you can buy alcohol. Where 100,000 people can simultaneously drink. In Spain, France or Portugal you cannot do that. But you went after it because Qatar is a Muslim country," he said. "This World Cup is new. We have four matches in a day, we have to ensure everything functioning smoothly. That is why we had to take a decision about that (beer ban)."
Asked about the discriminatory laws against the LGBTQ community in Qatar, Infantino said: "We have to welcome everyone. We don't need to provoke, we need to engage. How many gay people were prosecuted in Europe? We're not the United Nations, or the world police. The only weapon we have is the ball and we try to engage."
"You want to criticise someone, come to me; criticise me," he said. "Here I am. Crucify me," he added, performatively rising in his seat and extending his arms out wide. "Don't criticise Qatar. Don't criticise the players. Don't criticise anyone. Criticise Fifa, criticise me, if you want. Because I'm responsible for everything."
As Infantino was ending his news conference,  Bryan Swanson, his confidant and Fifa's director of media relations, delivered the parting shot. "I have spent some time at Gianni's side working... and I have always felt supported and helped. I am gay, as are many other colleagues at Fifa, and I have always felt supported," he said.
"I am sitting here in a privileged position on a global stage as a gay man here in Qatar."
Additional reporting by New York Times News Service