English Premier League heads for another dramatic finish
Will Manchester City clinch their second successive title? Can Arteta's young Arsenal hold their nerves and regain European football?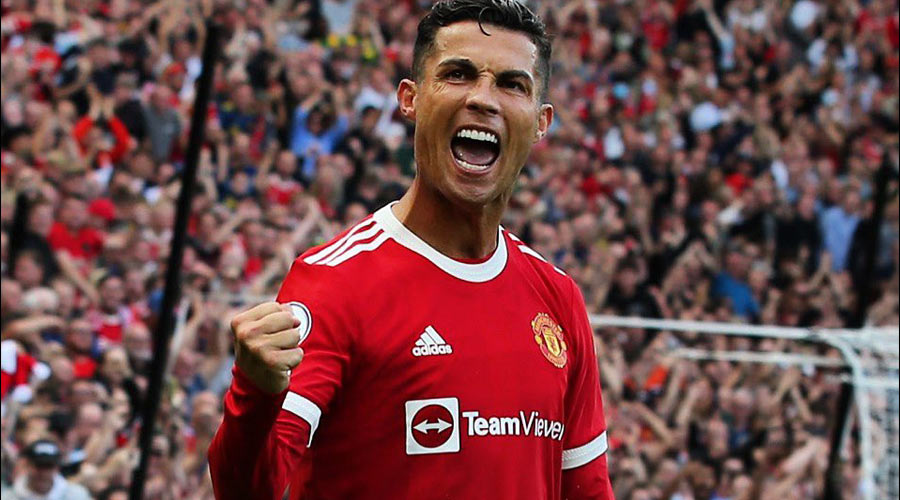 Cristiano Ronaldo
File Picture
---
Calcutta
|
Published 24.04.22, 08:03 AM
|
---
The English Premier League (EPL) has had a fair share of dramatic finishes over the years. Be it Sergio Aguero's last-minute title-winning goal against Queens Park Rangers in 2011-12, or Manchester United coming from behind to beat Tottenham Hotspurs and claiming the title in 1998-99, the final day drama has always made the world stare at their TV screens with bated breath. This year promises to be no different as the race for the EPL crown as well as the remaining UEFA Champions League (UCL) spots is heating up.
The title race is all set to go down to the wire between Manchester City and Liverpool with the former holding a slight advantage over the latter. The blue side of Manchester, managed by talismanic Pep Guardiola, has so far garnered 80 points from 33 matches. Liverpool, on the other hand, trail the defending champions by four points having played a game less.
Man City will face Wolverhampton Wanderers, Newcastle United, Leeds United, West Ham and Aston Villa in their last five games of the season while the team from Merseyside will lock horns with Everton, Newcastle, Tottenham, Aston Villa, Southampton and Wolverhampton Wanderers to finish off the season.
The Juergen Klopp-coached side will be hoping for a single slip of Manchester City to capitalize on. City, aided by a master tactician and an able squad, will bank on their momentum to get them over the line. Notably, both sides remain in contention for European glory too, having reached the semi-finals of UCL. Liverpool face Unai Emery's Villareal in the two-legged tie while Manchester City play high-flying Real Madrid.
Apart from the title-winning race, another attraction of the English Premier League remains the intense fight for the top four spots, which guarantees a spot in the elite UEFA Champions League next season. It is extremely important to the clubs primarily because of two reasons.
Qualifying for the UCL involves a huge financial boost for the clubs. The 32 clubs involved in the group stage take home a minimum of USD 17.74 million each. They are also able to add to that tally with every win and draw in the group stage. A club can take home up to USD 70 million in a single season which does a world of good to that club's finances. Another reason is that UCL being the highest European club competition, it attracts top talents. It is not unusual for a player to reject a club based on their lack of European football. Add to that the glory of competing with the best clubs from all over Europe, and it becomes an extremely lucrative opportunity.
This year's top two spots have more or less been sealed with Manchester City and Liverpool establishing quite a distant gap with the other clubs. Chelsea Football Club, which won the UCL last year, sit third in the table and looks on course to hold on to that place provided there are no major hiccups. Chelsea, going through a tumultuous time after UK govt sanctioned its owner Roman Abramovich due to Russia's invasion on Ukraine, has 62 points on its kitty with seven games left to play. The third spot firmly remains theirs to lose.
The battle for the final spot of UCL promises to be an intense one with Arsenal, Tottenham Hotspurs and Manchester United all vying for the last piece of the pie. Arsenal, not having qualified for the UCL in the last five years, is in a slightly advantageous position to bring the famous UCL anthem back to the Emirates. The Gunners sit in fourth place with 60 points from 33 matches. The Mikel Arteta-led young side is riding on a high horse after beating Chelsea and Manchester United.
However, they are being tailed by Tottenham, who drew away at Brentford on Saturday and settled at the fifth spot, two points behind their north-London neighbours. Manchester United remains the least likely to qualify for UCL football next season even though they mathematically still stand a chance. The Red Devils, who are having a season to forget, are on 54 points having played a game more than their north-London competitors. It would take a miracle for Manchester United to finish in the top four, but then, what's football without miracles? After all, we have witnessed how a single slip by Liverpool's Steven Gerrard cost the team an EPL title.
The final few games promise to be a cracker, so what are you waiting for? Pop those popcorns, help yourself with a drink of your choice, sit on the couch and watch the drama unfold.