UCL: In 17 minutes, Real Madrid crush Paris Saint-Germain dreams
Thibaut Courtois made a trio of saves, two from Kylian Mbappé and one from Neymar Jr, within the opening quarter of the game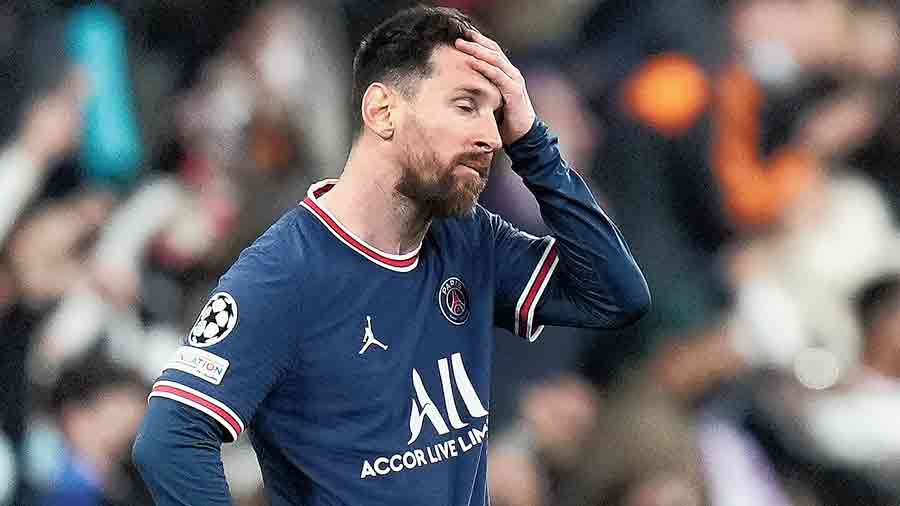 Representational Image
File Photo
---
Published 11.03.22, 01:57 AM
|
---
Right hand on his hip, left hand holding his head, his eyes closed, the look on Lionel Messi's face said it all as he stood stunned and frozen at the Santiago Bernabéu.
Around him, the Real Madrid players celebrated another stunning comeback as yet again the storied Paris Saint-Germain team capitulated on way to an elusive Champions League title — the wait for European glory continues after 11 years of Qatari ownership and close to a billion euros in transfers.
In the long, glittering history of Real Madrid, epic comebacks are carefully curated, polished up to be retold to the next generation as proof that this club never wilts. Real are no strangers to heroic matches, but Tuesday night's stunning reverse, from 2-0 down on aggregate to PSG with barely half an hour of the Champions League round-of-16's glamour tie remaining, will be hung very proudly alongside the others in the club museum, framing Karim Benzema's 17-minute hat-trick.
Painfully, this contest will also join the large body of evidence, gathered from very recent years, that expensively assembled PSG have a hard-to-cure problem that makes them suddenly brittle in high-stakes contests where they have established a winning platform.
This episode of squander may not carry the spectacular scorelines of the 4-0 lead that turned into a 6-5 defeat between one leg and another against Barcelona five years ago. It may not have the last-gasp drama of their 2019 elimination by Manchester United, after leading United 2-0, but it will hurt.
It enraged Mauricio Pochettino, the PSG head coach, who complained that the error from Gigio Donnarumma, his goalkeeper, that led to Benzema's first goal, had come about because Donnarumma had been fouled. "How can this happen in 2022?" asked Pochettino. "What was VAR doing? It was a clear foul. That goal changed the game. We had dominated the first 60 minutes."
By half-time, PSG seemed comfortably in charge. Kylian Mbappé — who has spent much of the last year wondering if PSG are a good fit for his ambitions or if Real would suit him better — had added a goal to the winner he scored in the Paris leg, and might have scored another. Thibaut Courtois made a trio of saves, two from Mbappé and one from Neymar, within the opening quarter of the game.
The effort that beat Courtois was made of the smooth synchronicity PSG sought when they united Mbappé and Neymar for a cool 400 million euros in 2017. Neymar's through-ball was nimble, timed to beat the Real back line; Mbappé's speed and control made the rest look very straightforward: the side-step away from David Alaba, the firm placing of the shot beyond Courtois.
"That goal made things much harder for us," said Carlo Ancelotti, the Real head coach. "Pushing high up cost that goal, but the crowd then pushed us on."
Real had caused only momentary anxiety to PSG until that point. Vinícius made a lively start but his duel with Achraf Hakimi would soon even out. Benzema put a curler just off target and mistimed a header that ought at least to have demanded an intervention from Donnarumma in the PSG goal.
The Neymar-Mbappé tandem would dazzle early in the second half, a Neymar prompt leading to a delicious Mbappé feint and, having outfoxed Courtois, a tap-in. It was quite a move, a swaggering finish. Fortunately for Real, Mbappé had been offside when the pass to him was played.
But PSG were enjoying the space they had to tee up and execute those sorts of moves. The more Neymar roamed the space immediately in front of a Real back line jittery about Mbappé's sixth gear, the more the absence of Casemiro, the suspended governor of Real's midfield, would be felt. Toni Kroos's authority was also a little compromised. He had returned to the starting line-up after an injury lay-off but he lasted less than an hour.
Real then roused, helped by the energy of the substitutes Edu Camavinga and Lucas Vázquez, and encouraged by the Bernabéu's biggest crowd since the Covid-imposed lockdown, some 60,000.
The first Benzema goal carried shades of Real's last Champions League win, when they took the lead in the 2018 final against Liverpool thanks to a goalkeeping error provoked by the aggressive pressing of Benzema. That night, he alarmed Loris Karius. This time Donnarumma would be unnerved into a weak pass across his goalmouth. Vinícius retrieved, fed the ball back into the unstitched PSG penalty box, and Benzema tapped past the embarrassed keeper. "At 1-1 the atmosphere changed," noted Ancelotti. "The last half-hour was spectacular."
Tails up, Real plucked out a second goal via their most trusted warriors. An inspired Luka Modric surged forward, released Vinícius with a pass quite as handsome as any Neymar had fed to Mbappé, and when Vinícius stalled, Modric picked up the loose ball to thread to Benzema, who made it 2-2 on aggregate.
Parity lasted barely two minutes, Benzema completing his hat-trick on a wave of exhilaration and bursting the PSG balloon.
(Written with inputs from agencies)