Carnival boost for expats as world focuses on Qatar
Economically also this has come as a huge boost, especially for the working class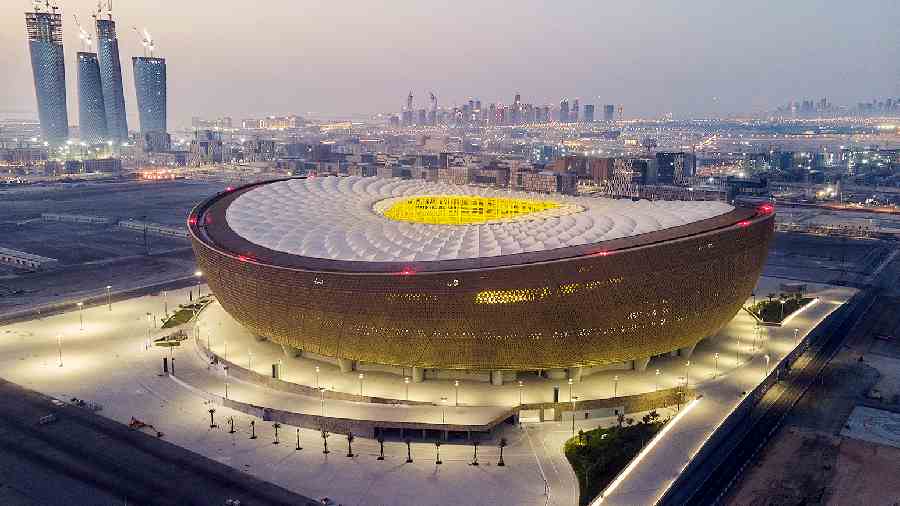 The 80,000 capacity Lusail Stadium in Doha, where the World Cup final will be played on December 18.
File Picture
---
Calcutta
|
Published 24.11.22, 05:21 AM
|
---
Huddled in front of a television, a group of men were discussing football. Like everywhere, they were divided between Argentina and Brazil, even though it was Lionel Messi who is their favourite.
They were speaking in Bengali, some from Cumilla, some from Dhaka. The net connectivity was poor and the buffering was making them restless. Desperate calls were being made to the "engineer" who also seemed to be from Bangladesh. Downloading gathers speed which is welcomed with a rousing roar. But the smiles soon disappear as Saudi Arabia score two quick goals. As the clock ticks, the crowd thins.
Later on way to the Stadium 974, an Indian family is excited about watching a World Cup match. Mexico were playing Poland.
The World Cup has clearly caught the imagination here in Doha. Expats of every hue are now discussing football. Indians, Bangladeshis, Pakistanis, Sri Lankans...
On Wednesday morning, Utpal Mondal, an Indian executive in a top company, was getting ready for the Germany versus Japan match. His wife is working so he needs to pick her up first from office and then drive to the nearby Khalifa International Stadium. "I had tickets for other matches also. But those were in stadiums too far off. After today, our next match will be Brazil versus Cameroon."
Mondal thinks the World Cup has done a world of good for everyone staying in Doha.
"It's something we are proud of. We are host to so many people," says Krishna Mukherjee, an engineer, who has made Doha his home for the past 13 years. "The Western media may say a lot of things but for us it's a huge thing. They are cribbing about everything. But there are certain rules which you have to abide by. Suppose in India we do not enter anybody's house wearing shoes. Will you not respect that?"
Economically also this has come as a huge boost, especially for the working class expats. Sheikh Aribul and Rahim Rauf, two 22-year-olds from a neighbouring district of Calcutta, joined the agency in charge of maintenance two months back.
They are doing housekeeping work at the clusters where fans are staying on the outskirts of Doha.
"With the World Cup coming, there was a demand for workforce. That's the reason we were hired," Aribul said. The company has taken care of their travel and food apart from the salary. Tuesday was a day off for one of them. "I watched the Argentina match," he said with a smile.
At the food joints and restaurants built to cater to the villas, where fans are staying, business is brisk. While the Indian restaurants are mostly run by Malayalis, the Bangladeshi food joint owner came up with an idea which showed his business acumen. He placed a big television on the pavement outside and that has set his cash register ringing.
The rerun of the Denmark versus Tunisia game at around 3 (local time) in the morning drew a fair amount of international fans. Someone pulled a chair and ordered biryani. Two Moroccans who had just flown in to watch their favourite team play Croatia also were gorging on the mutton biryani. "Business is good. There is a huge rush and we are finding it difficult to keep up with the pressure," says the waiter, who didn't wish to reveal his name. He hasn't taken his day off since this is the time to earn some extra money.
As always, there are two sides to every story. The World Cup has not been able to lift the morale of cab aggregator drivers. They thought it will be a windfall but till now there hasn't been much to talk about, according to most. That may be because the Hayya card (must for everyone who wants to travel to Doha during World Cup) givesyou free access to unlimited metro rides.
"Not that good. Maybe two or three rides a day for me. I had a drop to Khalifa International Stadium (England played Iran) and then one more. That's it for the day," the Peshawari driver, in Doha since January, said. "Hope it picks up," the bleary-eyed driver said. 
Names have been changed on request