Blown-away Barca needs to brew afresh
Catalans will need injection of pace and athleticism soon if Messi is to be convinced to still wield the wand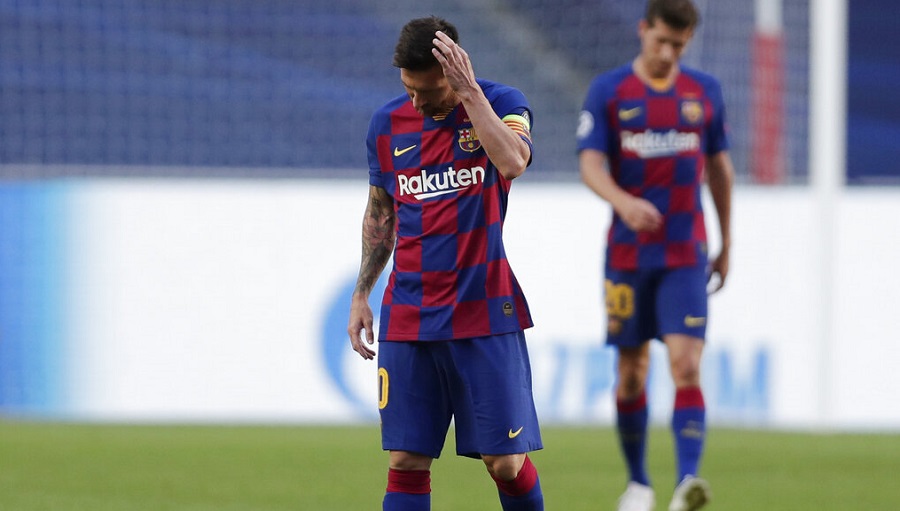 Messi after their Champions league match against Bayern Munich last night.
AP
---
Published 15.08.20, 04:54 PM
|
---
The vacant, staring-at-yonderland look in Messi's eyes at the final whistle said it all. Barca were pulverized by Hans-Dieter Flick's slick and hungry Bayern outfit which held too many guns for clueless Quique Setien's band of ageing superstars. And the Maestro's pride was hurt.
It was heartbreaking to see one of club football's most enduring entertaining ensembles of all time being ripped apart mercilessly by the Bavarian giants which boast no less a pedigree than their Catalan counterparts, and under Hansi Flick's adroit tutelage, have clearly re-established themselves as one of the most feared outfits in the modern game. Barca fans must have harboured some trepidation going into this titanic clash, given their manager's unconvincing ways and also the fact that the team didn't exude the aura of a happy family of late. But surely, no one saw this coming.  
Such was the imperious dominance of Bayern that even the great man himself -- who had recently castigated his teammates (and obliquely the club management too) for want of fire in their belly -- could only watch in impotent indignation as the men from Munich trumped Barca every inch of the pitch. Terrorizing ter Stegen -- immaculate between the sticks this season till this fateful Friday night -- with their relentless, high-intensity press, Bayern forced the dazed and confused Barca goalie into numerous nervous errors right from the kick-off, and the tenor was set for the night.
What followed was a masterclass in full-court press with a very high line, razor-sharp recycling of the ball, and clinical finishing in front of goal, as the scoreline swelled crazily to read tennis-like and then, beyond, at – "pinch me" – 8-2 Bayern!!! And it didn't even need the world's deadliest marksman Robert Lewandowski to register himself on the scoresheet before the 82nd minute!!!
It wasn't Munich's cutting-edge Allianz Arena lit like an incandescent red lozenge on a Bayern match night. It wasn't Barcelona's magnificent theatre of Camp Nou, packed to the rafters either, that witnessed this unraveling of one of the game's greatest club sides of all time. It was neutral Lisbon's Estádio da Luz – UEFA's bubble venue in the perils of the pandemic – that hosted this sparkling spectacle of ultra-fluid, attacking football, a night that can have far-reaching repercussions on Barca's roadmap, immediate and long-term.
Bayern carried a threat from every corner, and played with such fluid formation as to virtually run rings around Barca's gasping midfield and ponderous defence. ter Stegen's uncharacteristic precariousness in goal didn't help either, as Kimmich and Davis, the wide defenders, tormented Barca's seasoned Jordi Alba on the left and the young Semedo on the right all night. Add to that the pace and quick feet of Gnabry and the infectious industry of Goretzka, not to mention the guile and intuitive positioning of the evergreen Müller and the constant threat of the lurking Lewandowski or Thiago's endless stream of incisive final balls, Barca simply had no answer to the barrage of posers flying at them.
Setien, who was in a state of torpor throughout, not knowing what hit his boys and lacking a Plan B, was obviously raked over the coals by the club bosses in the post-match inquest and had to go. But of greater concern for Barca fans (the "culés") would be the ageing core group of their beloved team which has dominated European football for nearly two decades, weaving their mesmerizing passing patterns on the pitch to bamboozle opponents into submission. But today's slick pressing machines like Flick's Bayern or Pep's City don't give you that much time and space on the ball.
Clearly, the world has witnessed a seismic night in European football history, and this has to be a rude wakeup call for Barca president Josep Bartomeu and his board to scratch their heads and chart a course ahead. And their task is cut out. The Catalans will need an injection of pace and athleticism soon to go with their innate magic if Messi is to be convinced to still wield the wand. The game's greatest exponent still has enough in the tank, but will increasingly need quicker, fitter players around him to throw sides like Bayern off-balance. He can't keep going alone any longer and rescue results with moments of ethereal brilliance like only he can conjure.
It could just be the beginning of the end of an era at the Camp Nou – surely the end for tiki taka -- and time for a little twist in the till-now trusty brew. Or else, they run the risk of being overrun by the new-age Bayerns yet again.
The writer is a football enthusiast