Big 2 gone, I-League banks on Sporting
'The-once-premier-now-feeder' league is faced with an existential crisis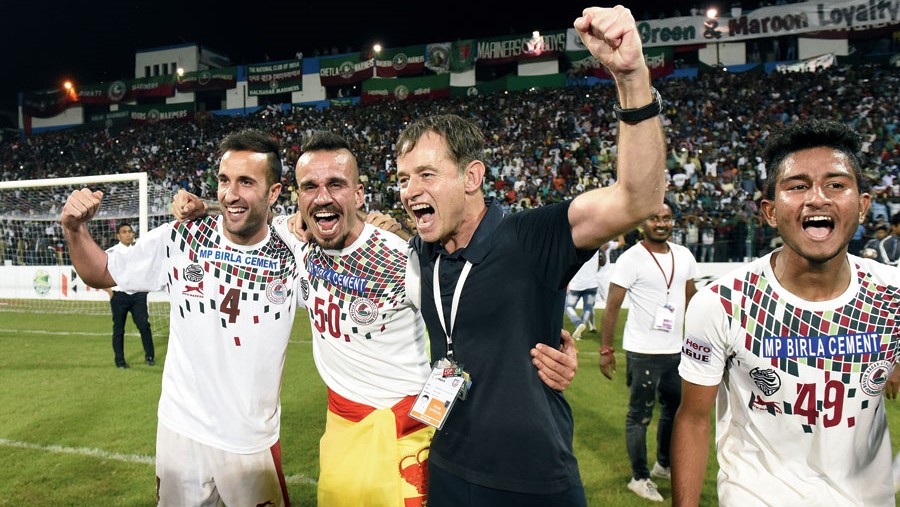 Mohun Bagan's Fran Morante, Fran Gonzalez, coach Kibu Vicuna and Subha Ghosh celebrate after securing the I-League title with a 1-0 win over Aizwal FC earlier this year.
File picture
---
Calcutta
|
Published 04.09.20, 03:31 AM
|
---
Mohammedan Sporting's "Mission I-League" slogan — even their face masks have the message embossed — could not have been more telling at a time when "the-once-premier-now-feeder" league is facing an existential crisis.
Mohun Bagan were already in the Indian Super League thanks to its deal with ATK and, on Wednesday, it became more or less certain that East Bengal would be under the ISL umbrella.
The I-League had lost much of its lustre the day it was decided that ISL would be the No. 1 league in the country. Now after Wednesday's development, questions are being asked whether the league would be further diluted.
By quirk of fate, the onus now is on Mohammedan Sporting to save I-League's dying flame. Calcutta's 'Third Front', which still has a huge fan following despite lack of success in recent times, will be playing in the second division qualifiers of I-League and have a good chance of qualifying for the main round.
"It will be a huge boost if they qualify. With two big clubs leaving I-League, I would like to see Mohammedan Sporting in the main round," Anuj Gupta, the owner of I-League debutant Sudeva FC, told The Telegraph on Thursday. "Traditional teams have their own charm," he added.
"We have coined this 'Mission I-League' slogan to pep up the players and supporters. Our first target is to qualify for the main round and then ensure we stay in the League consistently," Mohammedan Sporting football secretary Dipendu Biswas said. "No other club in the I-League can boast of the kind of fan following we command. But first and foremost we have to play well in the qualifiers," he acknowledged.
Subrata Dutta, the All India Football Federation vice-president and League committee chairman, agreed that it would be nice if Mohammedan Sporting earned a berth in the main round. At the same time, he asserted, teams like Real Kashmir FC, Chennai City or Golukam Kerala FC are competitive enough to make the I-League still relevant.
"For the first time there will be no team from Bengal in the I-League. If Mohammedan Sporting do qualify then that will be a big boost. But I strongly feel other teams are very competitive. They run their teams professionally and have earned their rights to be in the I-League through qualification and fulfilling all the licensing criteria. If they can rope in good foreigners, interest in the league would grow. Football lovers want to see good skill, irrespective of which team is playing," Dutta said.
"So I do not think I-League is facing any crisis with the 'Big Two' deciding to go under the ISL umbrella."
This year the League would be played behind closed doors in a single venue, Calcutta. So the embarrassing questions about lack of crowds in the I-League would be avoided.
"I do not think there has been a dip in the number of spectators at I-League matches. We hosted matches in Srinagar and the stadium was packed," Real Kashmir FC owner Sandeep Chattoo reasoned.
"And this idea of I-League being diluted further with East Bengal leaving is flimsy. You want me to believe others are just adding to the numbers? We all knew they would be in ISL from 2021-22. It just happened that it would start from this season itself." Interestingly, Chattoo in the past had spoken about his dream of playing in the top tier ISL.
Sudeva owner Gupta though has a regret. "My players were looking forward to playing against East Bengal. Now that will not happen. But if they can play well, some ISL club may rope them in. That should be their motivation," he said.