Argentina, Latin America mourn Maradona, the 'Man of the People'
'We're all in Diego's debt for all the happiness he gave us'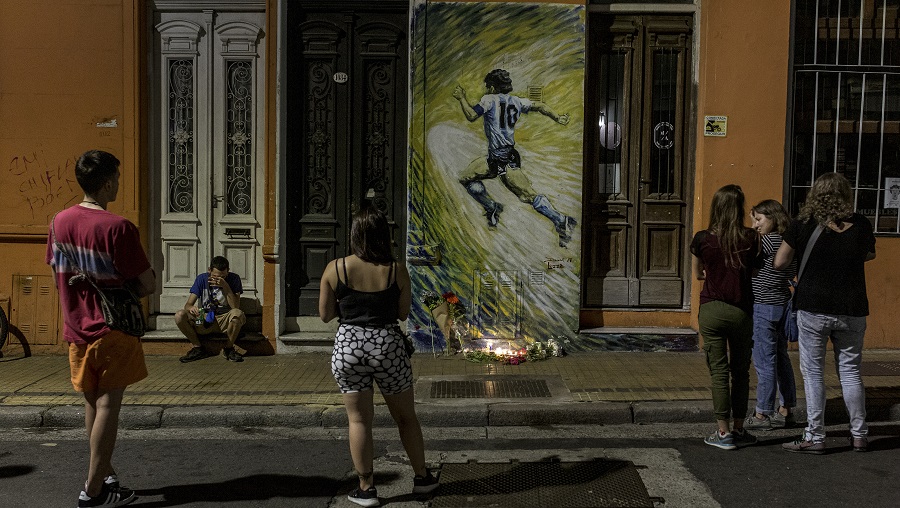 A makeshift memorial for Diego Maradona in the San Telmo neighborhood of Buenos Aires, Argentina, Nov. 25, 2020. For many Argentines, Diego Maradona, who died on Wednesday, was no mere soccer superstar.
Sarah Pabst/The New York Times
---
Buenos Aires
|
Published 27.11.20, 10:22 AM
|
---
The tens of thousands of fans who gathered Thursday to pay their last respects to Diego Armando Maradona, Argentina's soccer legend, as he lay in state in the presidential palace were often the first to say their idol was a genius with the ball, but he wasn't perfect. He never pretended to be.
He was a boy from the poor outskirts of Buenos Aires who led his country to glory on the soccer field, but he also had a chaotic existence, known for his public battles with drug addiction, his defiance of authority, the children he fathered whom he only recognized later in life.
Despite his fame, he remained, always, the "pibe," the kid from Argentina's rough streets. His life and his politics never strayed from his roots, and his fans loved him for it, in Argentina and around Latin America, where he was known for siding with leftist leaders and causes.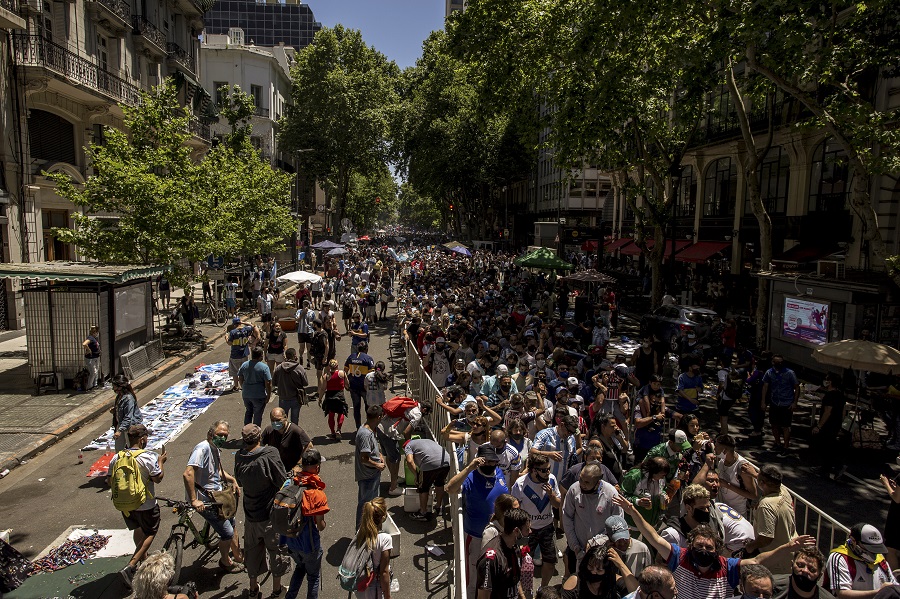 Hebe Nelli, 35, who took her 9-year-old son, Caetano, to downtown Buenos Aires on Thursday, said Maradona was particularly loved "in countries that suffered colonialism" because "he stood up to the powerful and chose to stand on the uncomfortable side of life."
So perhaps the defiance and confusion that erupted at his funeral when his fans were told that Maradona's family had decided to conclude the ceremony, and that they wouldn't all have a chance to say goodbye, was in keeping with the rebellious way Maradona had lived, and with his drive to bend the world to his will rather than accept a fate predetermined by his humble origins.
As officials prepared to take the coffin to the cemetery, people climbed onto the gates of the presidential palace, many of them chanting the five words that have become a mantra since Maradona died Wednesday morning: "Diego belongs to the people."
This time they added three more: "Let us in!"
But suddenly, the hearse carrying Maradona's coffin left from a back door of the presidential palace accompanied by a caravan of police motorcycles.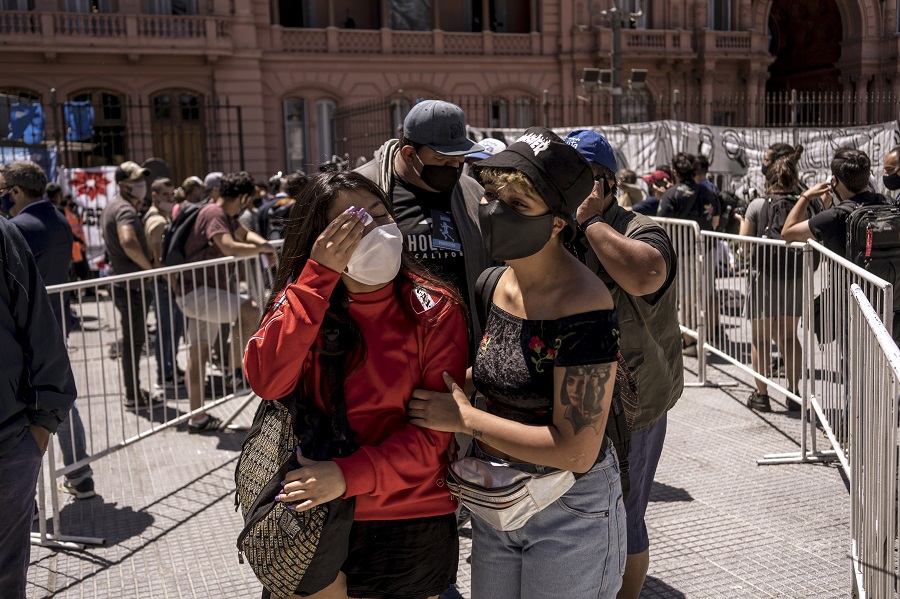 Thousands of Argentines crowded highways and bridges to wave their last goodbye as the hearse sped off to a cemetery 25 miles away, where Maradona would be buried next to his parents. Outside the cemetery there were renewed clashes between police and rowdy fans eager to get as close as possible to their idol.
Maradona's tendency to confront the powerful, including targeting soccer executives early in his career, turned more political after his retirement, when he moved to Cuba to treat his drug addiction in the early 2000s.
There, he befriended Cuban dictator Fidel Castro, and through the following years, went on to become a visible ally of a generation of leftist leaders who were then just beginning to transform Latin America, like Hugo Chávez in Venezuela and Luiz Inácio Lula da Silva in Brazil.
Even as the power of this generation of presidents, known as the pink tide, faded in recent years, Maradona remained loyal to them.
On Wednesday, Brazil's leftist former president Dilma Rousseff thanked him for supporting her in 2015, when her impeachment proceedings began.
Celso Amorim, who had been da Silva's foreign minister, remembered Maradona's support when the former president, da Silva, was arrested on corruption charges. "He was an important figure not only for what he did in soccer, but for the positions he took," he said. "He was a symbol to all of us."
Norberto Ferrera, an Argentine historian at the Fluminense Federal University in Brazil, said Maradona's connections to Latin American leaders were more affectionate than strategic.
"His death also closes the cycle of a certain kind of Latin American left," he said. "And it coincides with the emergence of a new left that is less utopian, and more realist."
Maradona's support for the left meant befriending some of the region's most controversial leaders. He treated Castro as a father figure, and never stopped visiting Nicolás Maduro, the Venezuelan leader, even as he drove his country deeper into a humanitarian crisis.
On Wednesday, Maduro made a national televised address to mourn Maradona's death: "Diego Armando Maradona was loyal to our friendship, to our cause, to the people of Venezuela. "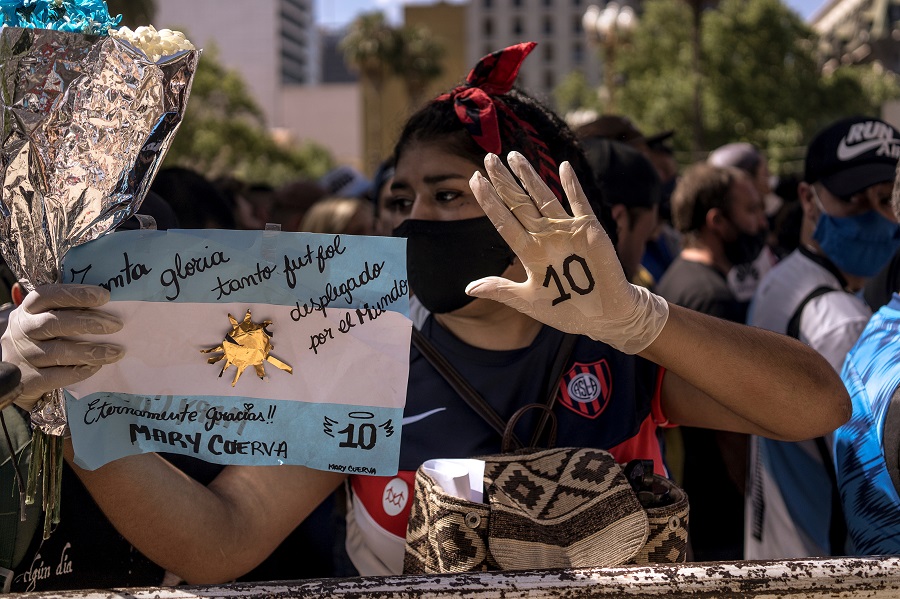 That same day, the governor of Carabobo state in Venezuela, Rafael Lacava, one of Maduro's top allies, organized a rally to pay tribute to Maradona. Hundreds of people showed up to pay their respects — and to collect food donations for distribution. "The best soccer player in history and a great revolutionary has died," he told the crowd from a stage, receiving halfhearted claps in return.
But to Ferrera, the historian, Maradona's political activism was more closely related to the iconoclast image he had built for himself, trying to stay true to his origins, than any attempt to advance a political agenda. "He had strong political opinions," he said. "But he was also always putting himself in the shoes of the little guy."
And it was that sentiment, as well as reverence for his talent with the ball, that drew the fans who gathered in lines 20 blocks deep to say goodbye to "El Diego," as he was known. The government had planned to have him lying in state for three days, but cut that down to one at the request of the family.
After Maradona's body arrived at the presidential palace early in the morning, members of his family got a few hours to mourn him with an open coffin, in private, before it was closed and visitors were allowed inside.
Once the procession of mourners began, many tossed flowers, cards and jerseys into a pile as they shuffled by the wooden coffin covered in the Argentine flag and several soccer jerseys. Cries of "thank you, Diego" and "Goodbye, god" rang out amid the silence. Fans almost uniformly respected the family's wishes and refrained from taking photos.
All the people packed in tightly was a stark sight in a country that has been under strict COVID-19 restrictions for months. For those who were there, saying goodbye was worth the risk. "He's my idol," explained Juan Medina, a 57-year-old shopkeeper who traveled 100 miles with three friends to participate in the ceremony. "How could I not? He's been making me happy since I was 15."
Cristian Cuevas, a 36-year-old lawyer, summed up the feeling of many in the crowd. "We're all in Diego's debt for all the happiness he gave us," he said.
New York Times News Service