Fitness trainer's tips for success
The keys to success are the same wherever you are. Only the internal factors that can lead to the self-sacrifice necessary for success differ: Gerald Cordemy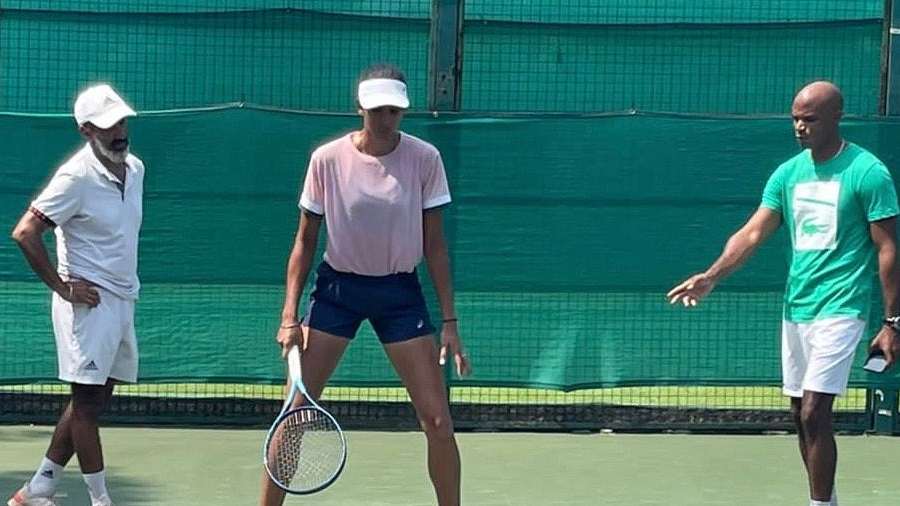 Fitness trainer Gerald Cordemy (right)
Sourced by The Telegraph
---
Calcutta
|
Published 08.08.22, 05:33 AM
|
---
It is not every day that an Indian tennis player gets the opportunity to work with a world-class fitness coach. It is even rarer that someone who has worked with the likes of Serena Williams comes down to India to ply his trade.
That is what Gerald Cordemy did when he came down to train Karman Thandi at the RoundGlass Tennis Academy in Chandigarh in July. Thandi, one of India's promising women tennis players, is only the sixth Indian to rank within the top 200 in WTA rankings But what made Cordemy want to come to India and work with Thandi?
"The primary factor was the opportunity to work with Karman in an environment where I could guide her in strength and conditioning which are important in the success of an athlete.
"Additionally, my coming to India also corresponds to a personal spiritual quest to detach myself from the standards that make up my daily life in France and soak in another culture.
"However the keys to success are the same wherever you are. Only the internal factors that can lead to the self-sacrifice necessary for success differ," Cordemy told The Telegraph.
Indian tennis players often have the skill but can't match the fitness and endurance of top international players. Asked what factors are responsible for this, Cordemy said: "It would be very pretentious or even disrespectful of me to assert that I can answer this after spending just two to three weeks working here.
"I do not believe in this concept. India dominates in sports which also require particular athletic qualities." Cordemy has worked with stars like Serena and top-100 players like David Goffin, Jeremy Chardy and Alexei Popyrin. He has been associated with the Mouratglou Academy and the Qatar Tennis Federation. He is impressed with Thandi's endurance. "Karman is the type of athlete who could die on a treadmill. She is the kind of athlete that we, coaches, will always have to be careful that she does not exceed the threshold of tolerance. She also learns very quickly.
"Her progress has impressed me beyond my expectations. I think soon her belief that she is often injured will be eradicated." Asked if he was happy with the facilities available, he said: "Even in France, my level of requirement is rarely satisfied in this regard." Cordemy highlighted the importance of a strength and conditioning coach in the career of an athlete today.
"Tennis, in particular, is very popular in the media and generates a lot of money. This leads to athletes wanting to be more efficient and strength and conditioning becomes very important. "I place the physical trainer and the physiotherapist in the same sphere – responsible for allowing the athlete to be on the court without any injury or physical constraint." Cordemy believes that superstars in sport know from a very early age that "they are going to accomplish great things".
"While many make wishes and hypotheses, champions speak with certainty. For them, success is not just an option. "However, training an athlete who you know will almost certainly go to the end of the tournament, week after week, is a totally different approach. Serena's high standards match her ambition. She doesn't train to train, but trains to win.
"Moreover, I trained her when she was not just a tennis player but also a very caring mother and a busy businesswoman. Training with Serena leaves no room for guesswork."