Euro 2020: Uefa bars colours of solidarity
According to Uefa, it had to reject the application as it was a politically-motivated demonstration targeted at the visiting team taking part in the match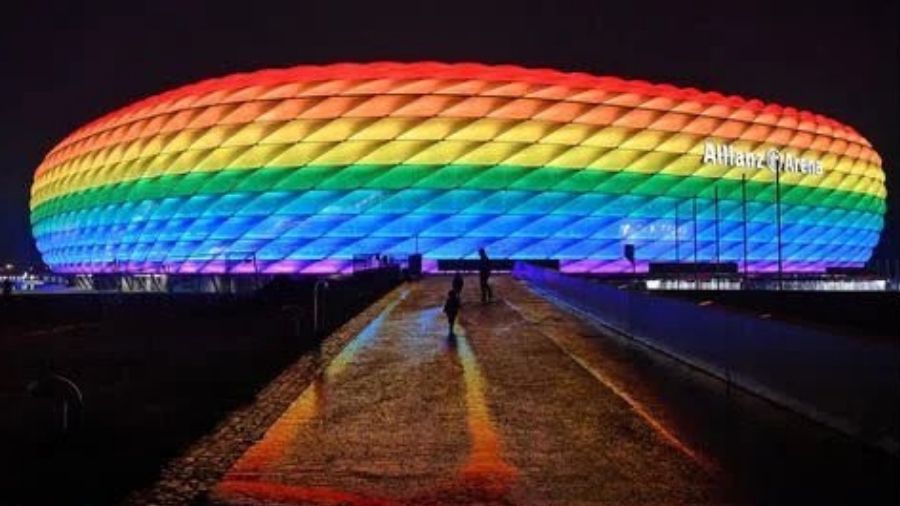 ---
Published 23.06.21, 02:35 AM
|
---
Germany and Hungary will face off on Wednesday for a berth in the knockout stages of Euro 2020 amid a storm over Uefa's rejection of an application by the Munich city council to have the stadium illuminated in rainbow colours for the tie.
It will be the first competitive match between Germany and Hungary since the 1954 World Cup final, dubbed the "Miracle of Bern", when the West German team led by Fritz Walter came from behind to defeat Ferenc Puskas' Hungarian side considered to be the best in the world 3-2.         
The mayor of Munich, Dieter Reiter, had wanted the stadium in rainbow colours for Wednesday's Group F match to "send a visible sign of solidarity" with Hungary's lesbian, gay, bisexual and transgender (LGBT) community and in protest against a law passed by the right-wing government in Budapest banning any educational programmes or material mentioning homosexuality.
Uefa said it had to reject the application as it was a politically-motivated demonstration targeted at the visiting team taking part in the match.
"Uefa is a politically and religiously neutral organisation," said a statement from European football's governing body. "Given the political context of this request — a message aimed at a decision taken by the Hungarian national parliament — Uefa must refuse."
On Sunday, Uefa gave the go-ahead for the Germany goalkeeper Manuel Neuer to continue wearing a captain's armband with the rainbow colours at the tournament after dropping a disciplinary investigation into his use of a non-official armband.
It has a disciplinary investigation open into the display of a homophobic banner in the Budapest stadium during Hungary's draw with France on Saturday, and there have also been reports of racist abuse directed against French players.
The Uefa decision drew criticism from Germany's LGBT community.
"We find it very disconcerting how Uefa deals with values that should generally be accepted in society," Markus Ulrich, a spokesman for Germany's Lesbian and Gay Association (LSVD), told the SID agency.
"Uefa has not recognised the signs of the times — and it is clear to see which side it is taking with its decision."
Both Germany and Hungary are trying to avoid early elimination from the European Championship. France lead Group F with four points ahead of its final group game against Portugal. Both Portugal and Germany have three points, and Hungary has one, following their 1-1 draw with France.
"We have by far the most difficult group and of course Hungary is part of that," Germany midfielder Leon Goretzka said. "If you look at the two games, they produced a remarkable performance against Portugal. They defended very, very well for a really long time, playing with a lot of passion, as it has to be."     
Mats Hummels and Ilkay Gundogan returned to training on Tuesday, while teammate Thomas Mueller's participation remained doubtful after he only did some light running alone.
They had all suffered injuries in Germany's 4-2 win over Portugal last week.
Germany will advance with a victory over Hungary but could also qualify with a draw if France do not lose their game against the Portuguese. The Hungarians, who will be for the first time in these Euros be playing without a full stadium of support, need to win to have any chance of progressing.