Euro 2020: Spain count unfinished business in clash with fast-&-all-flair Italy
The two sides have met 14 times over these past 27 years, with five Spain wins, two Italian triumphs and seven draws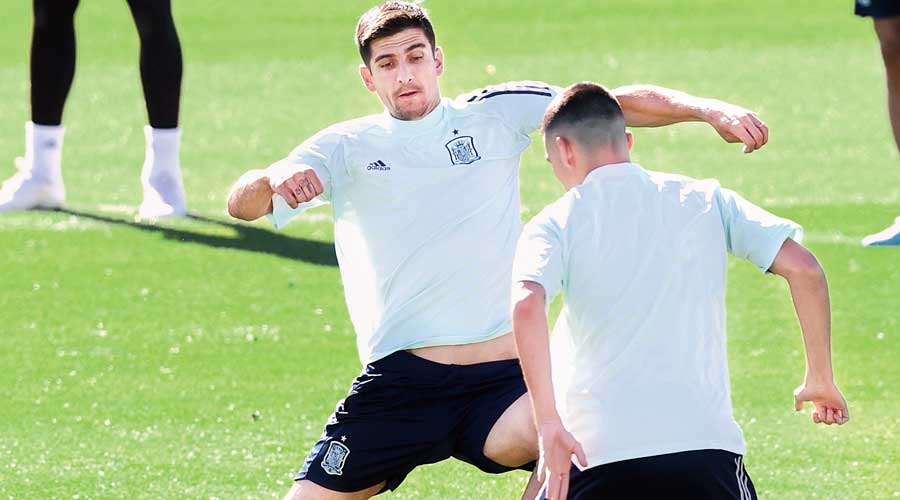 Gerard Moreno stretches for the ball during Spain's training session in Madrid on Monday.
Getty Images
---
Published 06.07.21, 02:08 AM
|
---
When Spain take on Italy in the Euro 2020 semi-finals at Wembley on Tuesday, several members of the squad will have unfinished business to take care of.
One of them is Spain coach Luis Enrique. A lasting image of the chequered Spain-Italy rivalry on the football field is of the blood-splattered white shirt of Enrique during the quarter-final of the 1994 World Cup in the US.
Enrique was elbowed in the face by Italy's defender Mauro Tassotti inside the Azzurri box. The Spanish midfielder's nose was broken in the incident that took place almost 27 years to the day, on July 9, 1994, at the now-demolished Foxboro Stadium near Boston in Foxborough, Massachusetts.
Roberto Baggio scored the winner for eventual runners-up Italy in the 88th minute after Spain's Jose Luis Caminero cancelled out Dino Baggio's first-half goal.
But the elbow charge on Enrique inside the Italian box two minutes into stoppage time marred the game. Enrique claimed a penalty but that was turned down by the Hungarian referee. The defeat to this day sparks feelings of injustice in Spain.
Enrique never faced Italy again during his playing career and hasn't come across the Azzurri as a coach either.
The two sides have met 14 times over these past 27 years, with five Spain wins, two Italian triumphs and seven draws.
The most recent clash was in qualification for the 2018 World Cup, the night Spain won 3-0 as Isco danced around the Italians on the Bernabeu pitch. But, Italy won the most recent face-off at a major tournament, overcoming Vicente del Bosque's side 2-0 at Euro 2016.
Sergio Busquets, Jordi Alba and Alvaro Morata were all involved that day in 2016, so they too have unfinished business with Italy.
In a sense, Spain's cycle of dominance of European football began and ended with Italy.
Spaniards took revenge of the 1994 loss in the Euro 2008 quarter-final, when they prevailed on penalties after a goalless draw in their toughest game on their path to their first international trophy in 44 years. They met again in the Euro 2012 final in arguably Spain's best display in that glorious four-year cycle, winning 4-0 in a performance so dominant that captain and goalkeeper Iker Casillas pleaded with the referee to blow his whistle and put Italy out of their misery.
The Italians would have their revenge four years later in the last 16 when a team fired up by Antonio Conte won 2-0 at the Stade de France to end Spain's long period of continental hegemony.
But that win did not spark the revival Italy hoped and a 3-0 defeat to Spain in qualifying for the 2018 World Cup led to them missing out on international football's biggest event for the first time since 1958.
It also provoked a deep identity crisis which led them to appoint Roberto Mancini.
Mancini has got the country falling back in love with the national team by overseeing some sparkling football and creating a real sense of unity demonstrated in the way they have celebrated every victory as if they had won a trophy.
That sense of togetherness could be seen on the pitch as they defended like gladiators in their 2-1 win over Belgium in the quarter-finals and in their raucous tribute on the flight home to defender Leonardo Spinazzola, who tore his Achilles tendon and is out of the tournament. The Italian relish for defending is still displayed in the performances of Giorgio Chiellini and Leonardo Bonucci but the system is built around a high-energy approach with over-lapping fullbacks and clever use of the inside channels, where Lorenzo Insigne and Federico Chiesa connect so well with centre forward Ciro Immobile.
It is a fast, positive and entertaining brand of football and it has been helped by Italy's players looking the freshest and fittest in the tournament.
Spain's path to the semi-finals has been less smooth, getting off to a croaky start with dull draws against Sweden and Poland before coming to life with a 5-0 win over Slovakia and a 5-3 win against Croatia after extra time.
Their quarter-final success over Switzerland on penalties was far less exciting but had the hallmarks of the shootout win over Italy 13 years ago and showcased the team spirit players and Enrique have talked up throughout the tournament.
"From day one we were confident we were a solid and united group and that we were good enough and we've proved that," said forward Mikel Oyarzabal ahead of the Wembley semi-final.
"Italy are a top level team with players who keep performing at the highest level with their clubs but we're not any less than them."
Spain are closer to their trademark national style, established during the tiki-taka era.
But while possession remains at the core of their philosophy, their manner of play has changed significantly under Enrique.
His Spain still monopolise the ball, but his side is more intense than their predecessors and quicker going forward. Energetic, hard-working forwards, stretching defences, are key to Enrique's approach, which explains his persistence with the often wasteful Morata.
One-on-one
They say to win the war one must win the smaller battles. Ahead of the Italy vs Spain Euro semi-final, The Telegraph lists three such contests which can have an impact on the outcome of the match.
Jorginho Vs Sergio Busquets
Jorginho, who plays for Chelsea, and Barcelona's Busquets are both midfield maestros who control their team's game to a big extent. Italian Jorginho, 29, is a better athlete and takes more workload than the 32-year-old Spaniard. But Busquets can always fall back on his immense experience.
Ciro Immobile Vs Alvaro Morata
Goals win matches and so strikers Immobile and Morata will have a lot of responsibility upfront. Spain's Morata, who plays for Juventus (on loan), probably holds an edge simply because of his familiarity with Italy's ageing centre-backs, Chiellini and Bonucci.
Gianluigi Donnarumma Vs Unai Simon
Former Italy goalkeeper Walter Zenga believes Donnarumma "can become the number one in the world". Spain 'keeper Simon, though a couple of years older than his Italian counterpart at 24, does not have enough club & international experience. In a crunch match, that may matter.