Euro 2020: Mancini guides Italy resurrection
The advent of Roberto Mancini as head coach in May 2018 has helped turn their fortunes around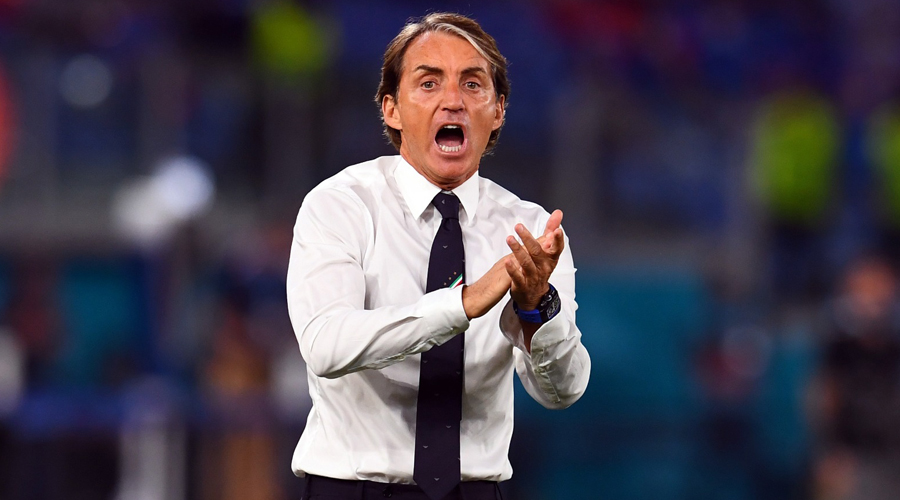 Roberto Mancini
File picture
---
Calcutta
|
Published 10.07.21, 02:13 AM
|
---
Italy's future in football had been under threat after the 4-0 thumping it received from Spain in the Euro 2012 final at Kyiv.
This was followed by a first round exit in the 2014 Fifa World Cup, a disappointing quarter-final defeat in Euro 2016 and then the embarrassment of not even earning a World Cup berth in Russia two years later.
However, the advent of Roberto Mancini as head coach in May 2018 has helped turn their fortunes around. In his very first major assignment, he has given Italy a fair chance of winning their second European Championship title after the maiden triumph in 1968.
What led to the Azzurri turnaround? What difference has Mancini made?
"What's very important is that a great group has been formed, directed by a very good coach who managed to recompose a national team, and formulated modern and very effective game ideas that have been quite different from those of the past," Giuseppe Colombino, a 36-year-old fitness coach who has worked for Galatasaray and Calcio Catania, told The Telegraph.
Mancini has gradually taken the catenaccio (meaning door-bolt, implying a style of football that lays strong emphasis on defence) out of the Italian system. The current side presents a different brand of football altogether with emphasis on positive, attacking play contrary to the previous Italian teams' strategy of relying mainly on counterattacks.
"Mancini's focus is on modern football where ball possession gets greater importance. And so does the vertical style.
"The coach makes the players go more on the offensive and hold the ball longer. He is vastly experienced too, having worked in clubs of other countries (Manchester City, Galatasaray and Zenit St Petersburg) and that makes him flexible when it comes to strategies," Colombino said.
The Italians had most of their pre-Euro 2020 practice sessions in Coverciano, a neighbourhood of Florence and also the central training ground and technical headquarters of the FIGC (Italian football federation). The minimum temperature in Coverciano, even in the months of April and May, was around 8 to 12 degrees Celsius and that played a big role in helping the side gain in terms of fitness, strength and endurance.
"The squad had all its workouts in Coverciano, which is 60m above sea level. In the past, they've trained in the mountains during summer camps, because the main objective is to increase aerobic metabolism, or to put it in simpler words, increase the ability to use oxygen for the sustained production of energy," Colombino stressed.
'Boy with many interests'
A bit of uniqueness too exists in this Italian squad mostly in the form of attacking midfielder Matteo Pessina, who prefers studying economics in his spare time. That's indeed uncommon, especially in times when a sizeable group swears by PlayStation, other advanced electronic gadgets and presence on social media.
That's not all though. The 24-year-old Pessina, a last-minute inclusion to the squad in place of an injured Stefano Sensi, has also enrolled in a course on economics and management at the Luiss University in Rome. As a child, he even participated in ballet competitions.
"I was lucky enough to coach Matteo (at Catania) seven years ago. I could notice his characteristics then itself," recalled Colombino.
"He's a boy with many interests. He's enrolled in a university, something that's not really heard of about those playing at the highest level."
With two goals in four appearances so far in the competition, Italy would surely want Pessina to come up with something uncommon against England at Wembley Stadium on Sunday.