Eoin Morgan: We don't underestimate Bangladesh, they are a threat
Learnt the most from the games we lost badly, says England captain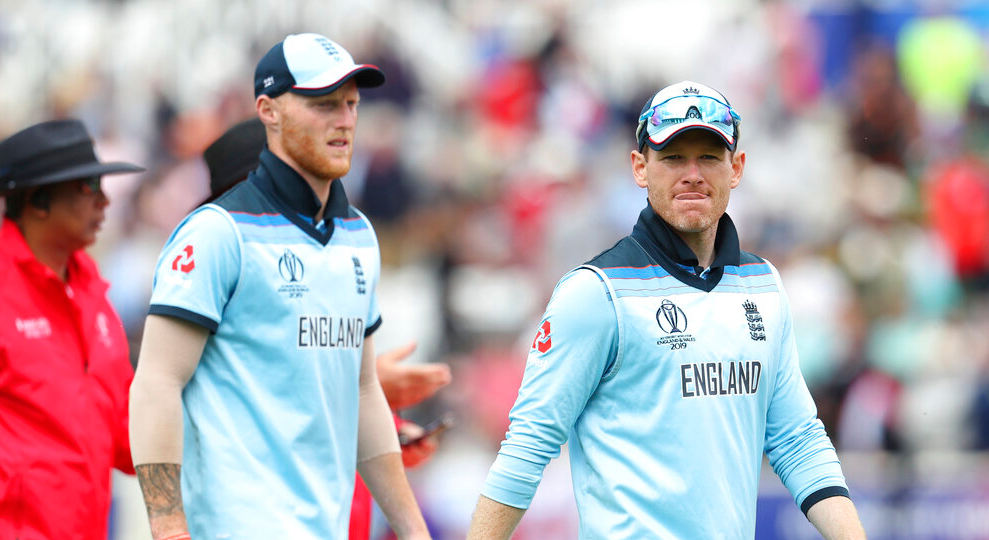 England's captain Eoin Morgan, right, and teammate Ben Stokes leave the filed at the end of Pakistan innings during the Cricket World Cup match between England and Pakistan at Trent Bridge in Nottingham, Monday, June 3, 2019.
(AP)
---
Calcutta
|
Published 07.06.19, 10:58 PM
|
---
In the 2015 edition, Bangladesh sent England crashing out of the World Cup, as Eoin Morgan was left wondering if his captaincy was over before it had ever really begun.
Much has changed since that disaster, as Morgan's leadership helped England become the No. 1 ODI side in the world and favourites to claim the World Cup.
England's journey to claim their maiden World Cup crown has been topsy-turvy, though, with an impressive win over South Africa followed by a narrow loss to Pakistan.
They are now in a drizzly Cardiff and get ready to lock horns with Bangladesh, who had beaten them in the 2011 World Cup as well. However, Morgan believes it's going to take a lot more for Bangladesh to derail England this time around.
"All we need to do is stick to what we do well. That's what we must do," the skipper said on the eve of the game.
"Even before the tournament, we talked about how we would react to losing games and what we would counter that with. It goes back to focusing on ourselves and our strengths, and how we can get the best out of ourselves."
Cardiff has proved seamer-friendly so far in the ongoing Cup, with New Zealand's bowlers exploiting the conditions well to down Sri Lanka before the latter did the same to see off Afghanistan.
Liam Plunkett, thus, looks likely to return to the England side and Morgan insists his side has not missed a step despite the Pakistan defeat.
"We didn't deserve to win that (Pakistan) game. But we played some really good cricket. Two guys scored a hundred and we nearly chased down 350 (349 to be precise)," he added.
"We lacked a bit in the field. And that still remains the case. Hopefully, we'll put in a better showing in the field. But defeat presents a huge opportunity to learn more about your game and improve.
"Games where we were defeated heavily have been the ones where we learnt the most. We still managed to stay in the game, we remained in a headspace where we still believed in winning the game.
"That shows a lot more to ourselves, probably more than to our supporters as they don't see that all the time. They see an exciting team the majority of the time. But when we lose, we see our character — the other side of our game."
And after seeing off South Africa and pushing New Zealand all the way, Bangladesh are a serious threat that Morgan and his teammates are not going to underestimate.
"It is going to be a difficult game. They are a good side and I think people underestimate them. We certainly don't," he reminded.
"They are a side that has played a lot of cricket, their senior players especially have played a lot of games, more so than our senior players, so they are a threat. Hopefully, we can play well and overcome them.
"I remember them making their earliest impression, against Australia in 2005 (in the tri-series). Since then they have been exposed to a lot more cricket and have become a better side.
"We were beaten by a better team in 2015. They deserved to win that night," Morgan emphasised.
Asked about the areas where Bangladesh could be a threat, Morgan replied: "Their strongest areas: They are good with the bat.
"They are strong at the top. They have good spinners and good seamers. So, they are a good side."
Openers Jason Roy and Jonny Bairstow have struggled a bit to get going in the first two matches of England where spinners started proceedings from one end. Morgan, however, reposed faith in Roy and Bairstow while he thinks Bangladesh too will hand over the new ball to a spinner.
"I think it's just another challenge that the two guys have been presented with. I'm sure that they will kick on.
"It's like anything… When the ball swings, it's a new challenge. Guys fall short, it's a new challenge. Mystery spin is also a new challenge. Bangladesh will open with spin, definitely," he said.
Morgan, meanwhile, feels the weather will be having an impact in the tournament. "Yeah, I think the weather will have an impact. It's something we spoke about. Having the tournament at home, it will be affected at some stage.
"We do want it to turn because it has a big impact on every team," he said.