Royal Rumble, WWE's first pay-per-view in a calendar year, has always been a much-awaited affair. Now in its 34th edition and for the first time held in a physically empty stadium with fans joining in, virtually, this year's Royal Rumble will see current World Champion Drew McIntyre going head-to-head with WWE icon Goldberg for the WWE Championship, in addition to the extravagant battle royale. Speaking as a part of an international press conference, one half of the current WWE Women's Tag Team Champions, Charlotte Flair and WWE legend Goldberg answered questions about the Royal Rumble main event, reminisced the past and discussed their future plans. Excerpts...
Have you been watching Drew McIntyre's run as WWE champion over the past year? How do you think he has done?
I haven't watched all of it, but I've been attentive, no questions about that. Even when you're away, you know, you need to check in and make sure your product is represented by the right people, and to be honest, I'm a fan of Drew's. I appreciate what he's done. I appreciate the long road to the success he has travelled to be where he is. But my question, though, is 'Is he ready?' and we're not going to know until he steps in the ring with me.
WWE Superstars have come from a variety of different places — professional football, mixed martial arts, Olympic powerlifting, and rugby to name a few. Do you think there is an advantage when coming over from a competitive sport?
A thousand per cent yes. There is no question that it gives you an edge whether it be on the mic or whether it be athletically performing your 'new-found' craft. You have, quite obviously, a physical advantage depending upon where you're coming from. Because you wouldn't have been tabbed a 'professional athlete' if not. You cannot get by faking it as a professional athlete — it does not work like that. Moreover, being a professional athlete, you also learn how to deal with the media. So, you do have an advantage, there's no question about it and anybody who tells anything differently is a moron. (Laughs)
Any current sports personality who could make it as a WWE Superstar?
There are many out there that I think could cross over, it's a question of do they want to. The one's I think that could do it has never been brought up in the conversation. However, I think professional football (American football) players are a hotbed of talent to make the transition. And I say that not as an ex-professional football player but I say that as a realist, knowing what they go through, their work ethic, their attention to detail and their savviness with the PR machinery. Rugby might be the next one in line.
You've also had success in film and television. Can we expect to see more of you on screen in the future?
You know, I always like to tell people that I'm a competitor, not a performer and I never aspired to be a television star or a movie star. That was not in my plans, by any means. I enjoy it — being on The Goldbergs, NCIS, we've even got a show being developed right now. Doing a series based upon an A-Team and me being the leader or a car show where I race across the country in American cars against imports, I mean these are all up my alley. Do I aspire to be that guy on TV? Not at all. But I aspire to continue my love for automobiles and if that brings me a job being a host of a television show, I'll do it in two seconds. As far as doing something that's a far departure from my everyday life, I don't know if I would manage to invest my time or effort in doing something like that any more. So, going away and doing a six-eight-month movie role — I don't foresee it as my future.
Stone Cold Steve Austin recently spoke about being confused for you in airports back in the day. Did you ever get confused for him too?
Well firstly, he should be flattered because I'm a helluva lot better looking than he is. (Laughs) But it really used to piss both of us off and we've talked about it exponentially. I like to say to we're pretty good friends, but back then I always took it personally and it made me mad because Steve Austin was, like, 250 (pounds) and I was 285-290. So, I thought that if they mistook me for Steve then they thought I was small and for a guy who was a defensive lineman (during his days as a professional American football player) and walked around trying to be as big as he can be, I took that as a slight. Not because they thought I was Steve Austin, the awesome wrestler, but because I was small. Back then, we both used to get pissed off but now we think it was hilarious and actually bring it up to each when it happens. (Laughs)
For many fans, Austin vs Goldberg was a dream match that never was…
Oh my god! There's no other match, for my sake, that needed to happen more so than that one. But it was just a timing issue and then there was an injury in between. But I love him, he's a great dude and to have graced the ring with him in a match would've been phenomenal.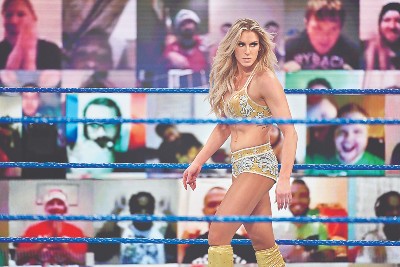 Charlotte Flair Image Courtesy: WWE
You got some well-deserved time off last year. How refreshing was the break, especially when you had been on the road for the last six years?
I definitely think the break was much-needed. It was the first time since 2012 that I was spending the night, every single night in my own bed, which was super weird. But it just kind of gave me a chance to reboot, reset and I think, come back in the best shape I've ever been in. Probably because I gave my body a break — I took like 9–10-week hiatus from the gym.
Do you think not having fans at the Royal Rumble is going to affect the performance of the wrestlers, especially when in the Rumble everyone is clueless but excited about who's going to come in next?
I think Covid or no Covid, professional wrestlers always want to be bold in their performances. And with WWE's ThunderDome, fans will be able to log in and watch the pay-per-view live. It's still as exciting and all about making the best of what we have. But I hope no one feels that just because they are not physically there, they are not equally excited to see their favourite WWE Superstar from their home.
Your father (WWE icon Ric Flair) is one of the most successful as well as one of the most braggadocio wrestlers of his time and you are at a point where your accomplishments rival his. Being a woman, do you get more criticism or are you judged severely when you exude the same confidence?
I do feel that when you say you feel good or you act a certain way or hold your head high and say you want it all, that could be taken as 'Oh, she has a big head' or 'Wow that ego'. It's kind of like you're damned if you do and you're damned if you don't. When you're in this business you have to develop a thick skin. It's easier to label women with those examples instead of the men.
Given the success you've achieved in the Royal Rumble, numerous title wins through your career and growing up around successes, how has your definition of success changed across your career?
There's always that first time you're holding your first title, the first time you lift the Raw or SmackDown! Championship belt, but it's more about realising that you can exude being a champion inside or outside of the ring. I think learning that and growing as a character... with confidence, makes all the difference. Taking bigger risks is key.
WWE Royal Rumble airs on February 1 at 5:30 am exclusively on Sony Ten 1 and Sony Ten 3