Dominic Thiem wins US Open
The 27-year-old Austrian, vanquished Germany's Alexander Zverev, 2-6, 4-6, 6-4, 6-3, 7-6 (6)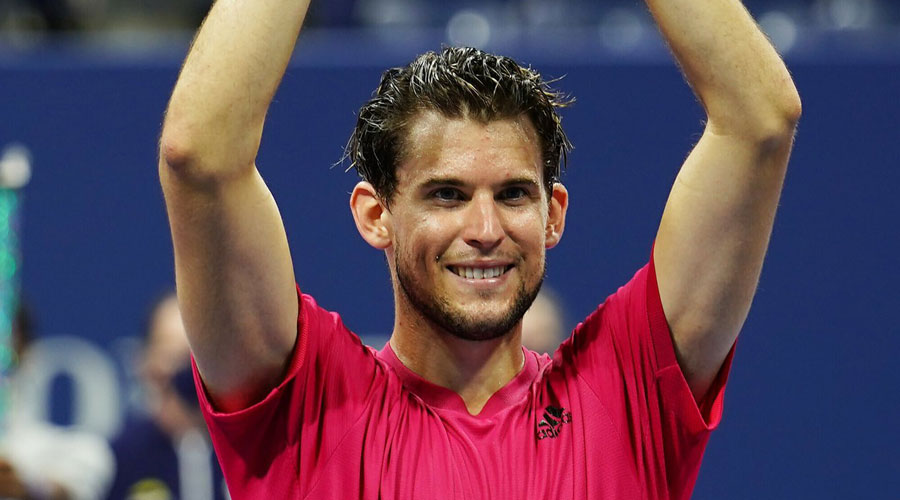 ---
---
A US Open unlike any other finished unlike any other — with an unprecedented fifth-set tiebreaker as Dominic Thiem became the first man in 71 years to win the final after dropping the opening two sets.
In a wild comeback that seemed improbable, Thiem, a 27-year-old Austrian, vanquished Germany's Alexander Zverev, 2-6, 4-6, 6-4, 6-3, 7-6 (6).
Thiem edged out Zverev, 23, in a fifth-set tie-breaker that capped a four-hour marathon that included golden opportunities for the German to win and left both men battling cramps in the final moments.
Thiem won his first Grand Slam tournament in his fourth major final. A critical factor was that this time neither Roger Federer, Rafael Nadal nor Novak Djokovic stood on the other side of the net.
The Austrian, one of a group of promising younger players who have long failed to topple those aging giants, became the first currently active player in his 20s to win a Grand Slam event. He is the first new Grand Slam champion in six years.
With Zverev serving for the match at 5-3 in the fifth set, Thiem won the first two points to put the big German on the ropes. He then forced him into one too many errors as Zverev could not close the door for the championship.
Although this tournament may always be known for the absence of Federer and Nadal and Djokovic's disqualification for unintentionally hitting a line judge with a ball, Thiem's name will be etched in the same font as past champions. There was no discount on his $3 million winner's check.
But a victory in these circumstances does leave a lesser impression. What made Naomi Osaka, who claimed the women's trophy on Saturday, such a star is, in large part, that she won her first major title against Serena Williams, one of the greatest players of this era.
Thiem, though, doesn't view it this way. "I achieved a life goal and a dream I had for many, many years," he said.
The game's ultimate pressure cooker, a fifth set tie-breaker, was a microcosm of the match itself. Zverev took an early lead, Thiem battled back to take control, then Zverev fought off two match points to knot it at 6-6. But Thiem slammed one last searing forehand winner and Zverev sent one last backhand wide to give Thiem the championship.
A weary Thiem dropped to his back way behind the baseline and covered his face with his hands. When he arose, he was met by Zverev, who walked around the net to clasp hands, then embrace his friend and foe, two sights rarely seen in this era of social distancing. Thiem then rested his head on the shoulder of the taller Zverev.
"I wish we could have two winners today," Thiem said. "I think we both deserved it." He is the first man to win the American Grand Slam tournament after trailing 2-0 in sets in the final since Pancho Gonzalez did it against Ted Schroeder in 1949 at an event then known as the US Championships.
Zverev broke into tears during the trophy ceremony. "It's just tough you know," he said. "I wish one day that I can bring the trophy home."
For years, the leaders of the sport and its fans have wondered what tennis will look like once the storied careers of Djokovic, Federer and Nadal finally end. If Sunday was an indication, there will be an endless, nerve-jangling brawl to see who can fill their shoes.
No one can, of course. It is unlikely that tennis will ever have three players vying for the title of the sport's greatest playing at once. But under a clear sky and an unfortunately empty Arthur Ashe Stadium because of the coronavirus pandemic, Zverev and Thiem showed that the next phase of this sport will not be short on the high-stakes drama and test of nerves that have defined the game for decades.
On paper, the match was Thiem's to lose. His blistering backhand became the shot no one could answer, the one that left the best players in the world shaking their heads, their spirits crushed as yet another winner whizzed down a sideline.
Zverev, on the other hand, had looked eminently beatable, especially during his error-filled semi-final, when he was down two sets and hitting 75 mile-an-hour second serves into the net. He somehow escaped — and laughed when he did — not quite believing he could have played so poorly and still landed in a Grand Slam final.
If Thiem can walk in less than two weeks, when the French Open begins, he will be among the top three favourites there as well, along with the 12-time champion Nadal and world No. 1 Djokovic.
While Osaka's victory was a reflection of the present in women's tennis, Thiem's victory is a projection of the future in the men's game.