The man who made life less ordinary
What Diego Maradona and the Summer of '86 meant to a generation getting a taste of international football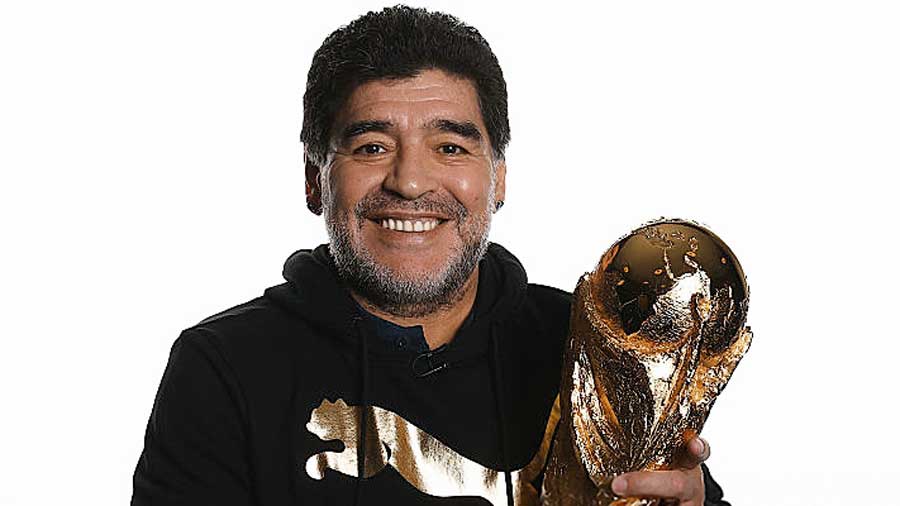 Diego Maradona
File picture
---
Published 26.11.20, 03:33 AM
|
---
It was the summer of 1986 and our majestic black-and-white television set ensconced in a wooden box and covered in a frilly cloth still smelt new. And there I was, a Class IV schoolgirl from Jamshedpur, peering intently at the sky for rain, praying fervently against it. I'd been asked to do both by my football-crazy uncle. If it rained — and it was likely, given it was already late June — the television antenna would show us a red card.
For, it wasn't any other day. It was a crucial quarter-final match of the 1986 Fifa World Cup. Argentina versus England. I'd gotten the spelling of Azteca Stadium wrong that day and had been jeered at. I did not want to muff up my prayers.
For reasons unknown to me back then, we were all praying for Argentina and a lithe young boy with hair that fitted him like a monkey cap. He was called Diego Maradona. Whether it had anything to do with our colonial hangover or just our love — interchangeably — for Argentina and Brazil, I did not know.
Things went according to plan. Argentina crushed England 2-1 and made it to the semi-final and my uncle and his friends acted like turbocharged missiles as they ran out and roared and hugged and cried.The television's frilly cover was never found.
But there was a blot. "The hand of God". More specifically, whether Maradona used his left fist to score the first goal. And with attention spans much longer than today, the debate round it raged on for days, months and years, whether the man was a "genius" or an "unprincipled thug" or the "saviour of football".
There was no doubt in my mind as to who was right because my uncle had told me that Maradona could do no wrong. "Look at his passion, look at his energy, look at the way he dribbles on field, how he dares his opponents," I was told. Maradona's team went on to defeat West Germany in the final. Maradona was poetry in motion in the final. "He can do no wrong," shouted my jubilant uncle.
Actually, he was wrong, but he did not live to see it. His life was tragically cut short next year in July.
In 2005, Maradona himself confessed that he had scored the goal with his hand. But he'd broken my heart long before, in 1994, when he was kicked out of the team for doping. I was still a schoolgirl and I went into shock. I remember writing in my diary: "The age of innocence is over".
Now, of course, I know better. Heroes may have feet (or fist) of clay, but they are heroes for a reason. Because they make life less ordinary. Maradona definitely did.