Will be back next year to thank all, says MS Dhoni
'It's a simple reason -- it will be unfair to not play in Chennai and say thank you to the fans'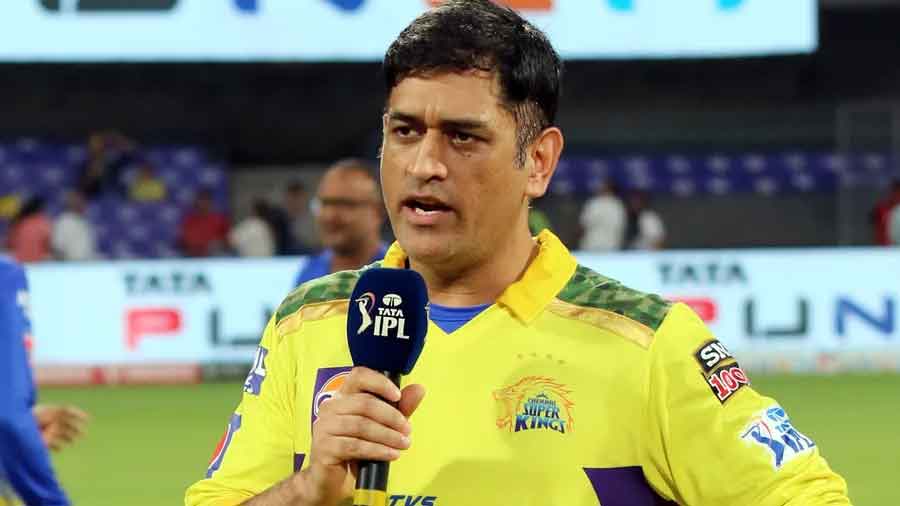 ---
Published 21.05.22, 01:57 AM
|
---
Mahendra Singh Dhoni said on Friday that he would be available to play and lead the Chennai Super Kings during next year's IPL, a decision The Telegraph has learnt he apprised the franchise management a few days ago.
Before their final match of IPL 2022 against Rajasthan Royals, Dhoni said that the main reason to play was to bid adieu to his supporters in Chennai and the rest of India.
"Definitely (I will play IPL 2023). It's a simple reason: it will be unfair to not play in Chennai and say thank you (to the fans). Mumbai is one place where, as a team and as an individual, I have got a lot of love and affection. But it wouldn't be nice to the CSK fans," Dhoni said at the toss.
"And also, hopefully next year there will be an opportunity where the teams will be travelling so it will be like a thank you to all the different places where we will be playing games at different venues. Whether it will be my last year or not that's a big question, because you know we can't really predict about something two years down the line. But definitely I'll be working hard to come back strong next year."
Sources have told The Telegraph that during an impromptu meeting with the who's who of CSK management Dhoni gave the assurance that he would be seen in CSK colours next season. The two-time World Cup-winning captain will be 41 in July this year.
Last year, during a virtual Q&A session with dealers of India Cements — which turned CSK into a wholly owned subsidiary in 2014 — Dhoni had said as much.
"When it comes to my farewell (match), you can always come and see me play for CSK and that can be my farewell game. So you (the fans) will still get the opportunity to bid me farewell. Hopefully, we will come to Chennai and play my last game over there and I can meet and entertain all the fans," the captain had said.
Last October, immediately after the team won the IPL 2021, CSK boss N. Srinivasan had said that Dhoni would always be "part and parcel" of not just the franchise, but also the city of Chennai and the state of Tamil Nadu. "There is no CSK without Dhoni and there is no Dhoni without CSK," Srinivasan had said.
A month later, while felicitating Dhoni and the team for winning their fourth IPL title, Srinivasan had said: "People keep bugging him, 'are you going to continue?' Arrey, he's there, I say. He's not gone anywhere. Why don't you understand the fact that he's there. He's still there. With us."
This season two days before they played the inaugural match, the CSK management decided to hand over the captaincy to Ravindra Jadeja. But on May 1, ahead of their ninth league match, against Sunrisers Hyderabad, Dhoni returned as the team's captain.
Jadeja was told to step down and focus on his game after a series of losses kept CSK among the bottom two of the points table. Later Jadeja abruptly exited the competition citing injury.