We'll give the youngsters enough space, says Kohli
Virat Kohli promised "enough space and chances" to youngsters Prithvi Shaw and Mayank Agarwal as he wants them to be confident and and not feel any pressure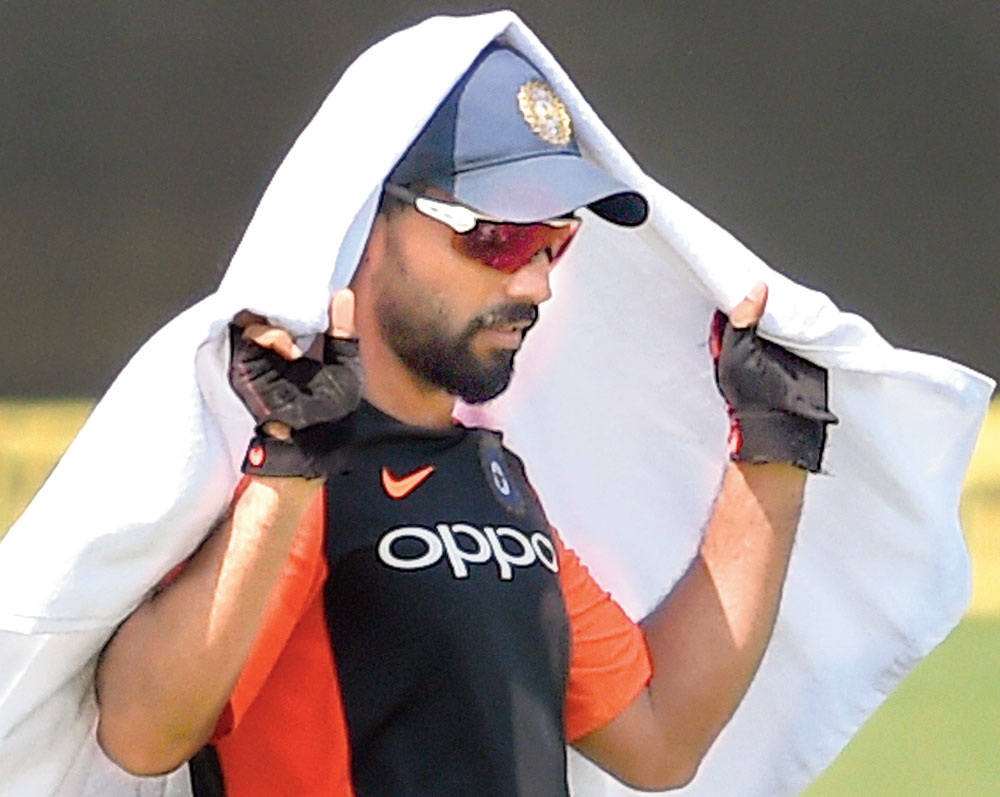 ---
|
Calcutta
|
Published 03.10.18, 09:39 PM
---
Virat Kohli promised "enough space and chances" to youngsters Prithvi Shaw and Mayank Agarwal as he wants them to be confident and and not feel any pressure going into the Test series against the West Indies.
"We would like to take the West Indies series as a benchmark we want to set and keep repeating those things," the India captain said on the eve of the first Test in Rajkot.
He also emphasised the importance of having a solid top order. He said that the lower order should also be able to contribute with the bat.
Excerpts
On the series and the opportunities it presents to the youngsters
We have a change at the top of the order. We will give these guys enough space and enough chances to feel comfortable at that position. We want them to be confident of what they are doing and not feel the pressure. They have an opportunity to showcase their skill-set and show why selectors have backed them… We would like to take this series as a benchmark we want to set and keep repeating those things even abroad.
On the areas in which India need to improve
We know as a team the areas where we need to improve on. Definitely, if you look at sides that win Test matches, contributions at the top and the contributions at the lower order are more important than what happens in the middle (order). The reason why England did well is because their lower order showed more resistance. I wouldn't say their top order did better than us. Usually a lot of batsmen, especially at the top, struggle there because of the conditions.
On a solid top order
Apart from the top of the order getting cemented, I don't think with these two Test matches there's a lot that we're looking at… Rest of the things feel quite settled... It's just that at the top of the order these guys are new, so they'll take some time getting set. But they definitely have the skill-set and they're supremely talented. What we have seen of them is very, very exciting.
On the need for the lower order to contribute
See, at home, we are not really bothered because the lower order has done well in these conditions. The lower order is all about contribution, there is no change needed there… Rishabh (Pant) is new, but (Ravichandran) Ashwin and (Ravindra) Jadeja have performed in so many games at home. They just need to replicate it abroad.
On frequent changes in the XI
You need your best 11 out in the park. In the past, most of the changes have been made in the bowling combination and people have conveniently taken that otherwise. The bowlers that have sat out never felt as if they were hard done by. The motive has always been to pick the best 11 while we have hardly tinkered with the batting order, barring a couple of guys who have not been in form. We have utilised the conditions to the maximum wherever we have gone… We have been able to pick up 20 wickets because of the fact that we played people who are suited for the conditions. Batting has not been up to the mark and that is why we have not done well in England. No one wants to do something different every game. It is all about what is in front of you and accordingly, you pick your best 11.
On being back in action and the workload of players
I feel rejuvenated again both mentally and physically. I needed the break after the intensity with which the tours of South Africa and England went. People usually talk about workloads, but they don't understand the concept. They refer to workload as number of games played. There is no workload if you make zero in a game. But if I bat for, say six hours, that is workload then. I definitely needed a break because of my back, which troubled me a bit in South Africa as well as in England. You saw how Hardik Pandya broke down during the Asia Cup. So, looking at the World Cup next year, things like giving players ample rest and opportunity to train well and come back stronger are very important to consider. You don't want guys breaking down in crucial times.