Virat's the best... I've used him as an example: Mickey Arthur
'A successful team is all about vision, goal and ambition'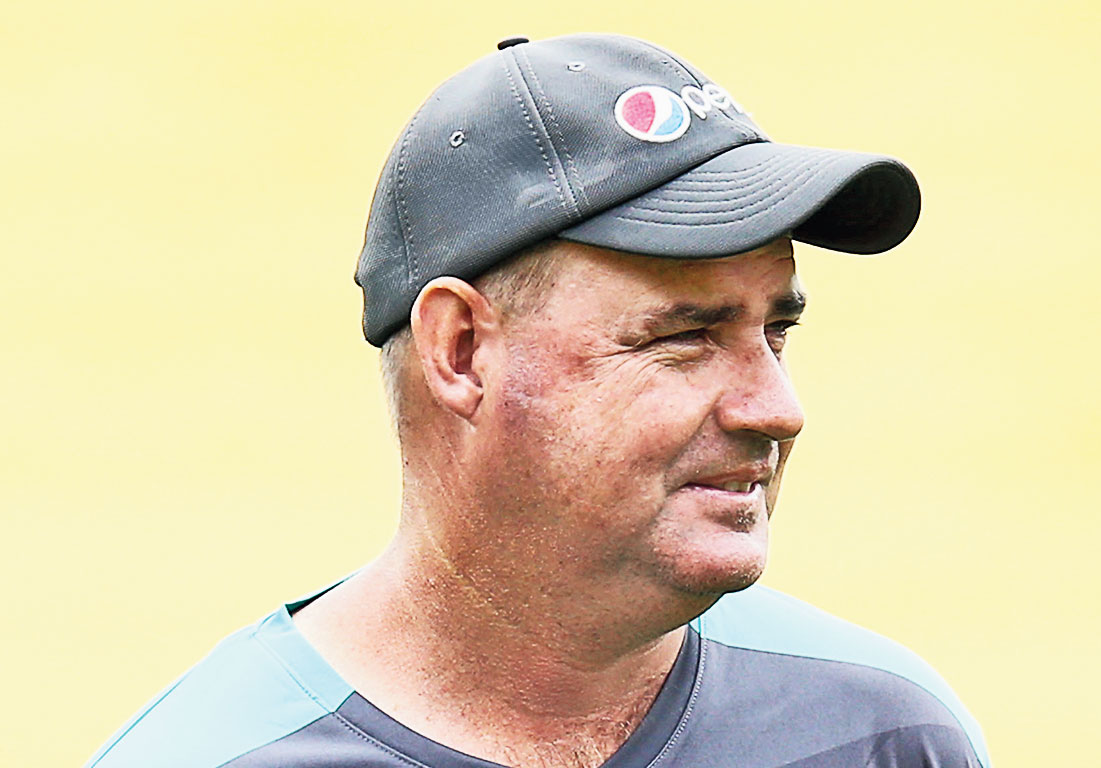 Mickey Arthur
Getty Images
---
Calcutta
|
Published 06.10.18, 08:58 PM
|
---
Mickey Arthur, the most experienced head coach in cricket, spoke to The Telegraph in Dubai.
The 50-year-old Mickey, who has been with Pakistan for over two years, is a keen observer of trends internationally and is conversant with the strengths/chinks in armour of rivals.
Most would expect the head coach of Pakistan to avoid talking about Virat Kohli, but the Johannesburg-born Mickey is made of different stuff and agreed to take questions on the India captain across the three formats.
On Friday, Virat (who has completed 10 years at the international level) became the first from India to score at least 1,000 Test runs in three consecutive years.
It's worth noting that Virat averages 54.66 in Test cricket, 58.20 in ODIs and 48.88 in T20Is. Not to forget the 59 hundreds in the two older formats.
Phenomenal.
Now, excerpts from the interview with Mickey...
Q 'Monitoring' the progress of top cricketers in the other Test-playing nations is part of your brief... How do you view Virat's growth after the 2017 Champions Trophy, the last time Pakistan came up against him?
A Virat has grown even more. In fact, he's an unbelievable cricketer.
Q What puts Virat in a special league?
A Virat's hunger and desire to be the best sets him apart from the rest. Everything Virat does is almost fanatical... The way he lives his life, trains and plays his cricket... For Virat, it's about becoming the best he can be. I have used Virat as an example for my players. The way he changed his lifestyle, the accent on fitness. I have enjoyed watching Virat grow as a cricketer.
Q Where would you place Virat as a batsman?
A Virat's the best in the world... Purely as somebody passionate about cricket, he's one of three batsmen I'd pay a lot of money to watch — AB de Villiers and David Warner being the other two. AB has retired completely from international cricket and Warner is currently ineligible to play for Australia... So, Virat's the only one playing international cricket and that too all three formats... Kane Williamson, I should add, is in the same league.
Q Pakistan's batsmen?
A I have high expectations from Babar Azam and Imam-ul Haq... But Imam has to remember he's not his uncle, Inzamam... Babar too must play just his way... They have to be their own men. Largely exclusively in Test cricket, we have a top-class batsman in Azhar Ali... Look, each one of them has the potential to become the best.
Q What goes into the making of a successful cricketer and a successful team?
A A couple of boxes definitely need to be ticked. Team is all about vision, goal and ambition... It's about wanting to be the best you can be as a group... When it comes to an individual, it becomes a bit selfish and you focus on yourself... An individual cricketer has to keep pushing himself to get better, it's about reassessing and, of course, you have to introspect as well.
Q You've spoken at some length on Virat the batsman. What about Virat the captain?
A Going by some of Virat's reactions on the field, I think he needs to tone down a bit. I'm sure Virat will work that out and (head coach) Ravi Shastri should help him channel things in the right direction... As I told you in London during the Champions Trophy, Virat has brought about a cut-throat attitude which looks good from the outside. He's also brought real energy to the India team.
Q Expectations from the two-Test series against Australia, one of the three national teams to be coached by you, which begins on Sunday?
A We will be good, I can assure you that... This Pakistan team is on the rise and hungry to do well. We're also good in these (UAE) conditions and made strides in the Tests in England this summer. You could say we were unbelievable at Lord's, winning by nine wickets, but very disappointing at Headingley. However, this Pakistan team is still learning. I have faith in these boys.
Q Where white-ball cricket is concerned, just how significant has been the impact of the PSL?
A Massive. The PSL has allowed us to look at a wider pool of cricketers and they've been getting used to handling situations of pressure in front of big crowds... The domestic players are learning from their overseas teammates. It's a win-win situation.
Q Last one... How disappointed are you that, for many years now, Pakistan finds no representation in the game-changing IPL?
A I'll only say that the likes of Shoaib Malik, Mohammed Aamir, Babar Azam, Fakhar Zaman and Shadab Khan would bring good value to the IPL.