Virat and Dhoni together a 'great blend' for Kapil Dev
The tag of favourites/co-favourites carries its own burden where India are concerned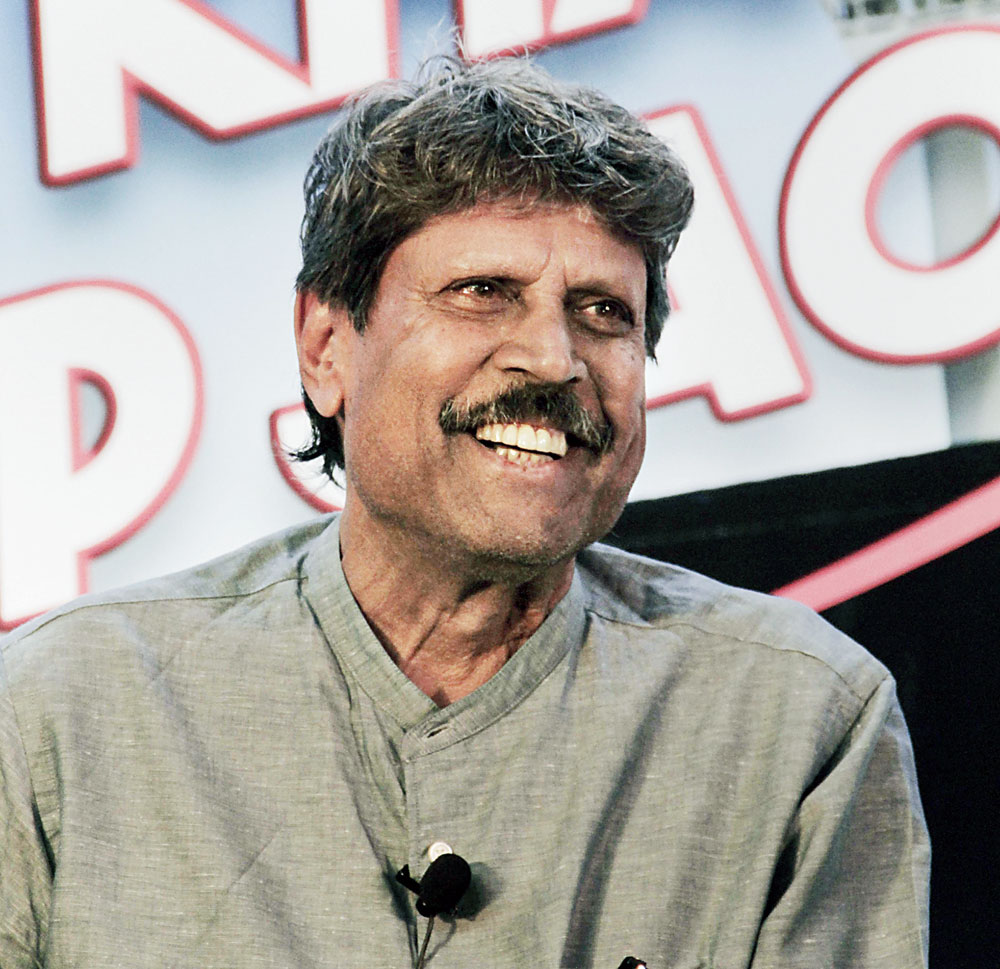 ---
|
Calcutta
|
Published 04.06.19, 10:48 PM
---
Given the distinctly bizarre scheduling of matches, South Africa have already played twice, while India would be making their maiden appearance in the 2019 World Cup, on Wednesday.
The pressure may seem a lot more on the yet-to-win South Africa, but the tag of favourites/co-favourites carries its own burden where India are concerned.
Much would hinge on the way the respective captains, Virat Kohli and Faf du Plessis, marshal resources. As leaders, they also have to lead from the front.
In the lead-up to the India vs South Africa game, The Telegraph spoke to Kapil Dev Nikhanj, the first captain to win the World Cup for India.
Talking specifically about Virat, Kapil felt that his "enormous energy" would be a driving force.
Over to Kapil: "Virat has done very well as captain, although I feel he should be a little calm. Of course, Virat has enormous energy and that's the way he is...
"A (Mahendra Singh) Dhoni cannot be like Virat and, surely, Virat cannot be Dhoni...
"For India, it's a great blend that both Virat and Dhoni are together in the team...
"The other roles apart, Dhoni is around to keep Virat calm. Having said that, maturity comes over a period of time and Virat has certainly matured from the time he got the Test captaincy on a regular basis more than four years ago...
[Virat has been India's white-ball captain from January 2017, two years after getting the reins of the Test team, post Dhoni's retirement from the oldest format.]
"Being in the saddle for three-four years does help a captain get mature. Even Allan Border took time. At home, I can cite the example of Sourav Ganguly, who looked raw at the start."
As for South Africa, Kapil observed that while Faf was actually a "good captain," the team "didn't" have the formidable look it presented in the not-too-distant past.
In other words, when much better teams from South Africa have faltered, it may not be realistic to expect much from Faf and his men.
However, never underestimate.
South Africa's most experienced bowler, paceman Dale Steyn is, by the way, out of the World Cup. He has been prone to injuries for some years now.
Kapil's advice to captains has consistently been to "enjoy the challenge." Right now, Faf isn't in any position to enjoy anything at all.
Meanwhile, much of the conversation in the first week of the World Cup has been on Bangladesh's commanding win over South Africa, on Sunday.
Kapil saluted Bangladesh's veteran captain, the 35-year-old Mashrafe Mortaza.
"One should be proud of Mashrafe and of the way he plays. He has been dogged by troublesome knees, but has continued playing and kept the ODI team together...
"I have nothing but respect for Mashrafe," Kapil pointed out, appreciation oozing.
Mashrafe, who draws inspiration from Bangladesh's freedom fighters, is bound to treasure what the iconic Kapil emphasised.