Ukraine crisis: Clutching at cricket to survive war
From conflict zone in Kyiv, an appeal to game's icons to speak up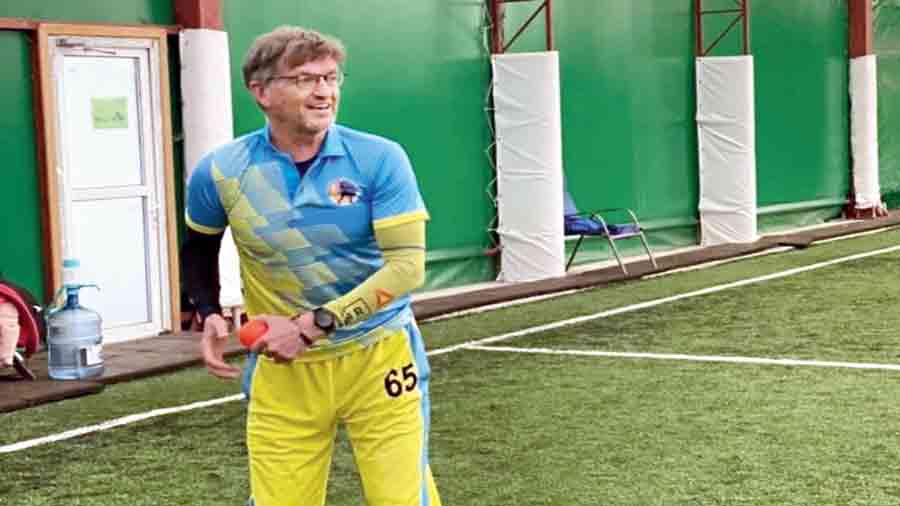 ---
Calcutta
|
Published 02.03.22, 12:40 AM
|
---
For Kobus Olivier, life has changed dramatically over the last five days. The chief executive of the Ukraine Cricket Federation has been locked in his seventh floor apartment in Kyiv, a 20-minute drive from the city centre.
The Russian invasion of Ukraine and the resultant chaos, however, couldn't force him to join the thousands who have been trying to flee the country in search of safer haven. Olivier, a self-proclaimed "cricketing nomad", says he has found a "meaningful home" in Kyiv, where he has been instrumental in developing cricket from the grassroots.
Support from the Middlesex County Cricket Club on Monday, which has offered "solidarity, and deepest sympathies in these times of unprecedented horror", has been a great motivation. Andy Wright, the ICC's regional development manager (Europe), has also been in constant touch with Olivier from his base at Lord's.
None of the full members of the ICC has shown similar camaraderie though. "It would be of great help if one of the Test-playing nations like India or England stood up for us. A few words of support from a Sourav Ganguly or a Virat Kohli would have meant so much to us," Olivier told The Telegraph from the war-struck city on Tuesday afternoon.
"Their words wouldn't have stopped the war or improved our game but it would give us hope and the will for cricket to survive. Any international cricketer will know how much a helping hand means during tough times," he said.
Cricket is mostly played by the Indian medical students, who apply for university places through a company, Bob Trade, run by another Indian, Hardeep Singh, the president of Ukraine Cricket Federation. There are around 8,000 medical students and cricket is confined mostly to Asian expats.
Olivier fell in love with the Ukrainian capital five years ago. He had arrived there after having spent 14 years as director of cricket at the University of Cape Town, followed by short stints in Kenya and Dubai.
Ukraine's application for associate membership is pending with the ICC which means they could attain international T20 status. A decision is due in July during the world body's annual conference.
But Ukraine's fate is unknown as they continue their battle for survival.
"The situation is not good... It is getting as bad as it can get. The peace talks didn't work last evening (Monday)," Olivier said. "The Russian army has surrounded Kyiv from all sides and will launch a violent attack soon. They have already got into the suburbs. Even as we speak, sirens are blaring."
The cricket body president Singh is stuck in an "underground subway" in Kharkiv, one of the hotbeds, with students. "There's terrible fighting on there and we are bracing for a similar situation in Kyiv."
But amid the disaster, Olivier is living with optimism.
"I'm doing something in Ukraine that I couldn't do anywhere else. I can't leave Kyiv now. Cricket is keeping me here. We've got to live and survive this crisis. Eventually life will return to normal. It has to... Cricket too will triumph and continue, I'm 100 per cent sure," Olivier said with conviction.