South Africa tour: Calm mind & maturity mould Rahul 2.0
Muscle strain ruled him out of the recent home Tests versus New Zealand, but that short gap had no effect whatsoever on his rhythm and flair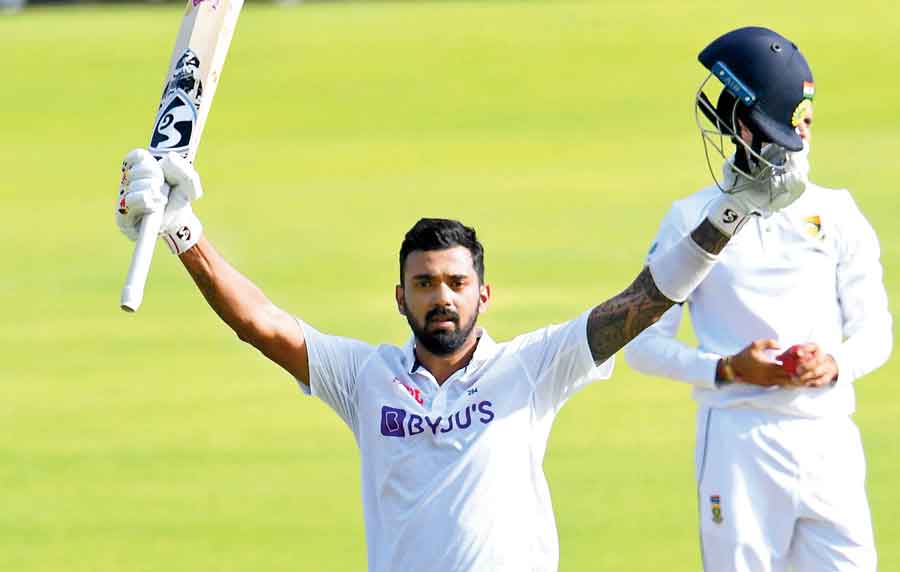 ---
Calcutta
|
Published 28.12.21, 01:20 AM
|
---
Not just his backers and critics, but KL Rahul himself is "surprised" with how he has been able to mould his game and make the necessary adjustments in Test cricket.
A swashbuckling top-order batsman in the limited-overs formats, Rahul has been able to curb his instincts and show incredible calmness as an opener since his comeback Test, versus England in Nottingham back in August, after nearly two years.
In that innings, Rahul had scored a composed 84 that was pivotal to India taking the first-innings lead and followed it up with a superb 129 in the next Test at Lord's in conditions ideal for English quicks.
Muscle strain ruled him out of the recent home Tests versus New Zealand. But that short gap had no effect whatsoever on Rahul's rhythm and flair as he braved tricky overhead conditions in Centurion and hit another brilliant hundred (122 batting) in the ongoing first Test versus South Africa. And it's all due to his calmness, which has led to Rahul's resurrection in the game's longest format and something he still looks at with an element of surprise.
"On 99, with a spinner (Keshav Maharaj) bowling, I thought it was a good opportunity for me to get a single or go over the top because the fielders were all inside (the circle). I did have the temptation to do that," Rahul revealed in a video posted on bcci.tv.
"But again, just as in England when I had got that hundred at Lord's, I surprised myself on this occasion as well with how calm I have been... Not really thought about that one run, as my focus was to be in the moment and play one ball and enjoy that ball as much as I could," the 29-year-old explained.
To reach his seventh Test century, Rahul, facing left-armer Maharaj, had just worked the ball on the off side and it yielded him a boundary, beating the point fielder. No wonder resisting that "temptation" too has sparked his revival in Test cricket. Strong mindset
The injury to Shubman Gill after the inaugural World Test Championship final gave Rahul another opportunity to prove his mettle in Tests, and he grabbed it with both hands. Prior to the England tour, there were a few words of advice as well from his first coach, Samuel Jayaraj, which turned out to be priceless for India's current Test vice-captain.
"I met KL first when he was only ten-and-a-half years old. I used to begin training the guys from three in the afternoon, but he would reach the ground daily at around 2.30pm, coming from Surathkal (near Mangalore). That underlined his discipline.
"Technically too, he has always been sound. So before the England tour, I just reminded him that he needed to play close to the body and as late as possible, something I've seen him doing before as well," Jayaraj, head coach of Mangalore Sports Club Cricket Academy, told The Telegraph on Monday.
"It's all in the mind, after all. The ability was always there in him, so what he needed to do was just train his mind according to the needs of the situation (in Test matches) and keep things simple, which I laid emphasis on during the recent conversations with him."
"KL's mindset has been his biggest advantage and he has the confidence to work on his own technique," agreed Rahul's former Karnataka teammate Robin Uthappa, who too has tracked the opener's progress.
On his part, Rahul too has tried his best to keep matters uncomplicated. "I'm not somebody to bat hours and hours at nets, but I do spend a lot of time thinking about my batting and trying to visualise my innings.
"I just try to stay in the moment when I'm out there in the middle, and try and enjoy each ball as it comes," he said.
Show of responsibility
Ever since he captained Punjab Kings in the last two editions of the IPL, Rahul has been through an elevation in terms of his quality as a batsman in white-ball cricket. At present, being Virat Kohli's deputy in the absence of Rohit Sharma, the added responsibility has also played a role in bringing the best out of Rahul, feels Uthappa.
"We're getting to see the full spectrum of what KL is capable of. He's in a more secure place within the team and even as a cricketer, he's a lot more secure about his own game and about what he can contribute," Uthappa said.
"He thrives with responsibility and the fact that he has got the vice-captaincy is having a positive impact on his batting as well." Uthappa, who represented India in 46 ODIs and 13 T20Is, pointed out.