Sachin: Focus on quality, not just colour of ball
The Master spoke to The Telegraph on various other topics during a freewheeling interview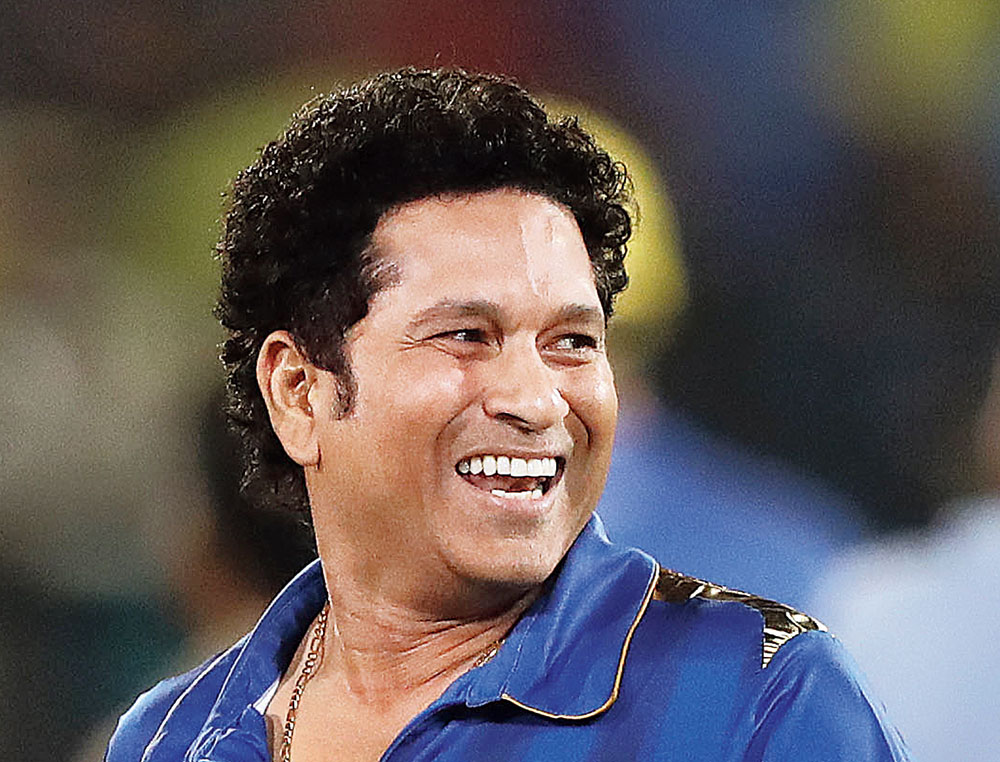 Sachin Tendulkar
Telegraph picture
---
Calcutta
|
Published 21.11.19, 09:01 PM
|
---
Sachin Tendulkar is all for Day-Night Test matches and wants to maintain a proper balance between bat and ball. That he thinks will make Test cricket more exciting and not the colour of the ball.
The Master spoke to The Telegraph on various other topics during a freewheeling interview.
Excerpts:
The Telegraph: Is Day-Night Test the way forward to lure crowds?
Sachin Tendulkar: Day-Night Tests will definitely attract more crowds to the stadium. It's something new and anything new always brings in more excitement. People will be eager to know and feel the difference. New elements always attract more eyeballs and it is the same with cricket. The only thing I'm concerned about is whether the dew will play spoilsport or not. While changes to the sport are always welcome, the actual game or the cricketers should not be affected.
But there seems to be lot of problems associated with the pink ball — the seam in particular. How does one deal with it?
The period just before sunset will be the most important. It is during the twilight period that you will struggle to see the ball. A good batsman will always look at the seam, be it normal or reverse swing. I don't know how difficult it will be to pick the shiny side of the ball. But you will have to keep an eye on the wrist position of the bowler and how his fingers are moving. That is how a batsman will have to follow the ball
How does the batsmen deal with extra movement?
I am not sure about the movement since I have not played with the pink ball. The idea will be to have a fair balance between bat and the ball. That is somehow missing. There has got to be some assistance to both the batsmen and the bowlers. That will make the game more exciting and not the mere colour of the ball. Actually it is the pitches that we play on that will be vital. Quality cricket will be most important.
Can you explain this quality cricket bit?
In England, there's huge response to Test cricket because they offer quality pitches, which have pace and bounce. If you notice during the last Ashes in Manchester, the wicket was slow and the Test progressed at a slow pace. But at Lord's or Headingley, the Tests moved at a rapid pace and the game became more exciting. I'm not saying we will need to have pace-friendly tracks only. We can always have spinning tracks as well. There should be no standardisation as such. Tennis too has different surfaces — Wimbledon has grass while Australian Open, French Open and US Open are entirely different. You've got to adjust to different surfaces. It's the same with cricket. The most essential element is the balance between bat and ball. That is going to attract more and more crowds, not the colour of the ball. That is what matters most and Test cricket needs this balance.
The Test starts at 1pm. So it is only during the last session that dew will come into play…
As I've said, the twilight period will be the most important. The period when the temperature drops and before dew steps in... That will be the critical period for seamers to bowl. The ball will do something off the seam. Strategising when to play shots and when to defend will be crucial. Once we know that and get accustomed to it, things will be a lot easier. For example, the Test begins at 1pm and ends at 8. If dew sets in from 7pm, then the period between 5.30 and 7 — till dew sets in — will have an effect on the pitch. The pitch will be cooler then and it will influence a lot of things. You have to work out if you need more runs then or before that. Also, you have to decide if you want to declare and put the opposition in then since it will be the most difficult period to bat. You may have less runs on the board but by making the opposition bat, you are making it more difficult for them. The wicket will be at its flattest in the morning or at the start.
India had just two days of practice with the pink ball at Eden Gardens. Can that be considered ideal ?
I don't think one extra day will make much of a difference to get adjusted to the pink ball. From recovery point of view it can make a difference but not one extra practice session… May be 10-15 per cent difference… Anyway you are coming straight from playing another Test match.
Another historic occasion at Eden Gardens… How significant will it be?
When a Test is at the Eden, it automatically becomes big. People in Calcutta know how to make the occasion special. It's always fantastic in Calcutta. They've always come out in huge numbers to support me and I will always cherish such memories.
Should pink ball Tests be an annual affair in the Indian cricket calendar?
I think we should not bite the bullet before it's fired. Let's see how it goes… See how everyone feels after the experience. If there's too much dew then things will be different.
Cricket Australia has come out with a proposal for a Day-Night Test in Australia next year. Should India play that since it is part of the World Test Championship?
If we are playing at home, then I see no harm in playing in Australia. Anyway, they have been playing regular Day- Night Tests Down Under in Adelaide. It will be up to the team management to decide but my view is if they are playing here, then why not in Australia? As for the World Test Championship, even the Eden Test is part of it, isn't it?
You have already said that the standard of Test cricket has gone down quite a bit and there are lesser rivalries. Is it because most teams are going through a transition phase?
Transition is responsible to a certain extent. If you have balanced pitches then bowlers come into play. I'm not disrespecting anyone but batting standards have gone down. For example, in the last series, South Africa could have played better in India.
Should we have two divisions in Test cricket?
We already have a system whereby certain teams are restricted to playing 2/3 Tests in a series. I think linking the number of Tests in a series to the standard of the teams' performances will help. That will act as an incentive to the sides that are not getting to play 4/5 Tests in a series. If you play well you get to play more Tests, if not, play less. That will inspire the teams .
Sourav Ganguly is now the BCCI president. How do you see this trend of cricketers coming into administration?
Having cricketers in the administration helps in taking cricketing decisions. Their experience on and off the field will help. Sourav has been at the helm of the CAB for a few years and that experience will add balance to his being the president of the BCCI. At the same time let me clarify that there have been a lot of administrators who have taken keen interest in the game. From the late Mr Jagmohan Dalmiya to Mr Inderjit Singh Bindra, Mr N. Srinivasan, Mr Sharad Pawar… I may have missed out on some other persons. All these persons have taken important decisions and supported the players right through.
There's a lot of talk on whether Mahendra Singh Dhoni should continue or quit playing. What's your take?
Let's be clear: about one thing. His achievements are fantastic. He knows what's best for him and that is how it should be. In the interest of the nation, I'm sure he must have divulged his plans to the BCCI president or the chairman of selectors. It's not just about an individual, it is also about India's future. The decision should be his and he doesn't need to go around answering everyone. It's best to leave him alone.