'Numbers keep changing, but the impression you leave behind stays'
The game should be as pure as possible, no compromises: Sachin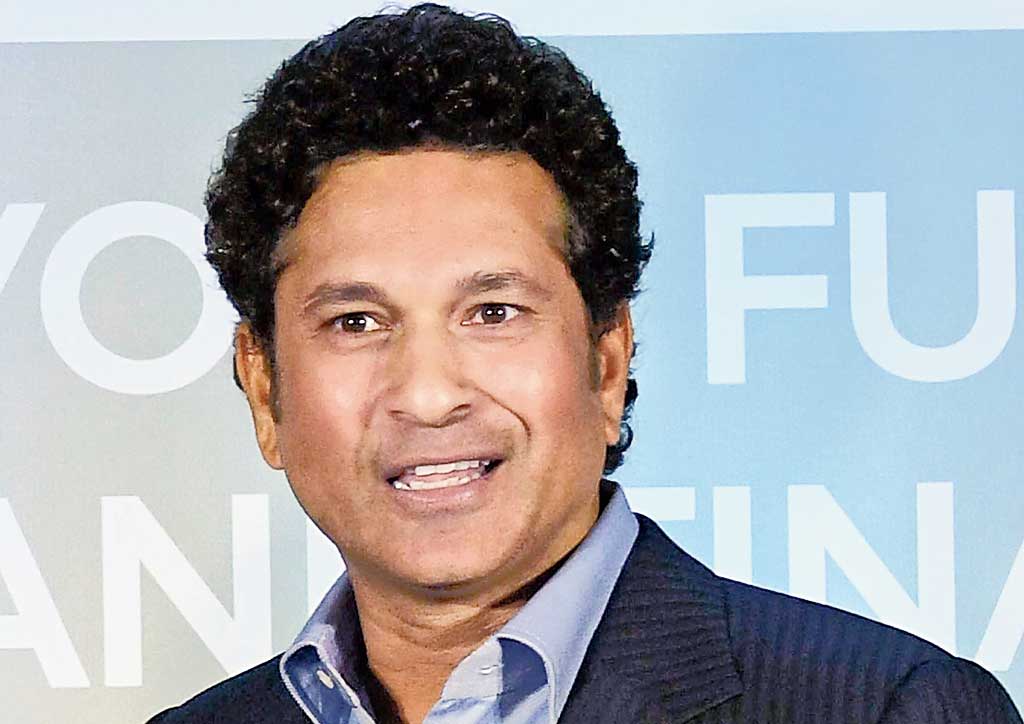 Sachin Ramesh Tendulkar
(PTI)
---
Calcutta
|
Published 20.07.19, 09:12 PM
|
---
Sachin Ramesh Tendulkar, widely regarded as the greatest after Sir Don Bradman, got inducted into the International Cricket Council's Hall of Fame on Thursday.
Revered by millions, feared by bowlers, adored by the young and old alike... The 46-year-old former India captain's story has been an enviable and an extraordinary one.
Excerpts from an exclusive interaction with The Telegraph...
Q November will mark six years of your retirement. Has this period gone at the T20 pace or slower?
A (Laughs) The pace of T20 for sure! I've associated myself with certain causes. There have been personal things to do too... Life has generally been good, but the best part now is that I'm able to fix my schedule. For the 24 years that I played for India, others fixed it. This freedom is nice, as is spending time with family.
Q But have you, at any time, missed playing cricket?
A My view is that it boils down to your last experience and mine was such a fantastic one. You were present at the Wankhede... The send-off I got was special. One cannot plan for such things, they come as a blessing from above... Even my farewell speech wasn't planned as nobody expected the Test (against the West Indies) to get over in three days... I told the TV guys that I may not speak for just one or two minutes. They said the 'floor' was mine... Getting back to answering your question... My wishes had been fulfilled, I'd completed the whole circle and then retired. I've never thought if I was back playing, I could have done this.
Q Before wiping the tears, you'd bent and touched the Wankhede turf one final time...
A I wanted to thank cricket for everything it had given me... I'd always respected the game, and I still do, and wanted to acknowledge everything it had done. Cricket, after all, has made me what I am today... I've worshipped the game, it's like you worship at a temple.
Q Maybe towards the end of your career, did you wonder about the send-off you'd get?
A Well, yes... I was curious what my last moment on the field would be like. It crossed one's mind on seeing retirements.
Q Actually, I find you busier now than you were in your playing days...
A I'm certainly travelling more than I used to... When I was playing Test matches, I knew I'd be in one city for seven-eight days. Now, my (business) team does the scheduling and, often, I make overnight trips. However, I do get more time at home.
Q Is cricket healthier today than in November 2013?
A Healthier in what sense?
Q Surely, cricket faces many challenges...
A Challenges have always been there and the game has tried to overcome them. In any case, I've consistently maintained that no individual is bigger than cricket... Any wrongdoing has to be punished... If there's a controversy, that shouldn't take the front seat. Rather, we should keep surrendering ourselves to this beautiful game... The game should be as pure as possible, no compromises... There have been controversies, but cricket has come out the winner.
Q The T20 format has grown astonishingly... Do you see Test cricket being played 15-20 years from 2019?
A Unless Test cricket is played on wickets helpful to bowlers, it will face challenges... To make it exciting, the ball has to beat the bat every over... The wickets matter. If nothing much is happening, how do you expect the crowd to be excited? I'm not suggesting you need a seaming track, it could even be a turning one... Have turning wickets in India and seaming tracks in South Africa.
Q Then no team may win away from home...
A Good teams will go and win anywhere. It's whether you are getting tested. Test cricket is about that.
Q Are you in favour of two divisions for Test cricket?
A Two tiers, yes, with provision for promotion and relegation. There will be interest in both tiers.
Q It has become somewhat fashionable for some to play in the lucrative T20 leagues, but not be available for national duty. Where do you stand on this issue?
A Look, each person thinks differently. For me, nothing mattered more than playing for India... Without taking names, it can get down to a particular player's relationship with his Board... Why is that some have played for their country in the past, but aren't doing so now? There must be some reason. One needs to look into it and understand (the situation)... Looking at the larger picture, things are changing, which is why there has to be focus on the Test format. What, indeed, are the ways to make it interesting? Everybody is blaming T20, talking of the emerging T10, but nobody is finding a solution for Test cricket to thrive... D-N Tests are something different.
Q To go back to your India career, from the second half of the 1990s, you were part of an awesome line-up... Sourav Ganguly, Rahul Dravid, VVS Laxman and, then, Virender Sehwag... Any comparisons?
A Never believed in comparisons... That line-up was fantastic and we either won the series or certainly won Test matches all over the world.
Q Did Sehwag get his due, in terms of an acknowledgement of a tremendous contribution?
A The term great is often used very loosely, but Viru was a genuinely great player... Somebody who plays for two-three years is called a great. No, he's a good player, not a great. If he is, then what will you say after 10-12 years of his career?
Q How do you see Virat Kohli's growth as a batsman?
A Virat has always been hungry, always sought to get better. His preparation is good as is his ability to assess situations. The latter quality is critical... What will the opposition do? How will the wicket behave? What will the condition of the ball be like? All that needs to be quickly assessed and Virat is good at doing so... I expected him to do very well and I'm not surprised by his success.
Q Virat's India debut was in 2008... Would he ask questions of you then or was he overawed?
A Wouldn't talk much from what I remember... If I'd notice something in a player, I'd tell him... I'd suggest... You may try this grip or an initial movement might help... I'd myself tell teammates, that don't tell me when I'm back in the dressing room, but while I'm out there in the middle.
Q By the way, who made the most suggestions?
A Elder brother Ajit. Not that my partners and I didn't have discussions... Rahul, Sourav, Laxman... We'd talk... I'd even have discussions with Harbhajan Singh!
Q Do you feel 'threatened' by Virat?
A The numbers were there before me, are there now and will always be there. Sunny Bhai (Sunil Manohar Gavaskar) had the numbers before me and Sir Don before him... Numbers keep changing, but the impression you leave behind stays... It's the legacy... What Virat is doing in this era is what matters, just like what I did in my era... I played most of my cricket for India when conditions were different... The rules, the boundary lines... I've been clear about one thing, though: The guy who overtakes me better be an Indian!
[While Sachin ended with 100 International hundreds, Virat stands at 66. Gavaskar finished on 35.]
Q You've just mentioned legacy... In your words, what has been your legacy?
A The number of youngsters I inspired to pick up a cricket bat.
Q Having featured in six World Cups, your best and most disappointing moments after the high of 2011 and the low of 2007...
A Best would be defeating Pakistan in Centurion in 2003... Most disappointing? Losing the 2003 final to Australia and being knocked out by Sri Lanka in the semi-final stage in 1996.
Q Your take on Virat as the India captain across the three formats?
A Expressive, aggressive, good at situational awareness. But it's never about just the captain. A captain needs a good team... Virat, I'd say, has handled the challenges well.
Q Many feel the India team is a work in progress...
A Work in progress is fine, as it means you constantly want to improve... You want to explore avenues and, basically, seek to get better... The biggest change now is that we have fast bowlers capable of bowling teams out. And, each one of them is different.
Q What goes into making a good team?
A Briefly... Good individuals make a good dressing room, good individuals make a good team. Every individual has to feel that what he's doing is for the good of the team.
Q Finally... Do you look back with satisfaction at your tenure as a member of the Rajya Sabha?
A Extremely satisfied... It was very satisfying when the village I'd adopted in Andhra, Puttamraju Kandrika, was declared open defecation free. It has toilets for everybody... I'd like to take forward a pet theme... That we must become a sports-playing nation as opposed to merely being a sports-loving one... Fitness allows you to perform better in any field and India will benefit... I'd also like former athletes to be employed in an organised manner. According to me, they're an asset. Let's not waste them.
Postscript: Sachin has also adopted a village in native Maharashtra — Donja.