Mental conditioning coach and fitness trainer Paddy Upton on his three years with the Indian cricket team
'The way that you succeed is to really accept failure and not worry about them and be innovative, forward-thinking'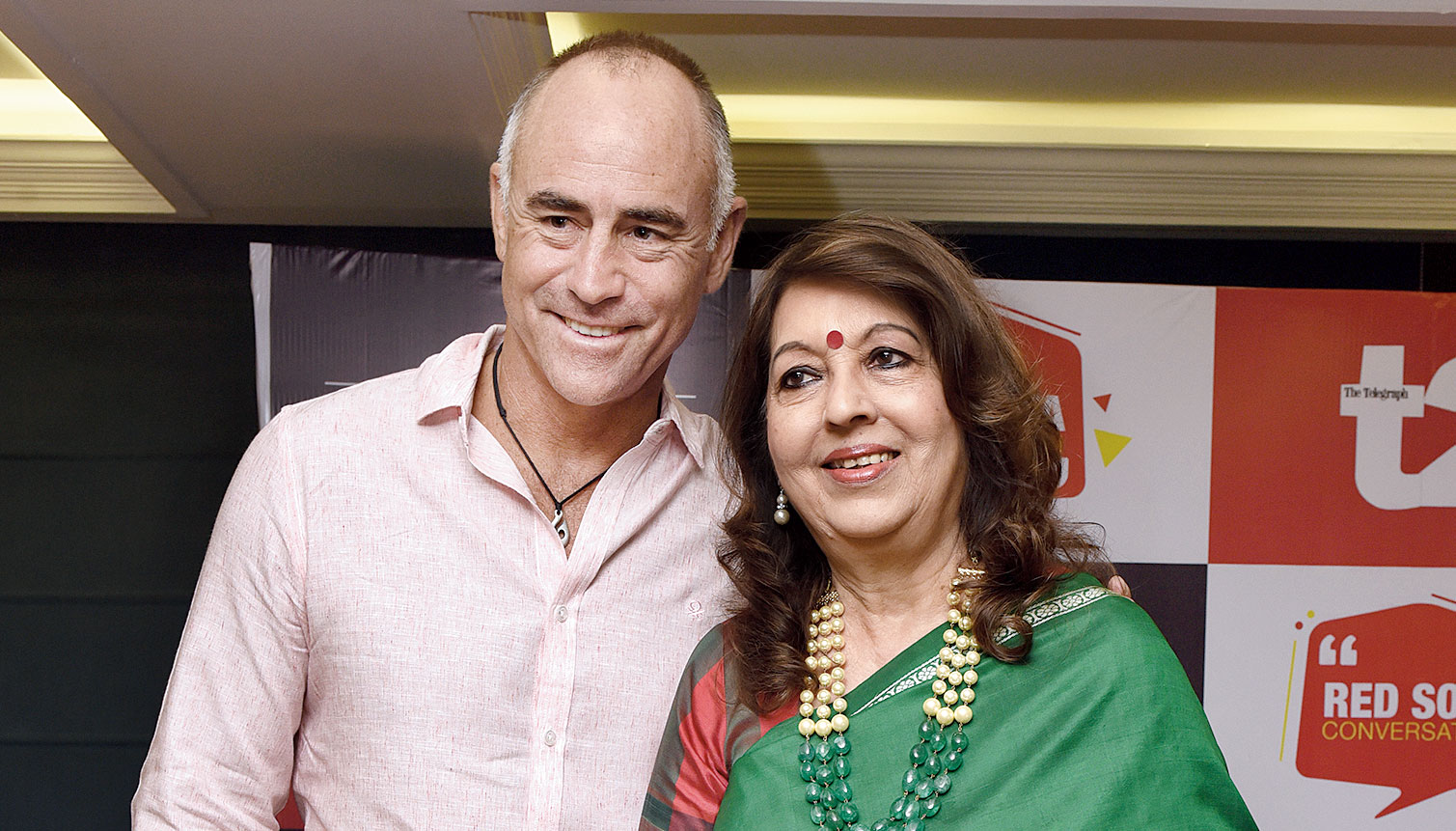 Paddy Upton with Rita Bhimani at Red Sofa Conversation presented by The Conclave, in association with t2 at The Conclave.
Picture: Pabitra Das
---
Published 26.06.19, 11:08 AM
|
---
When that six from M.S. Dhoni's bat soared into the Wankhede Stadium sky on the night on April 2, 2011, India erupted. And every Indian, across the globe, wouldn't be able to tell who they hugged first when Ravi Shastri said, "And, the party has started in the dressing room". What they will tell you though is they too cried when Sachin Tendulkar ran on to the field and hugged an emotional Yuvraj Singh. Till this day, when the magic moments of India's World Cup final triumph are YouTubed or surface on a screen near you, that's the exact same feeling… a lump in the throat and a wash of pride.
What made the champion team though? Calcutta got an insight into the psyche of Dhoni's boys in blue when Paddy Upton, the then mental conditioning coach of the team and the head coach of Rajasthan Royals, came down to the city to launch his book The Barefoot Coach and sat down for a chat with Rita Bhimani at Red Sofa Conversation presented by The Conclave, in association with t2. Excerpts…
"Who did Gary Kirsten and I think we were that we could make other people better people?"
Gary (Kirsten) was about to be a coach for the first time in his life and me in this role of mental conditioning coach and strategic leadership coach, which didn't exist in world of cricket, and was also my first time. So, we were as green and inexperienced as it could be, taking over what is essentially the biggest brand in world sports.
We came up with four goals. One was to take India to the number one position in Tests, which they hadn't achieved by that point. Number Two was to win the 2011 World Cup, something they hadn't done in 28 years. We wanted to create a happy team environment because from previous interactions we had learnt about the unhappiness Greg Chappell had left behind. And the fourth part that we never shared with any player or publicly until after we'd finished three years later, was try and help the Indian cricketers become better, more grounded people. That had nothing to do with cricket. There were two reasons why we never shared that fourth goal… the BCCI did not employ us to make Indian cricketers better people. They employed us to make them win cricket matches. And more importantly… the potential arrogance in that statement… who did Gary Kirsten and I think we were that we could make other people better people?
"A clever comment is different from verbal abuse"
In cricket, the least respected human beings are those who are engaged in sledging. The most respected cricketers who go on to be very successful never engage in sledging. Rahul Dravid will never sledge. He doesn't need to. VVS Laxman, Anil Kumble, Sachin Tendulkar…. In order to sledge a fellow cricketer, you need to first earn the right. And once you earn the right, there is no need. A clever comment is different from verbal abuse. It is always worth a good laugh or story afterwards.
Intuitive leadership…
Gary and I didn't arrive with the concept or the notion of intuitive leadership. It was something that as we worked, started developing. It was important for us as foreigners because we really didn't understand India or Indians. Even the headshake… we really didn't understand what was yes and what was no.
We were playing a soccer match… a youngster took the ball from Yuvraj (Singh) quite a few times, which got him to lash out… just a reaction he had in a particular moment… at the time we just let the game continue. Part of our belief was that as an adult you don't need to reprimand another adult…. Three hours later when the team got into the bus… the furthest back left is where M.S. Dhoni sits always… he sat next to MS for a while, then he sat next to the youngster for a while and then he came and sat next to Gary. He said: 'I just want to really apologise for my behaviour earlier'. Reprimand never ever works other than to create a fear of failure.
"I knew Mike Horn's story would really have an impact on the cricketers"
We were actually playing a Test match in Calcutta against South Africa and I learnt that my university friend was sailing around the Andaman islands. I got hold of him and asked him whether he would come to Calcutta for a night and talk to the team. I hadn't seen him in 20 years. He sailed 1,200km across the Andaman Sea to come and talk to the team…. I knew his story would really have an impact on the cricketers.
In India, cricket being what it is, the highest amount of pressure that can be experienced is by the Indian cricket team when they walk on to the cricket field with half a billion people's expectations on their shoulders. We were preparing for World Cup and needed to try and exceed what the Indians understood to be pressure. And, Mike Horn is probably recognised as the greatest modern-day adventurer. When he told his stories, the concept of pain, fear, exhaustion… all of a sudden was redefined for the Indian team.
"I truly believe that there is no such thing as mental strength"
It's a concept, a myth… I have never come across a professional athlete who doesn't have fear, insecurities, vulnerabilities, doubts and negative thinking. But for some reason there is this idea in the sports world that those things are bad and if you've got them, you are mentally weak, fragile and soft. That's just not true. That's normal.
We knew that if we made it to the World Cup final, Sachin Tendulkar would have to walk on to that field in his last World Cup match… can you imagine there could be any more pressure on an individual in the world of cricket than that? When you walk out on to that field, those billion peoples' hopes and expectations, you walk out and hold them by the hand and take that out with you, embrace it. Bring it with you and still focus on the job.
T.E.A.M.
India was touring Australia and Gary Kirsten flew over, not in official capacity, but he wanted to have one-on-one conversations with players. He asked Sachin: 'What do you want from me as coach?' Sachin said what Gary never ever expected. He said: "I want you to be my friend'. And, that's not written in any coaching manual.
We knew we cannot impose our way on the players. We knew that the team was unhappy and the team needed direction and strategy. Nothing to resist was our motto.
'T' was we play as a team, backing each other, always team first. 'E'… we wanted to bring excellence, be consummate professionals… we wanted to entertain the crowd. 'A' was attitude of winners. 'M' was mature individuals, role models for representing Indian players who have gone before and setting a good example for players to come.
Top tip…
You don't succeed in business if your main driver is fear of not making mistakes. The way that you succeed is to really accept failure and not worry about them and be innovative, forward-thinking.
In this day and age, in the knowledge era, there is always more knowledge in the collective of the team than there is in the senior leadership. It is no longer possible to be the expert in a subject. There is always somebody who knows better today.