MCC scraps annual Varsity match between Oxford and Cambridge
Encounter at Lord's between the country's two most famous public schools — Eton vs Harrow – will also be cancelled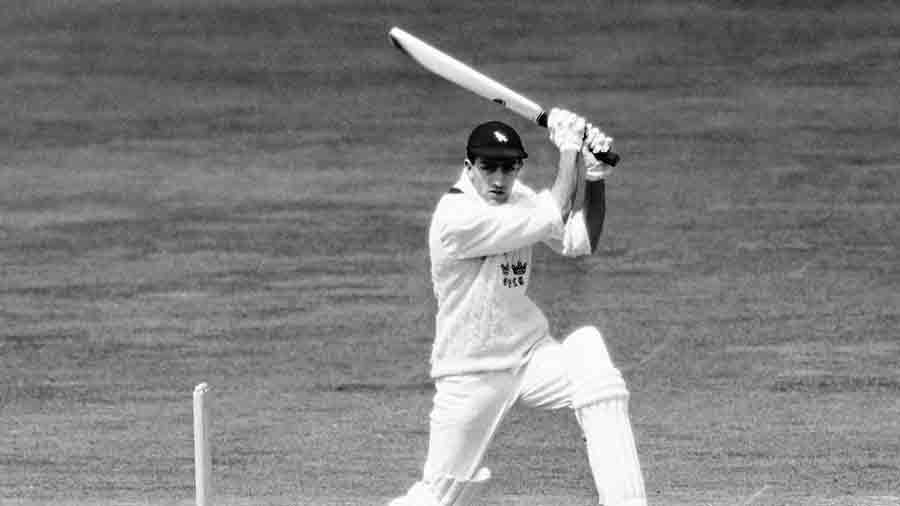 Mansur Ali Khan 'Tiger' Pataudi while playing for Oxford
Sourced by The Telegraph
---
London
|
Published 09.03.22, 01:41 AM
|
---
The Marylebone Cricket Club (MCC) is ending the annual Varsity match at Lord's between Oxford and Cambridge universities, which began in 1827, because it feels that in today's egalitarian age, such events carry the unacceptable whiff of white privilege.
The MCC is also cancelling the annual encounter at Lord's between the country's two most famous public schools — Eton vs Harrow — which goes back to 1805 and was once part of the London season frequented by upper class ladies and gentlemen dressed in all their finery.
The playing area at Lord's, considered "the home of cricket", is venerated as "hallowed turf" — and almost a place of pilgrimage for fans from India.
The MCC's chief executive, Guy Lavender, has written to members, explaining there was now a desire to "broaden the fixture list" by encouraging a "greater diversity" of teams, and "it was no longer sustainable to use two days' cricket on the Main Ground to stage, on an annual basis, the same four institutions".
Over the decades, many Indians — from Prince Ranjitsinhji and his nephew Duleepsinhji to the Nawabs of Pataudi, father and son — have won "Blues" (dark Blue for Oxford, light for Cambridge) by playing for either university.
Indians who represented Oxford and progressed to playing Test cricket for India include: Abbas Ali Baig (10 Tests); RV Divecha (5); AH Hafeez (he called himself Hafeez Kardar when he played for Pakistan) (3); Iftikhar Ali Khan Siddiqui, the 8th Nawab of Pataudi (3); and his son, Mansur Ali Khan ("Tiger"), the 9th Nawab of Pataudi (46).
Jahangir Khan played for Cambridge — legend has it that one of his deliveries killed a sparrow at Lord's — and four Tests for India.
Oxbridge produced many famous England cricketers who played at Lord's, among them CB Fry, Plum Warner, Gubby Allen, Douglas Jardine, Colin Cowdrey, MJK Smith, Trevor Bailey, Peter May, Ted Dexter, Chris Tavare, Vic Marks, AR (Tony) Lewis, Michael Atherton, Mike Brearley, and Derek Pringle.
Tony Lewis, who played for Cambridge (as AR Lewis) and later captained England, walked down memory lane for the benefit of The Telegraph to the drawn Varsity match at Lord's in 1960, when he got 24 and 95 and Tiger Pataudi 131 in the first innings. Pakistan has had Javid Burki, Imran Khan and Jahangir Khan's son, Majid Khan.
Lewis, now 83, recalled: "Tiger was brilliant — easy on the eye. He had come from Winchester with a reputation. He had already played for Sussex. I had played for Glamorgan when I was 17. The atmosphere at Lord's was very schoolboyish, very competitive. We became very good friends and often shared a whisky and soda. We met socially, with Tiger and Rinku (Sharmila Tagore)."
Lewis was too modest to mention he scored 113 in the drawn 1962 match.
Available in the well-stocked MCC library at Lord's is perhaps the best book on the Varsity match — Oxford and Cambridge Cricket, by George Chesterton and Hubert Doggart, which was published in 1989 and includes scorecards until 1988. Incidentally, Doggart, who played for Cambridge and England, was cricket master at Winchester, when Tiger Pataudi left a batting legacy at the school which stands to this day.
"The history of Oxford and Cambridge cricket is central to a study of the game's development," the book sums up. "The Varsity match is the oldest first-class fixture in the cricket calendar, 1989 witnessing the 145th meeting between the two sides. During that period they have produced 126 Test cricketer blues, including 43 captains of their respective countries."
The introduction is written by the late EW Swanton, long time cricket correspondent of The Daily Telegraph.
He said: "Oxford and Cambridge cricket and cricketers have had an unparalleled influence on the evolution of the game ….It is an influence, need one say, wholly for the good..…University cricket runs like a bright thread through the history of the game in England, with blues of both shades instigating the formation of clubs of all kinds, refreshing the counties from their earliest days by the brand and spirit of their play, and adorning Test teams both at home and abroad."
Wisden, the cricketing bible, harked back to the Varsity match of 1931 in its report on the 1960 game: "Pataudi emulated the feat of his late father, who played for England and India, by hitting a century in his first University match for Oxford. This is the only instance of father and son reaching three figures in this long-standing fixture. Pataudi batted with memorable grace and skill, using a wide range of strokes….He batted just under four hours and hit one six and eighteen 4's."
Tiger Pataudi was at Balliol College, Oxford, where his father, the 8th Nawab, had also been an undergraduate. The 8th Nawab scored 106 in the first innings and 84 in the second in the drawn 1929 Varsity match but made history in 1931 when Oxford won by 8 wickets.
According to Wisden, the 30,000 spectators who paid to see the 1931 match, "certainly had value for money, with a record broken in one innings, only to have it surpassed in the next, followed by a surprise result".
For Cambridge, AT Ratcliffe hit 201, which was the highest score in a Varsity match, only to see it broken the very next day by Pataudi with 238 not out for Oxford.
Wisden's match report said that "Pataudi after batting for four hours and twenty minutes passed Ratcliffe's score, and then proceeded to hit away with refreshing freedom…Enthusiastically cheered on retiring, Pataudi played splendid cricket for nearly five hours , scoring all round the wicket with delightful ease and freedom..…The hits of his 238 not out — his sixth hundred of the season — included nineteen 4's, twelve 3's and twentytwo 2's."