Harris fan of Ishant, the 'perfectionist'
Former Australia pacer calls the Indian someone he would certainly 'lean on to' for Delhi Capital's success in this IPL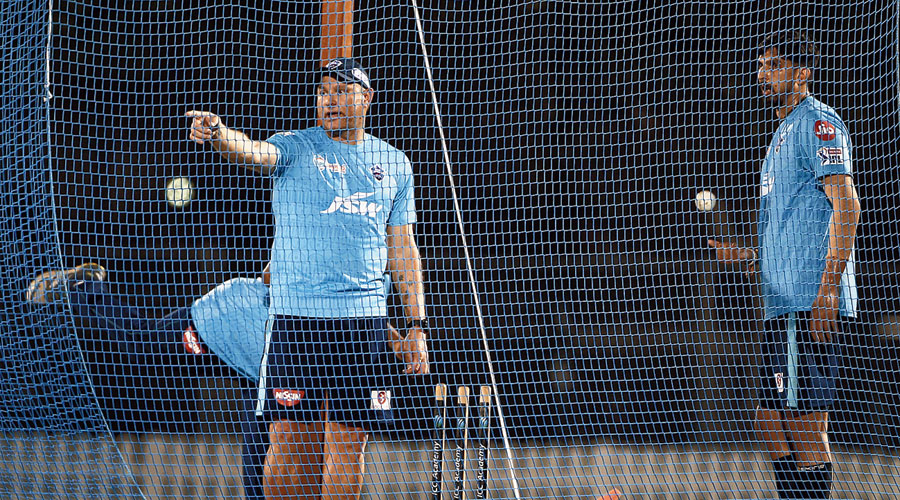 ---
|
Calcutta
|
Published 13.09.20, 03:53 AM
---
From on-field rivals to a coach-ward relationship, the IPL has given Ishant Sharma and Ryan Harris an opportunity to rediscover each other. And Harris, at least, is loving it.
Former Australia pacer Harris is currently the bowling coach of Delhi Capitals, for whom Ishant will be turning out this IPL.
Harris heaped praise on Ishant, calling him a bowler who strives for perfection and someone he would certainly "lean on to" for Delhi Capital's success in this IPL.
"Ishant is someone whom I have watched a lot and also talked about with a good friend of mine, Joe Dawes, who has also been the India bowling coach. He knows him very well," Harris told The Telegraph from Dubai.
"When Ishant first played in Australia, I think he was only 19 then. He played against Ricky (Ponting) as well... A great guy to be able to work with. Someone who's got so much experience and someone who strives for perfection, which I've learnt over the last two weeks.
"Even after he has bowled a lot (at nets), he might not finish till he's done with what he needs to, which is a great sign for a cricketer or a bowler. He is a guy that I'm definitely going to lean on to a little bit during this IPL, making sure that the message gets through to the younger guys as well so that they learn a bit from him," Harris added.
About their bonding, the Australian, who played 27 Tests, 21 ODIs and three T20Is, said: "Ishant and I get on really well as we are both bowlers and we talk the same things. We almost complete each other's sentences as we have the same wavelength, which I think leads to a good relationship and a great understanding."
Harris thinks that the Covid-19-forced break should help a fitter Ishant to become sharper.
"Ishant is able to bowl very long spells, which indicates that his fitness is outstanding now. Hope he can keep that up, and also keep his body nice and sound.
"I guess the positive out of the massive negative around the world at the moment is for a bowler having time off. He has had four-five months' time off, which no one could have scheduled otherwise.
"I think that would help a lot of people, especially Ishant. He strives to be the best he can be and works really hard to get to that point," Harris said.
Ishant and the rest of the quicks' workload management will be another important aspect in this IPL as Harris feels it's about individualising their programmes and having a proper plan regarding how much they can bowl during training.
"Each individual is different. Some have bowled indoors, some went outside for a couple of sessions or so, while others may have not done anything at all. So it's just a matter of individualising their programmes and working closely with (team head physio) Patrick Farhart to make sure that we know we have more clarity about Ishant, who has probably done more compared to someone like Avesh (Khan) or KG (Kagiso Rabada), both of whom haven't done much."