India vs Australia: Eye on pitch as team mulls options
Wicket is expected to assist spinners from Day I itself but Rahul doesn't want to be a soothsayer when it comes to reading the 22-yard strip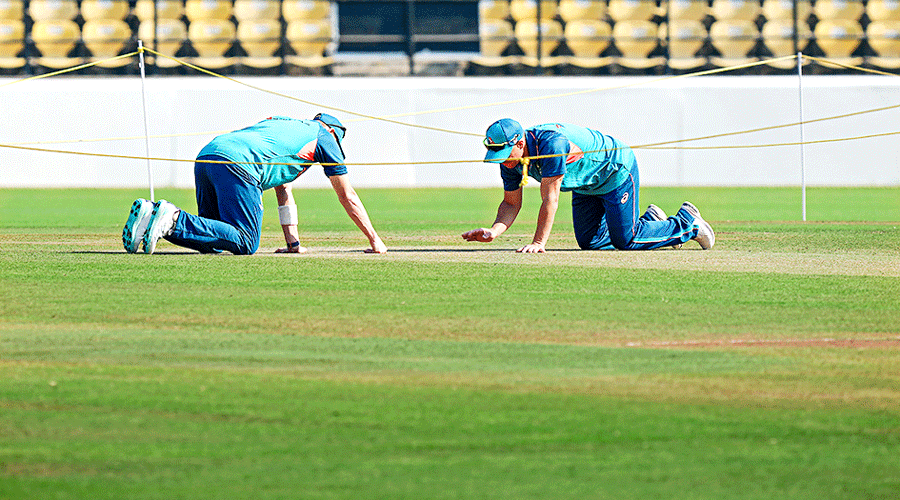 Not just Team India, the visitors too are eager to know how the pitch will behave.
PTI picture
---
Nagpur
|
Published 08.02.23, 04:42 AM
|
---
India's Test vice-captain KL Rahul feels it's never easy to predict the nature of the wicket but there is a "temptation" to play three spinners in the first Test against Australia, beginning here on Thursday.
With less than 48 hours left for the Border-Gavaskar Trophy to begin, Rahul didn't provide any definitive answers about three key slots in the team — the wicketkeeper, the third spinner and the No.5 in the batting order.
"We still haven't decided on the final XI. It's going to be a tough decision to make. There are guys who have performed exceedingly well and there are a few spots open, so there are a few discussions going on and the players are being spoken to," Rahul said.
The wicket is expected to assist spinners from Day I itself but Rahul doesn't want to be a soothsayer when it comes to reading the 22-yard strip. "Yes, we did see it (the pitch), but it's still too early to really know what the pitch is going to do. We need to come here on the day of the match to know how it's really going to play," he told reporters.
"We can only look at it and assume it's going to play a certain way, but you never know with pitches. Yes, there is the temptation to play three spinners because we're playing in India. We'll take that call on the day of the game or the day before the game."
With skipper Rohit Sharma back in the side, Rahul was asked if he would like to bat in the middle-order where he had started his Test career back in 2014. "If it arises, then I'm more than happy to do that. Whatever little cricket I've played for the country, I've always done that.
"Whatever the team has asked me to do, I try and prepare that way and try and do my best for the team, and if that is something that the team wants me to do here, I'll be more than happy to do it," Rahul said.
"The playing XI, we always try and make a decision based on what's best for the team and for that particular Test match. We have done that over the last two years. There have been questions about why a certain player has played… even in Bangladesh, I remember, Kuldeep (Yadav) got the Man of the Match and did not play the next Test.
"Obviously, the only reason, or the only thinking, behind such decisions is which player fits the role for that particular condition.
"You said, I have played for 10 years, but even if I have played for 20-30 years, and even after retirement, there is nobody who can look at the pitch and say accurately that 'this is how it is going to play'.
"It's really based on some experience and a little bit of history of that place. Even in this series, that's something we will continue to do," he said. "Everyone is very clear about why they're playing, why they aren't playing, their roles... That's a good thing."
Written with PTI inputs
Spin twin Mahesh Pithiya, who is helping the Australia batters prepare themselves for the Ravichandran Ashwin test, has travelled with the visitors to Nagpur, the venue of the first Test, after a camp in Bangalore.
Mahesh, an off-spinner from Baroda, has a bowling action like that of Ashwin and that is why he is so precious to the Australians as they get ready for the spin test.
The unassuming 21-year-old revealed while talking to PTI that he dismissed Steve Smith five-six times at nets on the very first day itself.
Mahesh also got to meet his idol, Ashwin, on Tuesday.
"I got blessings from my idol. I have always wanted to bowl like him. When I met him as he was entering the nets, I touched his feet and sought his blessings. He hugged me and then asked what exactly am I bowling to the Australians," said Mahesh, who used to work in a tea stall a few years ago.
Did he reveal Australia's secrets to his idol? We will find out on Thursday, when the first Test begins.
PTI