ICC Cricket World Cup 2019: Worst umpiring, Indian fans say on Twitter
The match was lost yesterday, but some fans need more time to recover from World Cup shock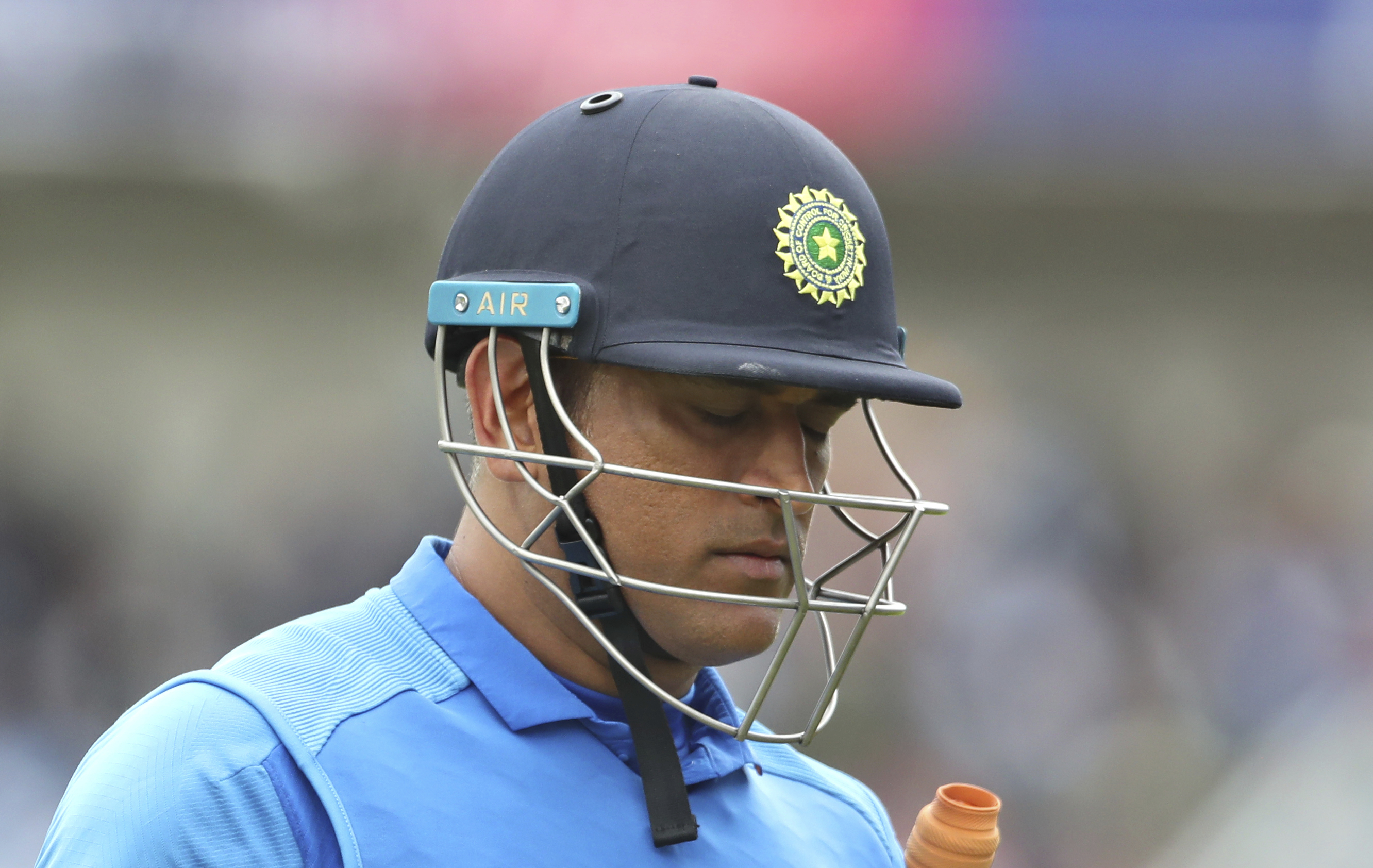 Dhoni leaves the field after being dismissed by Martin Guptill in the semi-final between India and New Zealand at Old Trafford on July 10.
AP
---
New Delhi
|
Published 11.07.19, 04:58 AM
|
---
After all the blame was piled on Dhoni on Wednesday night, some fans saluted India's World Cup winning captain, who may have escaped more Twitter wrath because of the suspected 'umpiring error'.
Several fans had started lamenting last night that this World Cup match marked the end of Mahi's era, although the former Team India captain has not said anything yet on his retirement from ODIs. So, a Team India fan decided to set the record straight.
There are after-party diets for weight watchers who have had one too many on a weekend night. But there clearly isn't a way to quick recovery for the Indian fan who was sure the World Cup had India's name on it. 
To make things worse, some cricket watchers started posting early morning that New Zealand broke fielding rules in the 48th over. ICC's ODI rules say that between overs 41 and 50, when Powerplay 3 prevails, 'no more than five (5) fielders shall be permitted outside this fielding restriction area. In an innings of 50 overs. Overs 41 to 50 are inclusive in this Powerplay slot. The claim is that New Zealand put six fielders outside the fielding restriction area.
Mahendra Singh Dhoni lost his wicket last night in the 48th over. Martin Guptill's direct hit that caused Dhoni's run-out is widely being seen as the point when India lost it all. Guptill's fielding position had no direct bearing on the run-out, but right now the hurting Indian fan is hurting more after reading tweets that say: 'Worst umpiring'. 
#ThankYouMSD
How can you place 6 fielders outside the circle after 40 overs?
Worst umpiring in critical situations@ICC @cricketworldcup @BCCI @msdhoni @imVkohli pic.twitter.com/hUOfeR7XjD

— Mohan (@MOHANTHANIMARAM) July 11, 2019
We love you boss
Thankyou for everything#Respectfrompakistan 😍 #ThankYouMSD pic.twitter.com/0gR362gQHv

— Ahmed Hacen (@AhmadHacen4) July 11, 2019
Please don't spread fake news. There is no official announcement from dhoni for his ODI retirement #ThankYouMSD pic.twitter.com/6eFUt4nh8x

— Amarnath (@Amarnat80883135) July 11, 2019
Say something about this @ICC #INDvNZL #ThankYouMSD #CWC19 pic.twitter.com/HUxWrrfGMD

— Suman Mondal (@sumankatweet) July 11, 2019
#ThankYouMSD started trending on Twitter and a weekday began.
One of the fans posted a gif of, perhaps, his state of affairs.
Driving to work after yesterday's loss 😭 #ThankYouMSD #INDvNZL #INDvsNZ pic.twitter.com/rkhf1SdGTt

— Anwar Shaikh (@iamandy1987) July 11, 2019