Virat confident & relaxed, Morgan feels the pressure
Virat gave the India Orange kit an 8 on a scale of 10; it will, however, be worn for just a day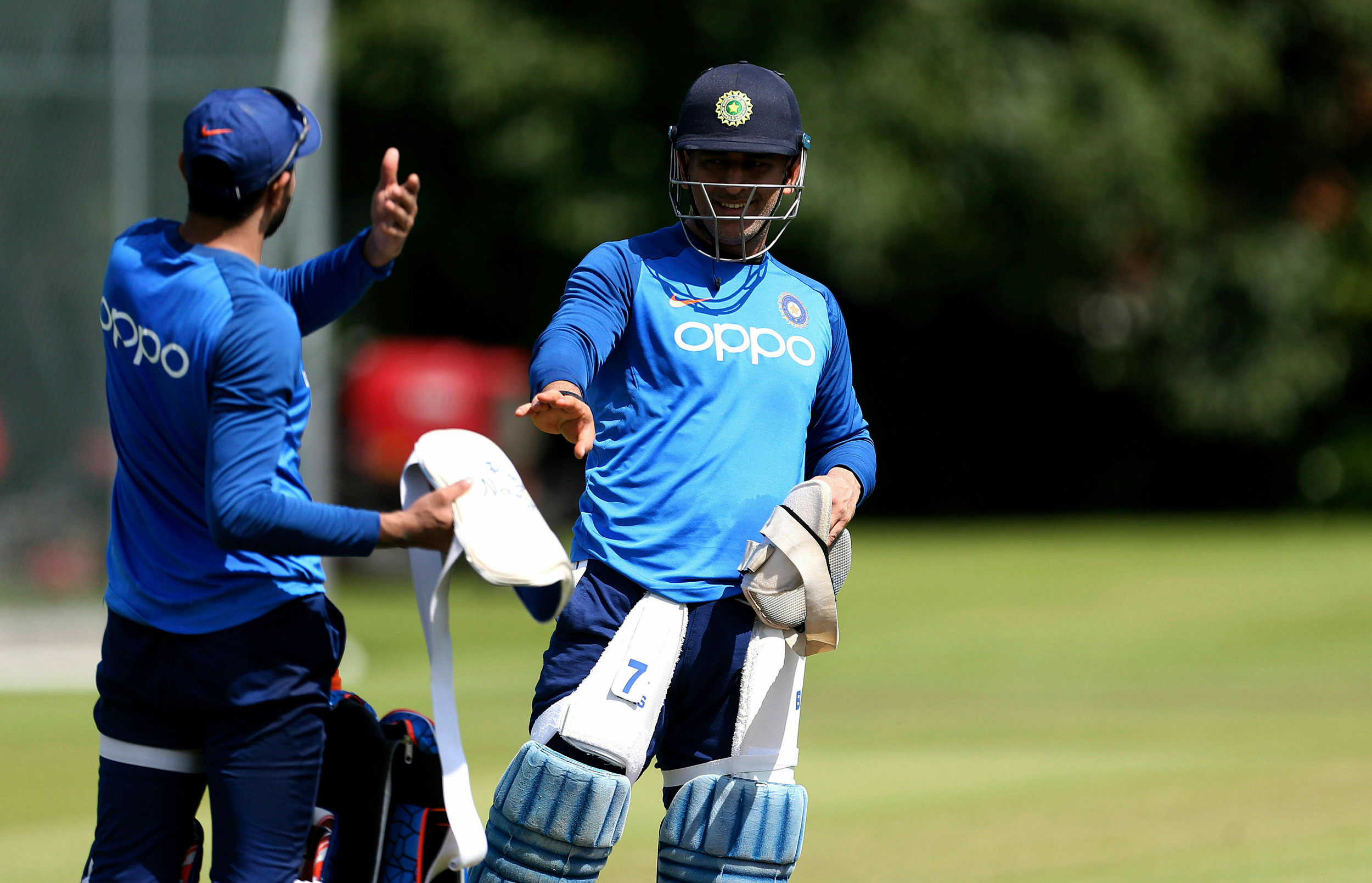 Mahendra Singh Dhoni at Edgbaston in Birmingham, England, on June 29, 2019.
(AP)
---
Birmingham
|
Published 29.06.19, 08:55 PM
|
---
Confident, relaxed, candid.
That was Virat Kohli, the India captain, during Saturday's pre-match interaction with the Media at Edgbaston.
So relaxed was Virat, ahead of such a high-profile face-off against World Cup hosts England, he quipped: "Lagta hai main shirt sukha raha hoon!" That was after displaying both sides of what is to be worn on Sunday.
Virat, by the way, gave the India Orange kit an 8 on a scale of 10. It will, however, be worn for just a day.
The confidence came through in the manner Virat answered questions. He hit the proverbial nail on the head when he said: "The more basic you can keep things in a tournament like the World Cup, better the chances you have of being one up on the opposition when under pressure."
As for Virat's candidness, he admitted feeling the pressure, but made the point: "I'm probably good at hiding it... Everyone feels pressure, everyone feels butterflies in their stomach. I'm glad I feel like that. If I don't, then I probably don't have enough motivation to play anymore."
Actually, it's rather foolish to assume Virat doesn't feel any pressure. He is, surely, human.
Besides the 1000s of runs accumulated across the three formats, Virat the captain has taken India to No.1 in Tests and in ODIs.
Naturally, then, Virat moves around in cruise control mode.
England captain Eoin Morgan, on the other hand, appeared rather tight during his interaction with the Media.
Plenty, after all, is on the line for England. Defeat at the hands of India would almost surely be fatal.
Given the desperate situation England are in, Morgan let it be known that a chance would be taken with both Jason Roy and Jofra Archer — provided the risk they face doesn't have long-term ramifications.
Roy and Archer have acquired indispensable status.
On the way back to the dressing room, when The Telegraph asked Morgan if the match was also a contest between very fine captains, he smiled and replied: "You tell me."
It will be, yes.
According to former India captain Krishnamachari Srikkanth, a member of the 1983 World Cup-winning XI, "India are all set to convincingly win" at Edgbaston.
Srikkanth is a Brand Ambassador for cricket's showpiece event.
The match, meanwhile, is a fund-raiser for a joint initiative of Unicef and the International Cricket Council which has been christened 'OneDay4Children'.
'OneDay4Children' also features on the shirts to be worn by players of both India and England.
One of those associated with Unicef told this Reporter: "We're hopeful about the campaign fetching half-a-million Pounds."
"It's a very special occasion," is how Virat described the 'OneDay4Children' initiative.
Here's hoping the campaign exceeds its target. Also hoping that India reach their first target in this World Cup: The semi-final, on Sunday itself.