Alastair Cook or Joe Root? Moeen Ali stirs up a storm
This is turning out to be the England equivalent of the Sourav Ganguly-Virat Kohli saga in Indian newspapers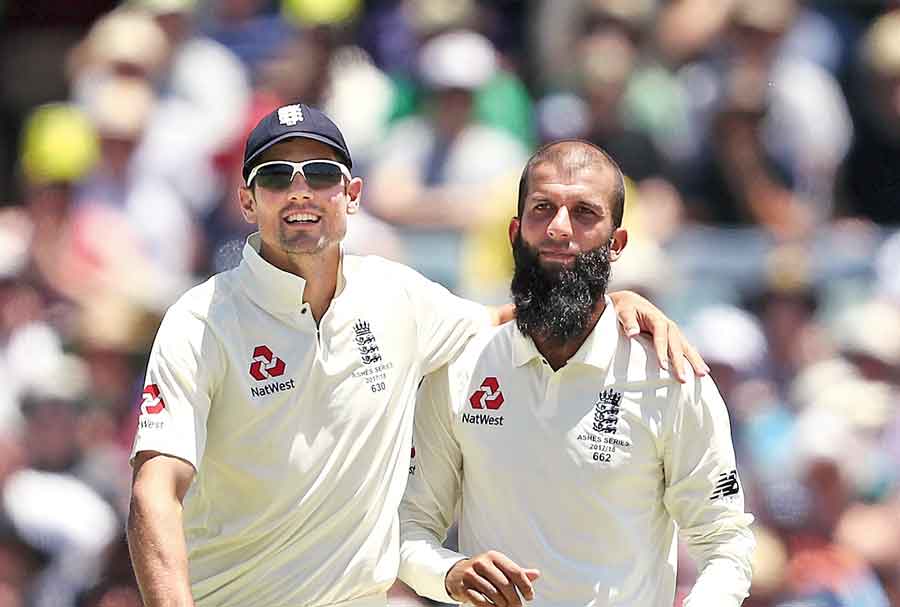 Alastair Cook and Moeen Ali in Perth in 2017.
The Telegraph
---
London
|
Published 07.01.22, 01:37 AM
|
---
Moeen Ali has accused Sir Alastair Cook basically of not being as good a captain as Joe Root during sharp exchanges on television just before the start of the fourth Ashes Test in Sydney.
"Moeen Ali criticised Alastair Cook's player-management skills as England captain during an awkward on-air exchange between the former team-mates," was how the Daily Mail put it.
It added: "Sitting on the same sofa as pundits for BT Sport on the first day of the fourth Ashes Test, Moeen defended Joe Root's ability as a leader while taking a swipe about his former skipper Cook."
This is turning out to be the England equivalent of the Sourav Ganguly-Virat Kohli saga in Indian newspapers. This was, for example, the take in The Daily Telegraph: "Moeen Ali accused Alastair Cook of lacking empathy as England captain during an awkward on-air television exchange before the fourth Ashes Test.
"The pair played 37 times together during Cook's reign leading England, with the former opener also handing Moeen his Test debut in 2014.
"In that period, Moeen scored 1,927 runs at an average of 35.03 and took 98 wickets at 42.22. In his following 27 matches under Root, he scored 987 runs at 20.56 and claimed 97 wickets at 31.04.
"Moeen retired from Test cricket last year after an unsettled red-ball career spent under the captaincy of first Cook and then his successor Joe Root.
"Moeen and Cook were reunited in the BT Sport studio for coverage of the fourth Ashes Test in Sydney and became embroiled in a tense exchange over how the all-rounder was handled during his international career."
"Cooky would never give me throw downs," said Moeen. "Rooty has a bit more of, I would say, an emotional attachment with the players. He probably spends a bit more time with the players."
Cook, who initially appeared to think Moeen was being light-hearted, responded: "Are you just criticising my captaincy?"
Moeen replied: "I am a little bit, yeah. But they are both very different. I probably did better with the bat… well, I did do better with the bat under Cooky. Whereas with the ball I was better with Rooty."
Now realising the discussion had turned serious, Cook proceeded to mount a defence of his captaincy style — while also criticising Root for failing to persist with Moeen.
Cook, whose record of 59 Tests in charge of England has just been surpassed by current captain Root, replied: "I have to say I never dropped Mo. So he might criticise me but I never dropped him. How many times did Rooty drop you?"
Moeen hit back: "That's true. But he also batted me from one to nine in my first year of international cricket."
Cook then aimed his own dig at his colleague, saying: "I was giving him a chance. I couldn't work whether he was a tail-ender or an opening batsman so I was trying to find the perfect role."
Moeen was employed at No 8 or 9 throughout the 2015 Ashes, before being thrust into a short-lived role as an opener just two months later for three away Tests against Pakistan.
After a brief interjection from BT Sport presenter Matt Smith, Moeen continued: "To go back to my point, Rooty was a little bit more involved with the players, in my opinion. Not that Cooky didn't care, but I think Rooty is a bit more arm-over-the-shoulder kind of guy."
A despondent Cook concluded: "I'm not sure how to take this any more. I've just come back from a nice holiday and walked straight into Moeen Ali off his long run."
Surprisingly, newspaper readers did not all back Cook, as might have been expected.
Shane Vendrell said: "Good on Ali for finally calling out the glorified choirboy."
John Curran defended Cook (who did once sing in church): "Don't be ridiculous."
Vendrell came back: "The glorified choirboy schemed with ECB goons to exclude our greatest ever batsman Kevin Pietersen from the test side. It is high time he was called out for his dastardly approach to selection."
James White attempted to speak up for Cook, who scored centuries against India on his debut and his final innings: "Cook may not have been the best England captain but I imagine his mind was always partly on the responsibility to open the batting, thus ensuring that the likes of Moeen could swing their bat and, as often as not, throw their wicket. The lure of quick money playing white ball cricket almost ensures that we will never see an England opener with the discipline and patience to succeed in overseas Test matches. They would sooner be playing in the IPL and making a small fortune. All very sad."