Dapper in black shirt, grey pants and salt-and-pepper hair, with the briskness of a teenager in his steps. When Kapil Dev walked into Sanjiv Goenka's Delhi residence on a hot May morning, the charisma was palpable. t2 indulged in a 30-minute adda with him and Sanjiv Goenka, the chairman of RP Sanjiv Goenka Group, ahead of the inaugural Indian Cricket Heroes awards — a RP Sanjiv Goenka Group initiative, that was held at Lord's in London on May 23. The intelligent eyes, a happy smile matched by candour and humour, made Kapil a delight to chat with.
The awards saw felicitations across nine categories — Emerging Female Cricketer of the Year, Emerging Male Cricketer of the Year, Female Bowler of the Year, Male Bowler of the Year, Female Batsman of the Year, Male Batsman of the Year, Best Performance in Indian Premier League, Best Performance by a Foreigner Against India and Cricketer of the Year. Catch the awards on Star Sports at 1.30pm and 8pm on May 29.
Another sports award after the RPSG Indian Sports Honours. So, the sports bug has really bitten you!
Sanjiv Goenka: The idea is to really make these awards into the biggest cricket awards in the world. This is a humble beginning and the World Cup is the best time to launch this. We've got, to my mind, the biggest legend that Indian cricket has known and there is a very strong process that is being followed and the idea is to take it, of course, across the country, but also across the world over a period of time and build more and more salients and respect for these awards.
And the first venue is Lord's. Whose idea was that?
Sanjiv: It was a process again. I don't think there is any one individual who can claim credit for the whole thing. To have an award which is international in temperament, character and recognition is something that we wanted to do and now it's taken shape and body in this manner.
And Kapil Dev was the first person you thought of getting on board?
Sanjiv: Frankly, I was just telling him that I was not going to have anyone else as the co-chair of the jury. There was no question.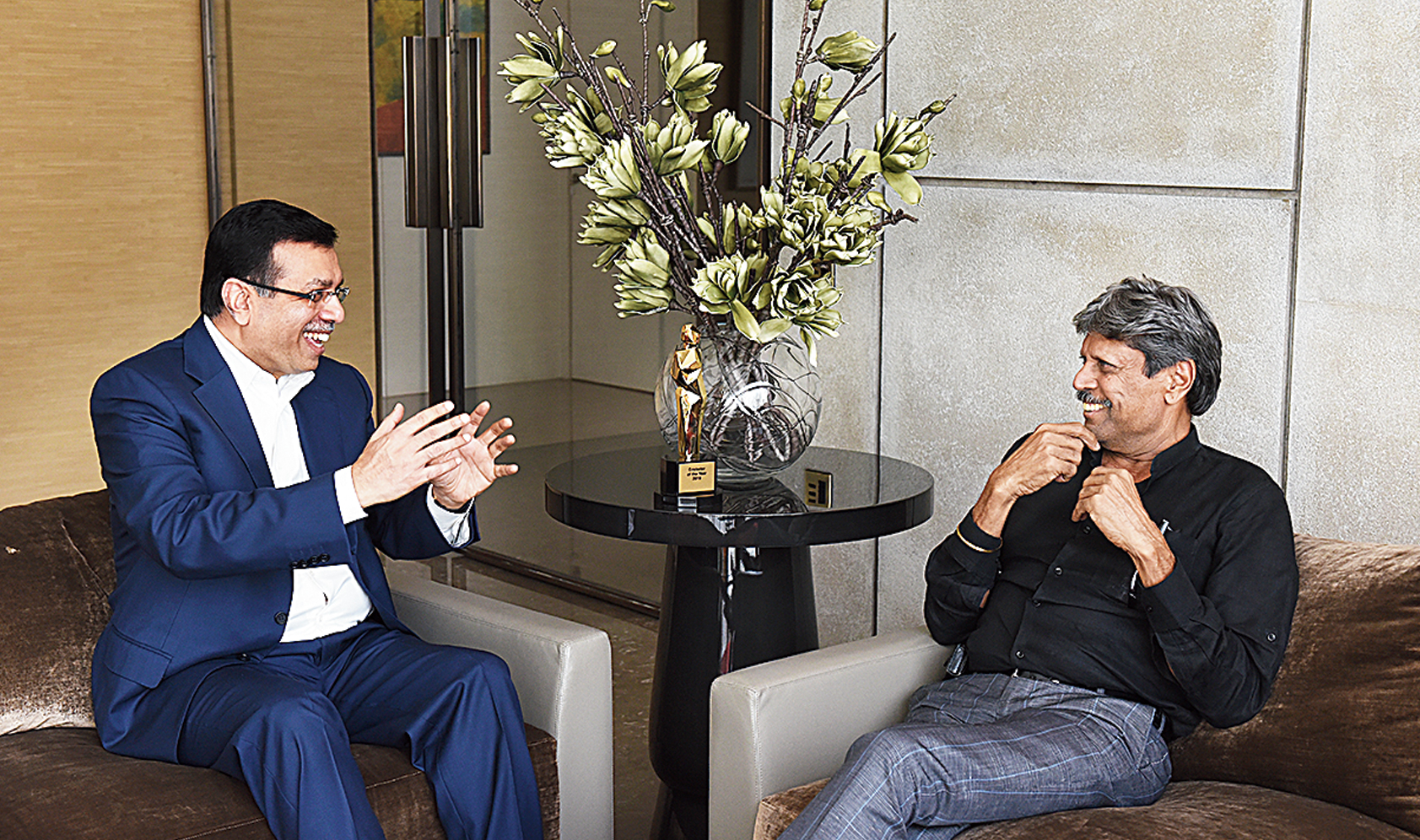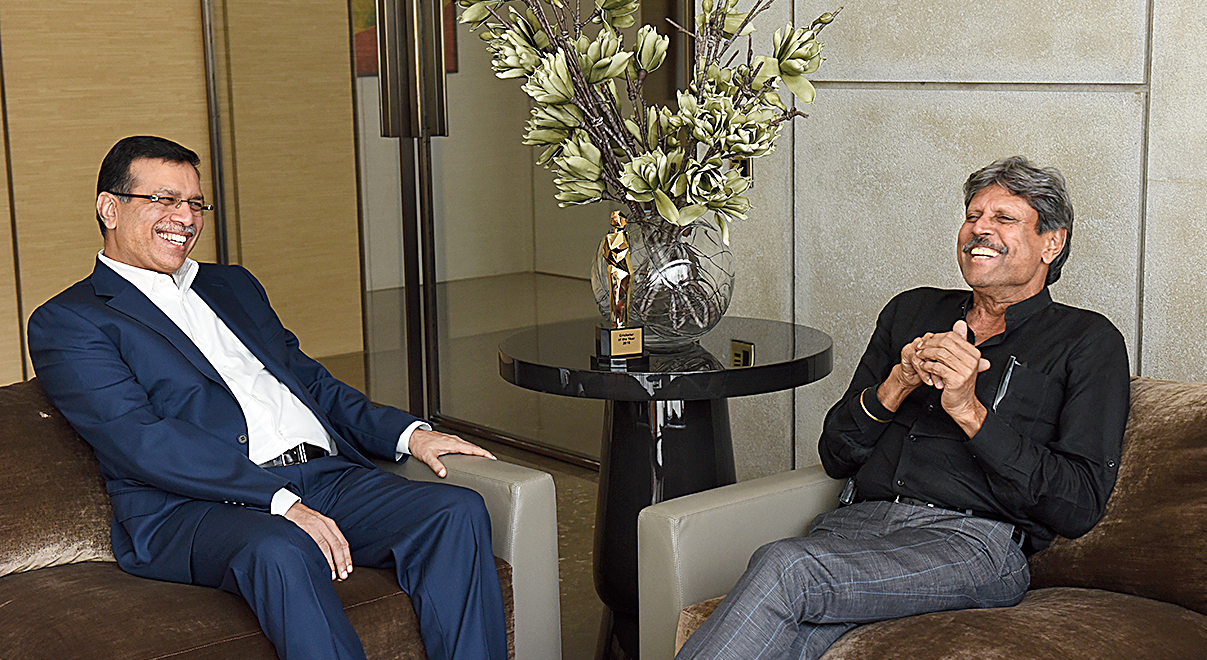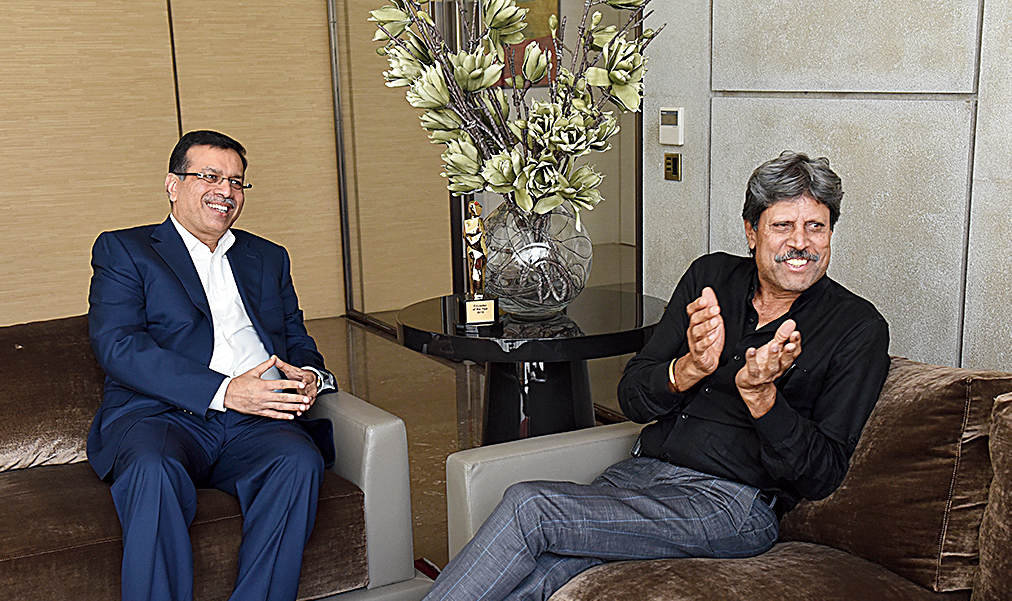 Many ROFL moments made for a hearty chat between Sanjiv Goenka and Kapil Dev at Goenka's Delhi residence earlier this month. Pictures: Pabitra Das
How long have you known each other?
Kapil Dev: …. we keep meeting and saying hello. We've never had a business interaction. It's good to meet again and come on to the platform where we can succeed in doing something good.
What were your suggestions for Sanjiv when he told you about the awards?
Kapil: I think we are still talking about a lot of things. There's going to be a lot of teething problems when you are setting up something as big as that and taking it international, which we will keep on improving upon. In three year's time, this will be set in a manner where we can say we will be proud of this award.
What's on your mind for the first year?
Kapil: When you start a company, you don't know much. We are sportspeople. He is a businessman… there are advices and we will keep our minds open as to what is the best for us to take this award to be recognised as one of the best in the world.
How much cricket are you having to watch only for this?
Kapil: I think it will be unfair if I say I watch each and every match. No. We get the report and I am not the only one. The committee decides. I never like to be: 'I know everything'.
Who are the other committee members?
Kapil: We have Mohammad Kaif, Harbhajan Singh, Anjum Chopra…. India is a very vast country. You cannot say two or three people can do the job for the awards. You have to keep your mind open. You need people with good sense who are ready to involve themselves.
Sanjiv, what are your memories of Kapil Dev the cricketer?
Sanjiv: Frankly, I can only say that I was in London in 1983 when that (India, led by Kapil Dev, won the World Cup) happened…
Were you at Lord's?
Sanjiv: No. My father (R.P. Goenka) didn't give me enough money to go buy a ticket and watch the match at Lord's. But I was in my hotel room, watching the match and my wife (Preeti) and I held each other after the win. It was an utter disbelief and pride that India had done it. These are memories which will never go away. For any Indian cricket lover, this is what Indian cricket is all about.
Did you follow his career?
Sanjiv: Till the time I started working, whenever I could, I would watch every Test match.
Kapil: In Calcutta (laughs)…
Sanjiv: No, everywhere! I would actually travel to watch Test matches, know statistics and averages till the last innings. For me, cricket was like a passion. He was actually the first Indian sportsman who gave belief to Indians that we have it in us to conquer the world.
For me, winning the World Cup was very important, but it was a much bigger message and a bigger symbol that India can do it. We are not losers, we are potential winners. I think that message went across to every Indian with that World Cup victory. How he brought the team together, how he instilled confidence and belief, how he led that team… I mean it was incredible. It is actually a management lesson. Several years ago in Calcutta, in the Science City auditorium, I was the CII (Confederation of Indian Industry) president and he was addressing a session for young members of CII… 2,200 people in the auditorium and I have never forgotten that when he entered, all these kids went: 'Kapil Dev… Kapil Dev'. It was almost bordering on worship. That's what I think he symbolises.
Kapil, do you get awkward with compliments?
Kapil: Very! I am being very honest. I always say if you want to talk about somebody, don't do it in front of them! Some people take pride, but not me. When someone enjoys your passion, you feel very happy about it, without any doubt… but…. What he said about Calcutta, 'Kapil Dev' is a easy name to remember! Some names are difficult to remember.
We are sure there's much more than that, but what would be your top tips to lead a team?
Kapil: You must respect the seniors. When I was so young and they gave me this responsibility, there were people in the team who were one generation senior to me and they were all my heroes. Sunil Gavaskar, Mohinder Amarnath, Madan Lal, (Syed) Kirmani. Talking to them on the field was very awkward… 'Should I say it or not?' Sometimes senior cricketers can feel bad about that… kal ka ladka aakar… he can say anything'… but I came from a family where if I have been given a responsibility, it is my responsibility and yes, I used to say 'sorry' off the field so many times, if I had said something harsh and hurt anybody. I did not come from a cultured family. I came from an agriculture background and suddenly sometime the mannerism would be harsh. We know how to fight on the field. I would say, 'Sorry guys, didn't mean it', but I had to get the best out of everybody.
Does a reunion happen often?
Kapil: Not often. Everyone has their own life and everyone is 60+. And they have their families and grandchildren. But whenever we meet, there's always a smile on the faces. When you are playing for the country, you are measured with words… 'he is senior', 'he is junior', 'he is the captain'… now we are all friends. If Sunil still comes, I'll get up and give my seat.
World Cup is a few days away. Who has your imagination right now?
Kapil: I just want to see cricket and don't start expecting too much. When you start expecting too much, if it doesn't happen according to your wish, you start criticising other people. I like to go with the flow. I hope they play good cricket and they need a stroke of luck. They can win it. Do we have a team? Yes, we have a team. But they have to play like a team, as a unit.
What would you want to tell Virat Kohli?
Kapil: I think no need to talk about him. Everybody knows he's one of the best in the world. (M.S.) Dhoni... he has done it again and again. The young boys, (Jasprit) Bumrah is very important to me. Hardik Pandya is very important. The two spinners are important. How they will play is more important. If you want to win the World Cup, these youngsters are more important than the seniors… how they will support the seniors.
What about Kabir Khan's 83 (the film that traces India's 1983 World Cup win) are you most excited about?
Sanjiv: I think that message, that story of India as the underdogs… India were never known to win before that… going into a completely different generation… I think to me that is the big opportunity. Our generation has seen it. We have lived it, but the next generation has not really seen it. My children… 'Haan, we won in '83'. But they don't understand…
The journey…
Sanjiv: The journey. In the first World Cup in England (1975), Sunil Gavaskar scored 36 in 60 overs (vs England). He was not out. That was our exposure to limited overs cricket. Today…
Kapil: Nobody can break that record, for sure! (Laughs) Thirty six years, hell of a lot of time… we forget everything. The movie will bring back a lot of memories and the new generation will come to know… these were the guys!
How much are you allowed to say about the film?
Kapil: I can say anything! I am not making the movie, who is going to stop me?!
So, what tips have you given Ranveer Singh who plays Kapil Dev?
Kapil: I don't have to. Today's actors are so smart. I have known a lot of actors. Somebody wants to come to my shape exactly, wants to know what I used to eat and what I used to do. I was like, why so much detail? But that's the way they want to. Not only Ranveer, look at all the top actors… how hard they work. Same with cricket and films… if you see the actors of the '70s… slightly casual. Today you look at these cricketers and actors… the amount of time they spend on their bodies. I was talking to Ranveer. He said it took him three weeks to come out of Khilji (Ranveer played Alauddin Khilji in Sanjay Leela Bhansali's Padmaavat). He said he had to think that way and only then could he deliver. I said: 'Hats off to you'.
What is the first thing that he needed to know about Kapil Dev?
Kapil: I told him I was two characters… on and off the field. On the field I was aggressive and off it, I never even raised my voice at anyone to go and get me a glass of water.
Did you get nostalgic or emotional while sharing the memories?
Kapil: Not really. The day I left cricket, I never went close to cricket. I like to sit back and watch. I don't like to go to the dressing room or meet the young cricketers. I like to watch from the outside. It's their time to have fun.
Why this detachment?
Kapil: It's their time. When Sanjiv took charge, if his father interfered in everything… then it's uneasy. I don't know if I have put it correctly. Let him make mistakes but when he needs advice, then the father should come in. When cricketers generally need our advice because of experience, then they have to find the time and look us up and say: 'We want to have a cup of tea'. No former cricketer will ever say, 'I will not help you'. If we interfere, we are spoiling their thought process. I learnt that when I was playing cricket. I used to say that 'yaar yeh zyada senior player aaney nahin chahiye'. If we find any mistake, I can always call Ravi Shastri that 'yeh ladke ko thoda sa aisa motivate karo'. Let them work hard and if they feel, we are always there to help.
What do you think changed with the 1983 win?
Kapil: I think self-belief. We were always talented, but the self-belief was lacking. To come out of the impact of 300 years of British rule takes time. We still get overawed sometimes, but with the win, people started believing we can do it.
What keeps you so fit?
Kapil: Should I be honest?
Honest!
Kapil: Biwi khati nahin, mujhe khaney nahin deti!
Everyone goes LOL
Kapil: It's a joke! If you are in the media, you cannot let yourself go. Once you are disciplined in life, your life can prolong much better. At the age of 20, you don't need it. So, the hard work I did when I was in my 20s, I am reaping the benefits today.