Climate emergency behind French Open protest
I entered the field because I can no longer take the risk of doing nothing, says protester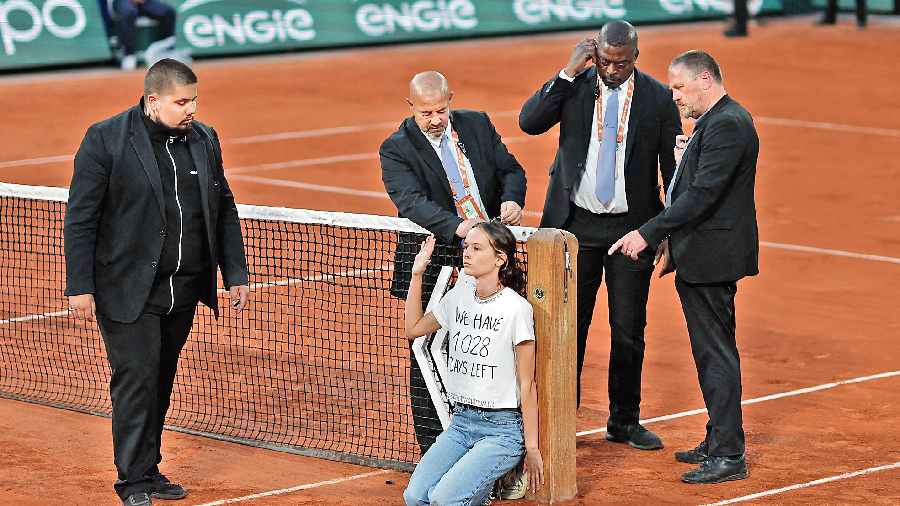 Environmental activist Alizée ties herself to the net, as security looks on during the match between Norway's Casper Ruud and Croatia's Marin Cilic in Paris on Friday.
Twitter
---
Paris
|
Published 05.06.22, 01:15 AM
|
---
The environmental activist who interrupted the French Open men's semi-final between Marin Cilic of Croatia and Norwegian Casper Ruud for 15 minutes on Friday is associated with the group 'Derniere Renovation'.
Shortly after the incident, the French climate change activist group claimed responsibility for the invasion on social media.
The woman who disrupted the match was identified as Alizee, a 22-year-old French national.
The website of the group carried Alizee's quote explaining her actions.
It read: "We are in 2022 and it is time to look reality in the face, the world to which politicians are sending us is a world to which Roland Garros will no longer be able to exist.
"Today, I entered the field because I can no longer take the risk of doing nothing in the face of the climate emergency".
Alizee had jumped onto Court Philippe Chatrier and tied herself to the net with a string around her neck.
She was wearing a t-shirt that read 'We have 1028 days left'.
The message, written on both sides of her white t-shirt, was a reference to a UN report on climate change.
The climate change activist group's website carried an explanation of the message along with a countdown (on Saturday, it said 'We have 1027 days left').
"1027 days is what we have left to determine the future of humanity. Less than three years. The countdown began on March 28, 2022, the end of the ultimatum sent by Last Renovation to the government, and the date on which citizens entered into civil resistance. France has been condemned by its own courts for climate inaction. The future of this country is literally destroyed. To waste time is to perish," the group explained.
"An environmental activist managed to get onto Philippe Chatrier Court and attached herself to the net with metal wires and glue," the French tennis federation said.
"The young woman, of French nationality, entered the grounds with a valid ticket early in the day. She was then handed over to the police."
Security guards did not rush to her but instead spread out around the court and then slowly walked to her before removing her from the net.
The players were quickly ushered off the court and play was interrupted for about 15 minutes with Ruud leading 3-6, 6-4, 4-1.
"When it comes to this protest, it was a little bit, what should I say, nasty is maybe a good word, because I didn't really know how to react to it," Ruud told reporters after his victory.
"It was a little bit tricky and difficult situation. Never happened to me before. So we were taken outside for six, seven minutes and I got to regroup a little bit and got my flow going again."
This is not the first time play has been interrupted at the French Open.
During the 2009 men's final, a spectator jumped on to the court from the stands and tried to put a hat on Roger Federer's head. In the 2013 showpiece between Rafael Nadal and David Ferrer, a masked protester ran around the court waving a flare.
Pitch or playing area invasions in fact have been happening quite frequently in the recent times across various sporting disciplines, including football and Formula One.
Written with inputs from Reuters
King's 'prime time' appeal
Female players should get prime time slots when they play if women's tennis is to get a better audience, Billie Jean King, a 12-time grand slam singles champion, said on Saturday amid a scheduling controversy at the French Open.
"You've got to put women on prime time and you've got to figure it out," King said.
Only one of 10 night matches at this year's Roland Garros was a women's match.
According to King, two matches should be scheduled and start earlier than the usual 2100 local time to allow an early finish for all players.