Chess champ Pentala Harikrishna on his struggles, sports-loving Calcuttans and the longest game of his life
'I started playing chess relatively early… like when I was around four-and-a-half years old'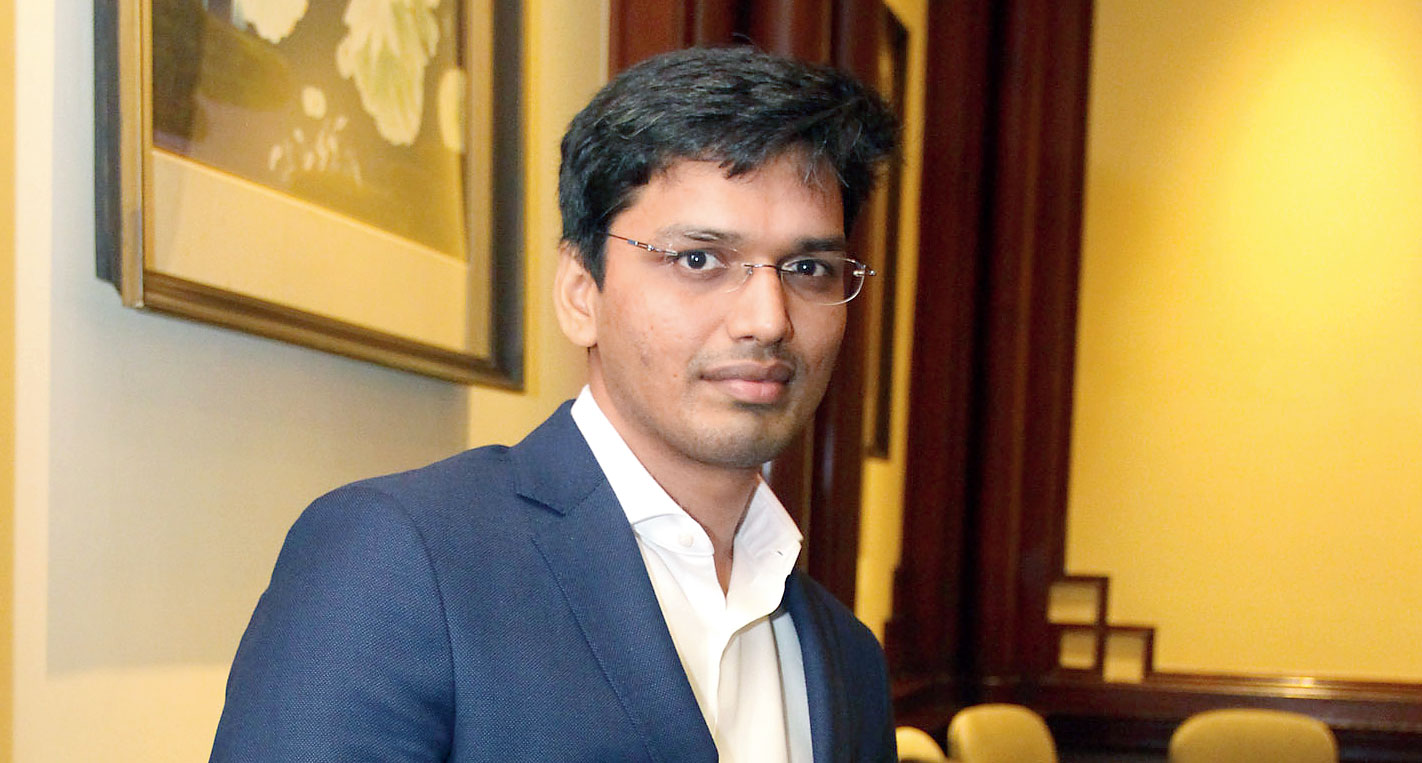 ---
|
Calcutta
|
Published 27.11.19, 12:41 PM
---
Chess grandmaster Pentala Harikrishna, who is ranked No. 2 in the board game in India, spoke to t2 on the sidelines of the just-concluded Tata Steel Chess India — Rapid and Blitz, part of the Grand Chess Tour 2019. Excerpts.
Tell us about your early years... how did you get into the game and were there any struggles?
I started playing chess relatively early… like when I was around four-and-a-half years old. In those days, it was quite difficult to travel for tournaments and I come from a village. Now, it's much easier. Many things have changed since then. There were problems with finances back then. Today, chess players have many more sponsors. I was lucky to get sponsors after I won the Under-10 championship.
Most kids in India like to take up cricket. What made you pick up the board instead of bat and ball?
My grandfather used to play chess in the village and I watched him play and I think I got fascinated by the game. That's how I got into chess. Of course, everyone in India knows about cricket and they want to be cricketers. But things are changing over the past couple of years. Many other sports have grown over the past decade. Chess has improved a lot from the '90s in India. At one point of time, there was only Viswanathan Anand who was playing really well. Now, there are many players in the Top 100. It became possible with a growing interest in chess. I would say we have a bright future in chess. With each year, the popularity and sponsorship in chess is improving.
Did you have a favourite player while growing up?
Everyone in India watched Anand play some amazing tournaments and clinch world championship titles. So these games were like concepts. Anand had revolutionised Indian chess. When I was learning chess I used to study books of past players to understand their games. Each great player from the past had different things to offer. If you just stick to one player, you won't pick up the other qualities. Therefore, I was studying different players. I studied Mikhail Tal, Bobby Fischer or Alexander Alekhine. Each has their own speciality. And that's what made them great. Later, it was Garry Kasparov, Anatoly Karpov, Vladimir Kramnik, Anand… now it's Magnus Carlsen. Each has a lot to offer. I am a fan of them… when I am playing I am looking to win against them, but for learning it's good to watch their games. And it's not like you get awestruck by them, by their games, but you take the concepts from them.
Recently, you were involved in one of the longest games ever played at the European Club Cup (236 moves). Tell us about it.
I think it was the first time I played more than 200 moves. It's really difficult to play that amount of moves. My opponent, David Howell, initially said he was playing because his teammate was losing. So, in order to equalise the match, he tried to win on my board. So, maybe, that was the reason he played 50 or 100 moves initially. And then I was surprised as to why he was playing so many moves, he was moving from one side to the other and not really making any progress. At some point it was quite funny because there were more arbiters waiting in the playing hall than the players because only we were playing and around nine or 10 arbiters were waiting for our game to finish. I think we played for around six hours and 45 minutes. Not much time was left for dinner (laughs)… when I saw the final drawing pattern I didn't know whether he wanted to make a record or something. It was quite tiring. First, it was long and second there was no improvement. We sat and wrote the moves on four sheets of paper. I was exhausted and I was hoping the match will finish soon so that I could grab a bite, but it was important not to make a mistake in the match.
Tell us about this tournament...
Last year, I played in Calcutta and I finished second in the rapid section, which is slightly longer than the blitz section. This year, this tournament has been included as part of the Grand Chess Tour, which consists of many events across the globe. And that gives a chance to organisers to have more top players like Carlsen, Anish Giri and others to fight it out. We played nine games in Rapid and 18 in Blitz… each will have 27 games in this format. It also depends on how you perform on a single day, it's hard to predict.
Any particular game that you recall?
I have played against all of them multiple times. I don't have a favourite or anything. For me, I had to focus on playing well. All the players were very strong. I don't care about who is playing against whom… when you are playing you don't get that amount of time to think of these things… you would rather concentrate on your own game because this format is so quick. You think many games are left, but it is over by the time you realise. You need to be focused.
Tell us about your training sessions…
This year has been quite busy for me. I played in many events. I trained extensively in summer… in May and June, when I had less tournaments and more time to prepare. Now I am playing a lot of tourneys, but I can play well owing to the training. I practice for around six-seven hours. But it depends… sometime I go longer if I am in the mood. These things matter a lot since one can get exhausted and if you can't focus there is no point sitting near the board. For me to be fresh before a game is important.
You have been in Calcutta before. What do you like about the city?
I played here in 1997 maybe for the first time. I have memories here. I have many friends here. I think in general people are quite friendly here. They are very passionate about sports, be it chess, football or cricket. They also follow tennis and badminton... all the sports. It's a very good quality of the people. Sports teaches discipline. I am glad they appreciate sportspersons.
Moving away from black and white, did you follow the Pink Ball Test at the Eden Gardens?
Yeah actually. I read about the pink ball in the newspapers. I read about its purpose and I also met M.S.K. Prasad, who hails from my province and he explained it to me. It's a new thing but it's great specially if it's a day-night game. I used to see the scores, but since our matches were being conducted at the same time, it was a tad difficult. But I do follow cricket.