Champions League: Vinay Menon, the Indian behind Chelsea's triumph
Formerly personal health consultant of Blues owner Roman Abramovich, he has spent more than a decade with the London club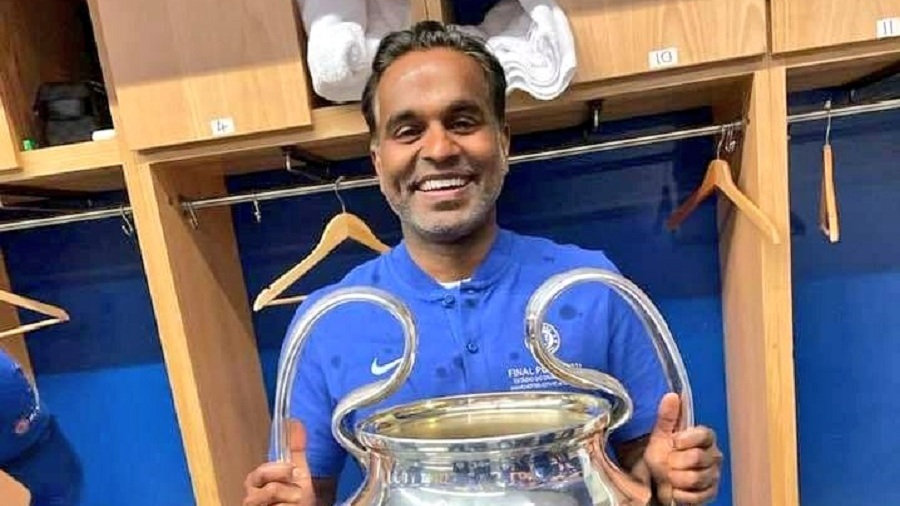 ---
---
Kai Havertz might have grabbed the limelight with the winning goal in the Champions League final, but there's an unassuming name that deserves credit for working behind the scenes.
It's an Indian named Vinay Menon, who has hardly come to the fore with his contributions towards Chelsea's inspiring run.
Menon, an expert in Judo and Yoga, is Chelsea's Wellness Consultant, and has been with the Blues since 2008. His interaction with the players has been as important as Tuchel's presence on the touchline. In a sport like football that bears heavy on a player's mental faculties, with stuff like racism and harsh fan criticism never calling it a day, having a cool head on shoulders comes as a blessing in disguise. Menon has used his 'mental strategies' to help players, including veterans Didier Drogba and John Terry, work in the right direction.
Menon's job starts when all else fails.
Whenever the Blues go through a lean patch, be it the sacking of a manager or the club struggling to be in the top four in the Premier League, it is his job to keep the equilibrium going. So how does he achieve it all? "Sometimes we do yoga. Sometimes, I observe the players and talk to them for a long time. My work doesn't have a regular pattern. I help them remain calm and it doesn't matter how we do it or what we do," Menon had told New Indian Express in an interview in 2017.
Armed with an MPhil in Sports Psychology and a degree in physical education from Calicut University, Menon has been really creative in his approach at the London club. By developing a programme called ARFA -- which stands for Awareness, Recovery, Focus, Achievement -- he aims to channelise his subject's negativity into something constructive and positive.
The grandson of a Yoga guru from Kerala, he runs an Adhyatma Vidhya programme, which helps players focus on themselves and develop mental strength. The strength of such a programme is probably realised most when the team registers a come-from-behind win at Stamford Bridge.
Who is Vinay Menon, the Indian presence at Chelsea? https://t.co/SmI9PvPmD7 pic.twitter.com/miMR5KRVFv

— Aditya (@Aditya19991310) May 30, 2021
From Pondicherry to the Chelsea dugout
After studying in Pondicherry, Menon joined a spa in Rishikesh as a wellness expert. After spending some time there, he joined the Jumeirah group of hotels in Dubai. "I was not convinced to leave such a beautiful place for the hot deserts. My wife and I thought a lot before joining them in 2004," he had told New Indian Express.
Menon and his wife Flommy, who is currently deputy manager at the Chelsea health club, had settled in well in Dubai, but then again, greener pastures came calling. "One of my clients spoke of better opportunities in Europe. I wasn't planning to shift. My son, Abhay, was just born. In 2008, she came back and said people in London still wanted me. Flommy suggested I should give it a shot," he said.
In London, Menon started working as Chelsea owner Roman Abramovich's personal health consultant. After two years with the Russian business tycoon, Menon wished to part ways with the hope of a better opportunity in London. "I told him I can't keep doing this. I thought he would ask me to leave. But he offered a position for me and my wife at the club," he said.
Before bagging this opportunity, Menon had no connection with professional football. But a claim to fame was waiting for him.
Since 2008, he has seen it all. From Jose Mourinho's sacking in 2015 to Antonio Conte bringing the club back on its feet. Frank Lampard's success and failure, and N'Golo Kante's transition into a match-winning central defensive midfielder.
Since Menon's arrival at Stamford Bridge, the Blues have won two Champions League titles, four FA Cups, one League Cup and three Premier League titles.
A thread of ALL the celebrations from Chelsea's Champions League win. Bookmark it. RT it. Save it for the rest of your lives. These memories will live with us forever💙 pic.twitter.com/gxMcAcnDos

— ChelseaFCBlogs (@ChelseaFCBlogs_) May 30, 2021