Captain Grace's proudest moment
Virat Kohli shares credit, Ravi Shastri takes a swipe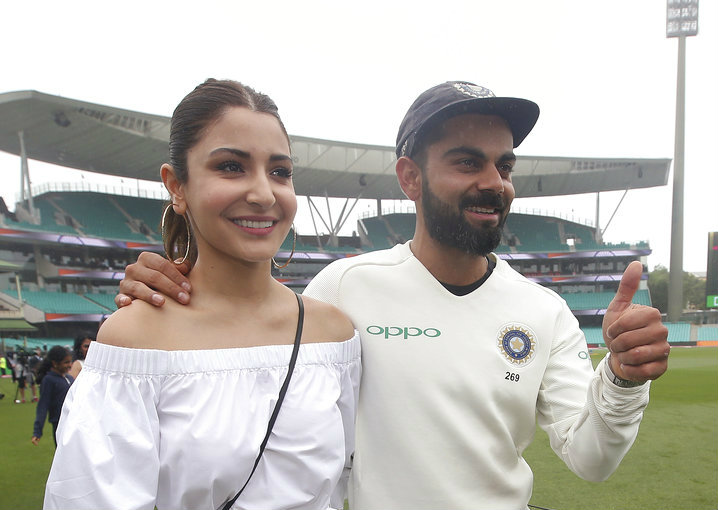 Virat Kohli celebrates with wife Anushka Sharma after winning the Test series against Australia in Sydney on Monday.
AP
---
Sydney
|
Published 07.01.19, 10:17 PM
|
---
 Monday didn't see a single ball bowled at the SCG, but it was a huge day for India's cricket. Naturally, equally big for Virat Kohli.
Yet, despite achieving what no captain from Asia had, in 71 years, Virat gave everybody credit except himself.
In doing so, Virat rose many notches in the eyes of not only his 2-1 Australia-conquering troops, but followers across the globe.
Little surprise that the Pink Cap autographed by Virat, and being auctioned in aid of the McGrath Foundation, is fetching bids almost twice the amount of the nearest cricketer — Nathan Lyon.
Many a time labelled arrogant, the 30-year-old Virat was anything but that in his "proudest moment" as an India cricketer.
Has wife Anushka, very much around, been a calming influence? Certainly worth asking.
The world has no time or place for losers and Tim Paine, the Australia captain, was left alone to moan the "gloom and doom" surrounding his team.
Australia, once the team to emulate, have massive issues to address.
Driven by the need to be contemporary, much of the SCG has changed. Of course, the Members Pavilion is intact, as is the abundant history.
Sentiment may not find too prominent a place among sportspersons, but the SCG won't be any other venue for Virat, an U-19 World Cup-winning captain.
It was at the SCG, four years ago, that Virat led India for the first time as full-fledged Test captain. The very same venue gave him our maiden series win on Australia's soil.
The joy on Virat's face as he kissed the Border-Gavaskar Trophy, presented by Allan Border, actually left nothing unsaid.
"Australia must face up to the reality that India outplayed them. I'm not suggesting this is the best team from your country, but the first to do the job. That, mate, is the bottom line," former Australia captain Adam Gilchrist told The Telegraph.
While Virat appeared calm, even if he had that band-baaja-baraat sensation within, head coach Ravi Shastri chose to take more than a swipe at Sunil Gavaskar.
Shastri didn't mention Gavaskar by name, but left little doubt who he was referring to in reigniting the "firing blanks" issue.
At the appropriate time, expect Gavaskar to respond.
Shastri doesn't take criticism well and Gavaskar's observations after the defeat in Perth appeared to have got to him. Shastri reacted ahead of the MCG Test and, once his "firing blanks" retort there apparently became a point of discussion on TV back home, he chose to go ballistic.
That is Shastri's style. Like it or lump it.
For now, let's raise a toast to Virat and his men.
Shastri, in fact, got carried away and said: "The 1983 World Cup, the 1985 World Championship of Cricket.… This is as big, or even bigger, because it is in the truest format of the game. It's Test cricket, meant to be the toughest."
It cannot, surely, be bigger than the game-changing World Cup win in 1983. Shastri, by the way, featured in both tournaments he mentioned.
Just to drive his point home, Shastri added: "This is not a team of Gods or demi-Gods.… This is a team that will jump off a cliff to win a match for the country."
So far, only Sachin Tendulkar has been bestowed the status of God. Demi-Gods? Gavaskar, Kapil Dev, Mahendra Singh Dhoni.
Cheteshwar Pujara, with three hundreds and a phenomenal total of 521 in seven innings, was the Player of the Series. The Player of the Match at the SCG as well.
While Pujara's contribution was enormous, on a par was Jasprit Bumrah with 21 wickets.
Both would remain key players as Virat goes about promoting Test cricket through excellence-powered performances.